Mark Duggan lawfully killed: Family say 'we will still fight for justice'
Jury rules by 8-2 majority that death which triggered London riots was lawful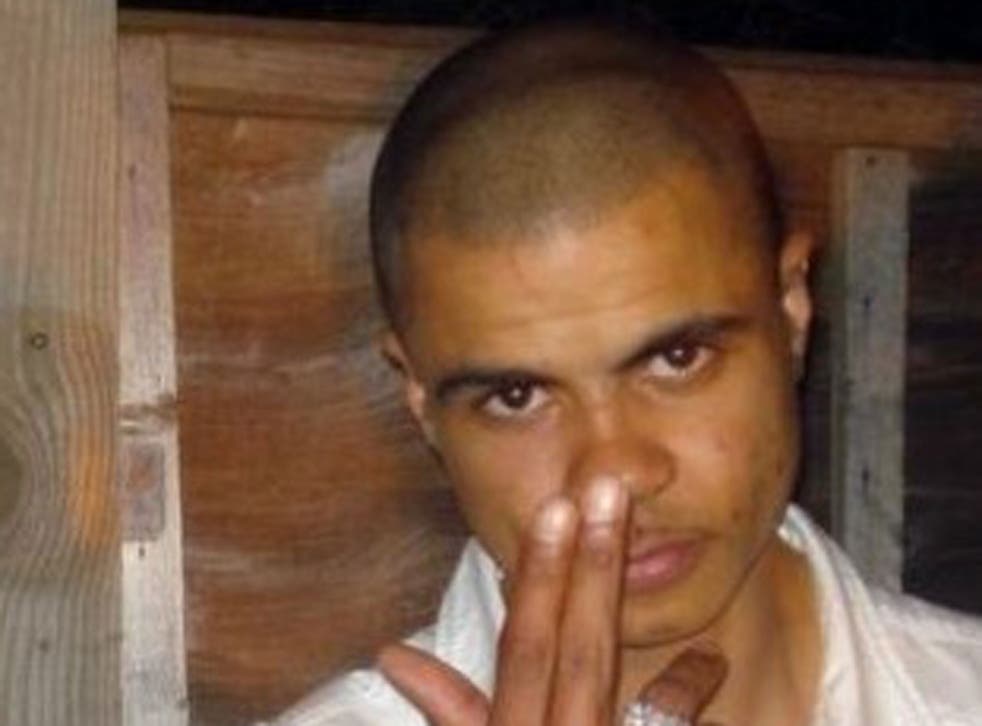 The family of Mark Duggan reacted with fury and anguished disbelief yesterday after an inquest jury found that he was lawfully killed but did not have a gun in his hand as a police marksman shot him fatally in the chest.
After three months of heated and sometimes contradictory evidence, the panel of seven women and three men decided by a majority of eight to two that the killing which sparked the worst riots in post-war Britain had been within the bounds of the law.
The Duggan family's lawyer described the finding as "perverse" and announced an application for a judicial review of the inquest proceedings was being considered. As police last night stepped up patrols in Tottenham, north London, Mr Duggan's aunt, Carole, said her nephew had been "executed".
Amid anguished outbursts in the stifling court room from family members, jurors found by a majority of nine to one that the 29-year-old, who was believed by police to have been an active member of a criminal gang, had thrown clear the gun he had collected from an underworld quartermaster as the minicab in which he was travelling was stopped by armed Scotland Yard officers in Tottenham in August 2011.
By a majority of eight to two, the panel, who had been given a list of five questions to guide their deliberations, found that Mr Duggan had disposed of the gun "as soon as the minicab came to a stop and prior to any officers being on the pavement".
The weapon, a Bruni Olympic pistol which the jury decided unanimously was being carried by Mr Duggan, was found on grass behind a fence some 20ft away from where he fell with gun wounds to his arm and chest.
The jury had heard evidence from the police marksman who fired the shots, known only by his call sign of V53, that he had seen the father-of-five levelling a gun, hidden in a sock, towards him as he pulled the trigger on his weapon.
Other witnesses gave conflicting accounts, ranging from testimony that Mr Duggan had been carrying a mobile phone when the shots rang out to the allegation of one woman that the weapon had been planted by police.
The precise interpretation of these contradictions by the jury, who had considered their verdict - now known as "conclusions" - for seven days, will never be known. They were reminded by the coroner, Judge Keith Cutler, that they can never disclose their deliberation. But it seemed clear they had found that in the chaos of the early evening of 4 August 2011, V53 had acted in self-defence or the defence of others in the "honest belief" that Mr Duggan posed a threat to the lives of those around him.
The conclusion that Mr Duggan had nonetheless disposed of his weapon prior to shots being fired by police visibly convulsed his family. Pent up frustrations after inquest proceedings were delayed by a heavily-criticised investigation by the Independent Police Complaints Commission into the shooting burst to surface in the form of raw grief and anger.
In extraordinary scenes, his brother, Marlon, with whom Mark Duggan had been talking on the phone moments before his death, leapt to his feet after the findings and shouted towards the jurors. A family supporter also shouted: "Murderers. A black life ain't worth nothing."
Pamela, Mr Duggan's mother, who had attended many of the inquest sessions since they began last September, appeared to pass out in court before being later helped from the room.
Speaking outside the court, Carole Duggan, said: "The majority of the people in this country know that Mark was executed. We are going to fight until we have no breath left in our body for Mark and his children."
She added that Mr Duggan's 12-year-old son had told her the inquest verdict "didn't make sense". Speaking to The Independent, she said: "I brought him [Mark] up. He didn't have any fear – just like me, that's most probably why he ended up dead. We are not going to go away, we are going to fight. We have questions we want to ask."
Kurtis Henville, 32, who had known Mark since he was three years old and was in court yesterday, said: "We didn't get any justice. We know the man was unarmed at the point he took that fateful shot. How is that possible? They shot an unarmed man."
The family's solicitor Marcia Willis Stewart said: "On August 4, 2011 an unarmed man was shot down in Tottenham. Today we have had what we can only call a perverse judgment.
"The jury found that he had no gun in his hand and yet he was gunned down. For us that's an unlawful killing."
In reaching their conclusions, the jury had been told that they had to meet a criminal standard of proof - beyond reasonable doubt - before finding that Mr Duggan had been unlawfully killed - a finding that could have led to V53 facing a criminal investigation and a potential charge of murder or manslaughter.
Instead, they reached the opposite conclusion after being asked to bear in the mind the officer's state of mind. The list of questions provided to the panel to guide their decisions asked them to consider: "Did V53 honestly believe or may he honestly have believed, even if that belief is mistaken, that at the time he fired the fatal shot, that he need to use force to defend himself or another?"
It was a measure of the groundswell of fury resounding around the neo-gothic High Court that an attempt by a senior Scotland Yard officer to give the reaction of the Metropolitan Police to the findings in front of television cameras was drowned out by shouts of "murderers" and "scum" by protesters who had to be fended off by his entourage.
In a statement, Assistant Commissioner Mark Rowley acknowledged that "trust" in the actions of police was not shared by all but added: "No officer sets out at the start of the day to run an operation that results in someone dying…But the task our officers face in making split-second decisions when confronting armed criminals means there is a risk - a very small risk - that this will happen."
Speaking outside Tottenham police station last night, Chief Superintendent Victor Olisa, the borough commander for Haringey who was appointed after the shooting, said: "I have made an offer to speak to the family and I hope they accept that offer. I hope we will be able to get to a position where we can work together so something positive comes out of this tragedy."
In an attempt to dispel the fog of claim and counter-claim surrounding the shooting, the Yard said it would now introduce cameras to be worn by its armed officers in the coming months to record their actions during operations. Police said that in nearly 13,000 incidents in which firearms specialists had been deployed between 2010 and 2012, shots had been fired on four occasions.
But with memories of the 2011 riots lingering, Tottenham MP David Lammy acknowledged that many would find aspects of the jury's findings "perplexing and seemingly contradictory".
Noting an announcement by the IPCC that it will now reopen its investigation which found no criminal wrongdoing by firearms officers, Mr Lammy said many questions remained unresolved. He said: "These questions must be answered not just for the sake of the Duggan family but to defuse the confusion, conjecture and suspicion that continue to surround the events of that August evening."
For the family of Mr Duggan, who have resolutely insisted that he had no involvement with serious crime, the ramifications of the inquest were nonetheless last night already clear.
Shaun Hall, one of his brothers, said: "We came for justice today, we don't feel we are leaving with justice… We have got nothing to hide, we have done nothing wrong. We will still fight for justice."
A vigil for Mr Duggan will be held outside Tottenham police station at 2pm on Saturday.
Register for free to continue reading
Registration is a free and easy way to support our truly independent journalism
By registering, you will also enjoy limited access to Premium articles, exclusive newsletters, commenting, and virtual events with our leading journalists
Already have an account? sign in