Megan Bannister: Pair accused of killing teen girl 'must have known she was dead' in backseat of car, court hears
A-level student, 16, found lifeless in rear of Vauxhall Astra after crash in Enderby, Leicestershire, in May having apparently been spiked with MDMA and strangled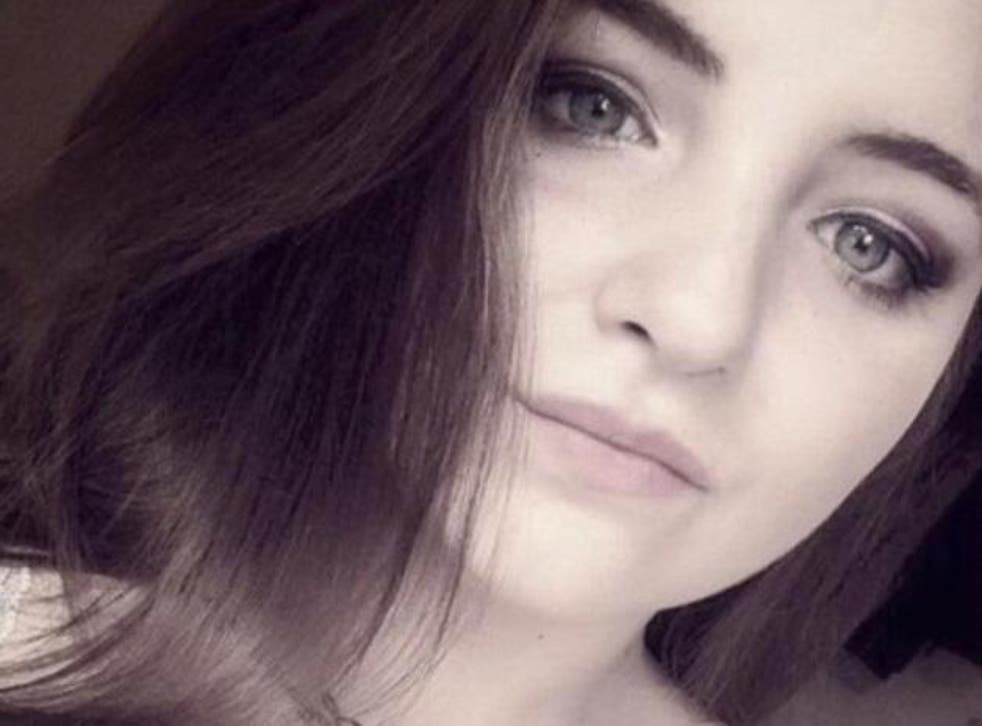 Two men accused of letting a 16-year-old girl die on the backseat of a car "must have known she was dead", a court has heard.
A-level student Megan Bannister was found half-covered by a coat, lying in the back of the Vauxhall Astra after the vehicle was involved in a crash near Enderby, Leicestershire, on 14 May.
Miss Bannister, who had a part-time job and wanted to be a midwife, appeared "lifeless", and had vomit around her mouth and blood coming from her nose, witnesses said.
The car's driver, Jason Burder and passenger Adam King, both 28, are accused of the girl's manslaughter by gross negligence by supplying her with MDMA, strangling her and then neglecting her life-threatening condition.
Several people stopped at the crash scene including staff nurse Natalie Kent who confronted the men, as they sat in the car while CPR was being performed on Megan nearby.
Miss Kent said the girl appeared deceased but had no obvious crash injuries, describing her as being "the colour of death".
She said it looked "drugs-related", so she approached Burder and King to find out what she had taken.
Miss Kent told them: "Right, you need to listen to me.
"At the moment, your friend is dead and we're desperately trying to save her.
"I don't want you to think about you - think about her.
"Because if there's something you know she's taken, there's a chance we can save her, so you need to tell me.
"Think about her parents, think about what would your mom and dad be thinking?"
She added: "Look, she's going to die."
At that point, she described that Burder turned to King and said: "Just tell her". King replied: "MDMA".
In her statement read to Birmingham Crown Court on Thursday, the experienced nurse said: "They must have known she was dead but they didn't seem affected by that, whatsoever."
Marta Matos, whose partner was a student nurse, said Burder seemed more preoccupied with trying to move his car but she told him not to.
Then, she said, "over his right shoulder, I saw a pair of white trainers".
She alleged Burder then turned in his seat, shook Megan's knees and said: "See? She's asleep."
Another off-duty nurse, Sarah Simpson said the men never mentioned Megan to her until she saw "legs poking out".
One witness described both men sat doing "absolutely nothing", while another saw "five or six" beer cans in King's foot-well.
Miss Kent was told that the girl's name was Megan, but then later Charlotte White was told by Burder the girl was "Adam's girlfriend", while King called her "Heather".
Lisa Goodman saw Burder lighting a cigarette, and spotted King had "two cans" of lager between his legs.
Ms Goodman said: "I wondered why they hadn't got out of the car".
She looked in the back and "saw an arm, from the elbow to the wrist, and it was bare - it appeared to cover her face".
A man helped force the rear door to reach Megan, and Ms Goodman said: "The man turned her over, and as he did I fully saw her face.
"I knew she was gone - I had to walk away."
UK news in pictures

Show all 50
Prosecution QC Miranda Moore told jurors on Wednesday they would hear evidence of how instead of seeking help for Megan, the men spent hours driving around, ringing escorts and buying beer - until the crash.
The Crown's barrister "Their behaviour at the scene and complete lack of concern may indicate to you that by the time of the crash they accepted that Megan was already dead. - and they still did nothing."
Burder, of Braunstone Avenue, and King, of Waltham Avenue, both Leicester, deny wrong-doing and the trial continues.
PA
Register for free to continue reading
Registration is a free and easy way to support our truly independent journalism
By registering, you will also enjoy limited access to Premium articles, exclusive newsletters, commenting, and virtual events with our leading journalists
Already have an account? sign in
Register for free to continue reading
Registration is a free and easy way to support our truly independent journalism
By registering, you will also enjoy limited access to Premium articles, exclusive newsletters, commenting, and virtual events with our leading journalists
Already have an account? sign in