Men facing extradition over Rwandan genocide face 'most serious charges'
Date for the full extradition hearing set for October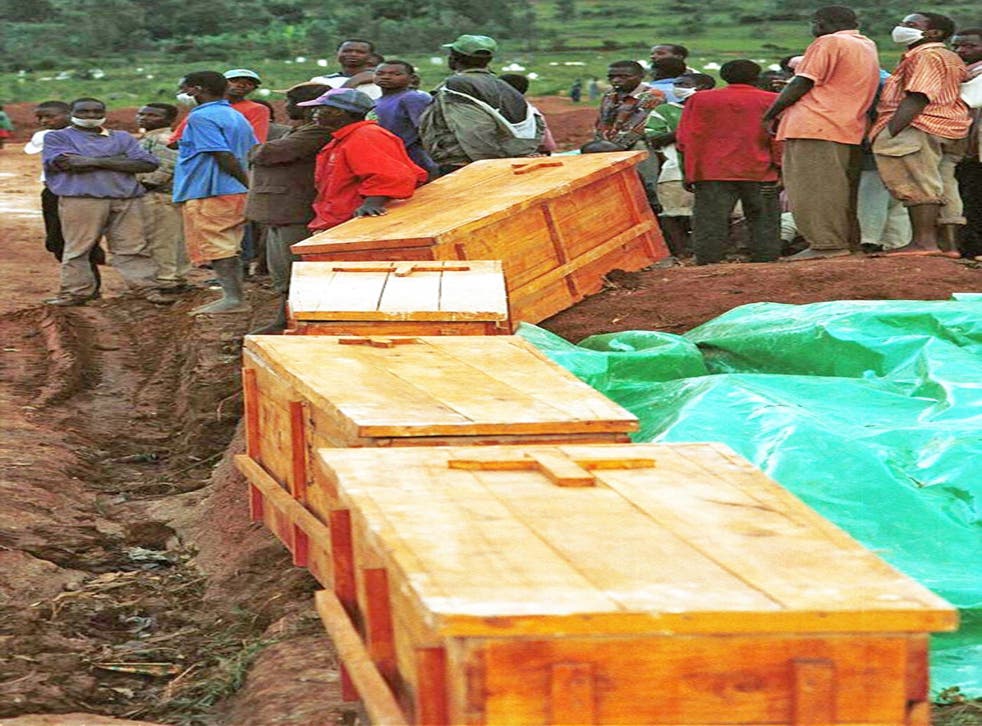 Five Rwandan men arrested on extradition warrants after living in Britain for more than a decade face "the most serious charges" of murder and genocide in their native country, a court heard today.
The five men, including a medical doctor who once worked for a London-based charity helping victims of torture, appeared via video link before Westminster Magistrates' Court in central London following their arrest last week on a warrant issued by Rwandan prosecutors alleging their direct participation in the 1994 genocide which claimed 800,000 lives.
Each of the men faces identical charges which are equivalent in British law to offences covering genocide, inciting and abetting genocide as well as murder and conspiracy to murder.
The court heard that one of the suspects, Vincent Bajinya, 52, from Islington, north London, is accused of being a member of the Akazu, the inner circle of former Rwandan president Juvenal Habyarimana who allegedly plotted and organised the wholesale slaughter of ethnic Tutsis and moderate Hutus.
Gemma Lindfield, prosecuting on behalf of the Rwandan government, said that as well as being accused of playing a role in the planning of the genocide, Mr Bajinya, who has British citizenship and changed his family name to Brown, had had a hands-on role in the killing.
Outlining the claims against him, she said: "He organised and commanded road blocks in which Tutsis were killed and he himself participated in a murder."
Four of the five men - Mr Bajinya; Celestin Ugirashebuja, 60, a careworker from Walton on the Naze, Essex; Charles Munyaneza, 55, from Bedford; and Emmanuel Nteziryayo, 60, a father-of-five from Manchester - were arrested in 2006 on a previous extradition request which collapsed three years later. The fifth man, Celestin Mutabaruka, 57, from Ashford, Kent, has not been previously arrested for extradition in the UK.
The High Court ruled in 2009 that although there was a prima facie case for the four men to answer, they could not be returned to face trial because of the risk they would face a "flagrant denial of justice".
Prosecutors told the court that measures had since been put in place to meet the objections outlined by the High Court, including a provision for independent international judges to hear genocide cases in Rwanda's own courts.
It emerged yesterday that the five men had been arrested following the signing of a previously undisclosed memorandum of understanding between the British and Rwandan governments in March this year.
Lawyers for the five men, who listened intently to proceedings via the videolink from the high-security Belmarsh Prison in south east London, underlined that they strongly denied the charges against them.
Applications for bail were made on behalf of three of the men - Mr Bajinya, Mr Munyaneza and Mr Nteziryayo - whose legal representatives said they led settled lives in Britain.
Frank Brazell, for Mr Bajinya, said the doctor had been unable to work in his profession following publicity about the previous proceedings and had repeatedly stated that he was ready to face a trial under British law of the allegations against him.
Mr Brazell said: "He categorically denies the allegations against him. He is not someone who is seeking to avoid the accusations against him."
The court was told that his family had gathered "virtually every penny they have" to offer a £15,000 surety to secure his bail.
But prosecutors told the court that the gravity of the charges against the men meant they posed a significant flight risk.
Ms Lindfield said: "These offences are so serious that there is a real risk that they may evade justice, not just by failing to attend these hearings but ultimately by failing to surrender should their extradition be ordered."
Bail was denied for the three men, who were told a provisional date for the full hearing of the extradition request had been set for October.
Register for free to continue reading
Registration is a free and easy way to support our truly independent journalism
By registering, you will also enjoy limited access to Premium articles, exclusive newsletters, commenting, and virtual events with our leading journalists
Already have an account? sign in