Banned neo-Nazi terrorist groups still recruiting as aliases of National Action
Exclusive: Websites Scottish Dawn and NS131 remain online amid warnings over another possible front group
Lizzie Dearden
Home Affairs Correspondent
Friday 29 September 2017 21:56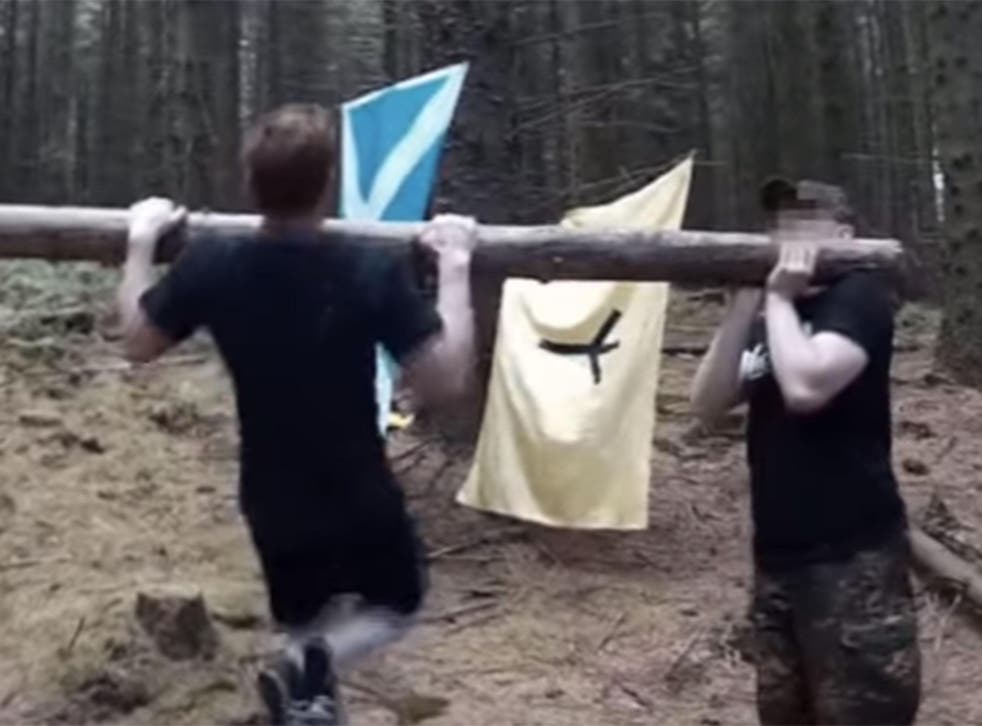 Neo-Nazi terrorist groups are continuing attempts to radicalise and recruit followers online despite being banned by the Government, The Independent can reveal.
The Home Office outlawed Scottish Dawn and NS131 (National Socialist Anti-Capitalist Action) as aliases of National Action, which is the first far-right group ever proscribed in the UK.
The ban came weeks after The Independent warned that both Scottish Dawn and NS131 were front groups being used by National Action members to evade authorities.
But the websites of both newly designated terrorist groups remain online, complete with propaganda videos, images, supremacist diatribes and ways to join.
Amber Rudd has vowed to combat the "vile racist, homophobic and antisemitic groups" and their ability to glorify violence and stir up hatred.
"I will not allow them to masquerade under different names," the Home Secretary added.
"By extending the proscription of National Action, we are halting the spread of a poisonous ideology and stopping its membership from growing – protecting those who could be at risk of radicalisation."
Scottish Dawn has a working online form where "activists" can apply to be interviewed for a place, while NS131 is still urging potential members to contact them via an encrypted email service favoured by neo-Nazis.
There is also growing alarm over an emerging group calling itself the System Resistance Network, which is calling for a "white revolution" and has targeted the LGBT community in Hampshire.
Hope Not Hate, whose researchers have been monitoring far-right groups, welcomed the bans but said "enforcement is key".
"As we saw with Anjem Choudary's al-Muhajiroun network, extremists frequently create new front groups with new names and new branding to circumvent any restrictions," a spokesperson told The Independent.
"It's clear that National Action was attempting to do the same, so we trust enforcement will happen. With a ban we would hope that any web or social media presence would be taken down."
The official YouTube channels for Scottish Dawn and NS131 remained online until late on Friday afternoon, containing a range of extremist videos.
They were reported by the Jewish charity Community Security Trust (CST), which described National Action as the "most overtly antisemitic" organisation seen in the UK in decades.
Dave Rich, a spokesperson for the CST, told The Independent: "We have seen that the websites are still available and hope that the authorities are speaking to the relevant service providers and hosting services to get them removed.
"This is an ongoing problem with enforcing proscription when extremist groups host websites outside the UK."
Mr Rich said the CST was "very alarmed" when National Action emerged from existing far-right groups in 2013, adding: "We know that neo-Nazis have antisemitism at the core of their ideology but it's rare to see it advertised so proudly – it just goes to show how extreme they were."
A Scottish Dawn video, which has since been removed, showed a female activist claiming the group was fighting the "destruction of our own people".
While the group's website advertises a range of seemingly benign activities, including hiking, litter picks and heritage tours, footage uploaded to YouTube revealed a more violent intent.
It showed members of the so-called "Braveheart Fight Club" undergoing combat training in fields and forests.
"Train for your blood, train for your soil, train with your brothers … Join the resistance," viewers are urged over footage of men fighting, weight-lifting and hoisting the Scottish Dawn flag.
Scottish Dawn's website remains live, displaying the Nazi slogan "blood and soil" and life-rune symbol, which was associated with the SS and white supremacists.
The group describes itself as a "patriotic society for the defence of our race and nation active across Scotland", claiming that "multiculturalism are met with resistance".
The group was one of several regional chapters set up by National Action members after that group was proscribed as a terrorist organisation.
One activist, a former Ukip member, was filmed by investigative website The Ferret admitting that Scottish Dawn was "very similar" to National Action and included members.
The group was also influenced by the white supremacist identitarian movement that has chapters across mainland Europe, after spreading from France.
NS131's website also remains online, describing itself as a "platform dedicated to promoting and spreading NS [National Socialist] street art and physical propaganda".
Videos show members spraying neo-Nazi graffiti and dropping banners in the Midlands, as well as commemorating Adolf Hitler's deputy Rudolf Hess, stamping on gay pride flags and performing Nazi salutes.
An online mission statement says NS131's vision is to "inspire youth with radical nationalist and anti-system ideas" and claims the group is committed to the "original program of the NSDAP" – Hitler's Nazi Party.
Raffaello Pantucci, from the Royal United Services Institute for Defence and Security Studies (Rusi) said concern about the threat posed by the far-right had spiked in the UK following the murder of Jo Cox.
UK news in pictures

Show all 50
National Action praised her killer and took on the phrase he shouted in court – "Death to traitors, freedom for Britain" – as a slogan, while calling for more MPs to be massacred.
Mr Pantucci said the Government's response to the far-right had improved following the failure to prevent bombmaker Pavlo Lapshyn murdering a Muslim grandfather in Birmingham in 2013.
"The threat picture across Europe has been changing," the director of International Security Studies added.
"This stuff takes time to filter through and it's a process – the practicalities are catching up with the legislation."
Mr Pantucci stressed that while the focus of counter-terror work has been on Islamists in the wake of a series of Isis-linked attacks, the incitement of racial hatred, violence and murder from the far-right remain illegal under common law.
The ban on Scottish Dawn and NS131 was announced a day after 11 suspected neo-Nazis were arrested in raids across England and Wales.
Investigators said five of the men had since been released under continuing investigation – two men from Swansea (28 and 23), a 23-year-old man from Sowerby Bridge, a 26-year-old man from Leeds and a 30-year-old man from Wiltshire were detained as suspected members of National Action.
The six suspects who remain in custody were arrested in and around Warrington, where The Independent revealed National Action continued to operate a training base up until earlier this month.
Steve Rose, researcher into the far-right for Faith Matters, said more aliases were likely to emerge from shadowy far-right online networks.
"When you have an extreme ideology, you find ways to hide that," he added.
"That's why they're so keen on encrypted emails – they understand how to get around when stuff gets shut down."
He said an emerging group called the System Resistance Network (SRN), formally known as Vanguard Britannia, may also be linked to National Action, sharing an email service, slogans, tactics and a graphic style of propaganda.
"There are clear indications that this is either another National Action front group or they have been inspired and influenced by them," he added.
"Both are problems because they've worked out a way of making very slick, very effective propaganda."
The SRN targeted a Pride event in Southampton earlier this month, papering the parade route with posters reading "Hitler Was Right" and "Stop the Faggots".
The fliers can be printed from the group's website, which includes images of Theresa May and Jeremy Corbyn with stars of David on their foreheads, while inviting people to "join your local Nazis".
The website contains diatribes publishing false statistics accusing "degenerate" same-sex couples of abusing children, and describing homosexuality as the "eternal social menace", calling for gay people to be "purged from society for the greater good".
SRN, which quotes Hitler on its homepage, calls the "Aryan race the highest order of being" and Nazi ideology the "most sophisticated and advanced creed".
Mr Rose said efforts to ban National Action and its subgroups were welcome, but warned that extremists have gone "underground, regrouped and found new ways to operate".
"This is a very dedicated pool of people," he added. "There will be another National Action front, and that's a concern for all communities."
Register for free to continue reading
Registration is a free and easy way to support our truly independent journalism
By registering, you will also enjoy limited access to Premium articles, exclusive newsletters, commenting, and virtual events with our leading journalists
Already have an account? sign in