Neo-Nazi managed to join UK army despite declaring support for National Action online
Serj Forster bragged about 'recruiting for an extremist organisation' before being accepted for basic training
Lizzie Dearden
Home Affairs Correspondent
Thursday 07 September 2017 16:10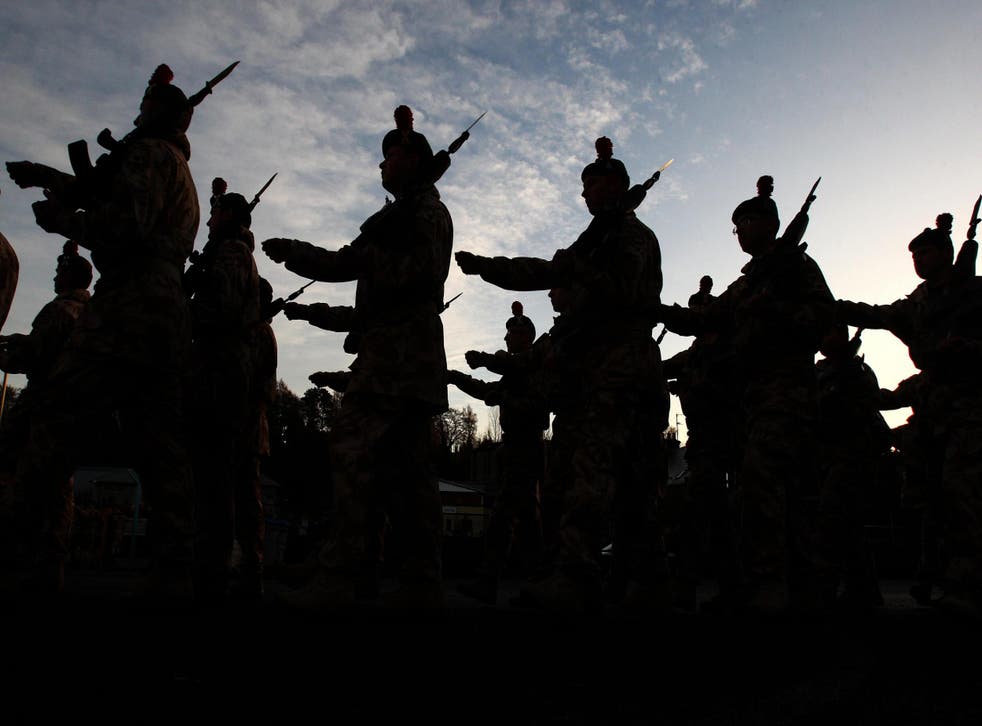 A neo-Nazi who declared his support for a terrorist group on social media was accepted into the British Army this year despite strict vetting processes, it has emerged.
Serj Forster was discharged from basic training for undisclosed reasons within weeks but his initial acceptance has sparked alarm following the arrest of four soldiers on suspicion of terror offences.
It was unclear whether he is among the suspected National Action members detained in Wales, the Midlands, Suffolk and at a military base in Cyprus.
Anti-extremism group Hope Not Hate said the young recruit had been "very active" in the extremist group for at least two years before deciding to join up.
In Facebook post from November 2015, Forster said he had been "kicked out of college for spreading extremist ideas and recruiting for an extremist organisation and raising racial tensions".
One photo showed him wearing all black with the caption "The Blackshirts are back 88!", referring to the nickname for the British Union of Fascists. The number is used by neo-Nazis as a coded abbreviation meaning "Heil Hitler", and also appeared in Forster's email address.
After announcing his intention to join the army least year, he told Facebook friends he would have to "remove a lot of things" from his account ahead of an interview in June.
"Do not worry, I am not leaving the movement and my views are not wavering," Forster said, passing on contact details for organising undisclosed "operations" in East Anglia.
Another photo posted on his account showed him wearing a shirt emblazoned with the Nazi Reichsadler eagle and posing alongside a National Action poster.
Heading to basic training, Forster signed off: "Courage today, victory tomorrow."
He has not responded to The Independent's request for comment but his father The Times his son was "a young lad trying to pick his way in the world" and had been medically discharged from the army earlier this year.
Hope Not Hate said it had repeatedly warned about the risk posed by National Action, which researcher Matthew Collins described it as "far more secretive and sophisticated" than other far-right groups.
A blog post in December documented military-style training camps operated by the group, adding: "A number of National Action supporters/members, have decided however to apply to join the British Army instead."
All recruits to the armed forces undergo a strict vetting procedure, which includes checks on their criminal history, political views and affiliations and can take up to nine months.
National Action spokesman says he's a Nazi whose role model is Hitler
Evidence of radical views, discrimination and racism can be reported confidentially and investigated and disciplined by military authorities.
A spokesperson for the Ministry of Defence (MoD) said he could not comment on individual cases, adding: "National Action is a proscribed organisation and its ideology is completely at odds with the values and ethos of the Armed Forces.
"The Armed Forces have robust measures in place to ensure those exhibiting extremist views are neither tolerated nor permitted to serve."
Politicians and campaigners are calling for the Government to launch an urgent inquiry into radicalisation in the Army following the arrest of serving soldiers on Tuesday.
Detectives have been granted more time to question the men – a 22-year-old from Birmingham, a 32-year-old man arrested in Powys, a 24-year-old arrested in Ipswich and a 24-year-old arrested in Northampton.
West Midlands Police said they were detained on suspicion of being concerned in the commission, preparation and instigation of acts of terrorism, as well as being members National Action.
"All searches have been completed in connection with the arrests," a spokesperson added. "The arrests were pre-planned and intelligence-led - there was no threat to the public's safety."
UK news in pictures

Show all 50
One of the men is believed to have been serving in Royal Electrical and Mechanical Engineers (REME), while at least one other is in the Royal Anglian Regiment.
The Independent understands the MoD is treating the arrests as an isolated case and has no plans to launch a wider investigation into the possibility of wider extremism.
The Liberal Democrat's Shadow Home Secretary, Ed Davey, praised the "swift action" against arrested soldiers.
"But questions remain over whether the armed forces are consistently monitoring for extremist activity in their ranks," he told The Independent. "The Liberal Democrats have challenged the government to make clear what oversight is in place to track any extremism – it is not enough to simply assume this is a contained example."
National Action became the first extreme right-wing group to be banned in the UK in December. Being a member or inviting support for the group is a criminal offence carrying a sentence of up to 10 years imprisonment but investigations have shown its members are still meeting in secret.
The Government's list of proscribed terror groups describes National Action as "a racist neo-Nazi group" that was established in 2013 and had several branches in the UK that launched provocative protests and activity aimed at intimidating local communities.
"The group is virulently racist, antisemitic and homophobic," the document says. "Its ideology promotes the idea that Britain will inevitably see a violent 'race war', which the group claims it will be an active part of."
Its online propaganda included images showing members performing Hitler salutes inside a German concentration camp, praise for the man who murdered Jo Cox and posts "glorifying terrorism".
National Action's slogan "death to traitors, freedom for Britain", was the only statement given by Thomas Mair in court, and a 17-year-old boy who built a pipe bomb also had links to the group.
Police said 22 suspected members or associates of the group were arrested in 2016, amid concern over a spike in the number of far-right radicals reported to the Government's counter-extremism programme.
Register for free to continue reading
Registration is a free and easy way to support our truly independent journalism
By registering, you will also enjoy limited access to Premium articles, exclusive newsletters, commenting, and virtual events with our leading journalists
Already have an account? sign in
Register for free to continue reading
Registration is a free and easy way to support our truly independent journalism
By registering, you will also enjoy limited access to Premium articles, exclusive newsletters, commenting, and virtual events with our leading journalists
Already have an account? sign in