Neo-Nazi who was making bomb jailed for terror offences after claiming he only wanted to 'blow up a turkey for YouTube'
Police found Peter Morgan's home filled with bombmaking materials, terrorist literature and Nazi memorabilia
Lizzie Dearden
Home Affairs Correspondent
Thursday 16 August 2018 19:40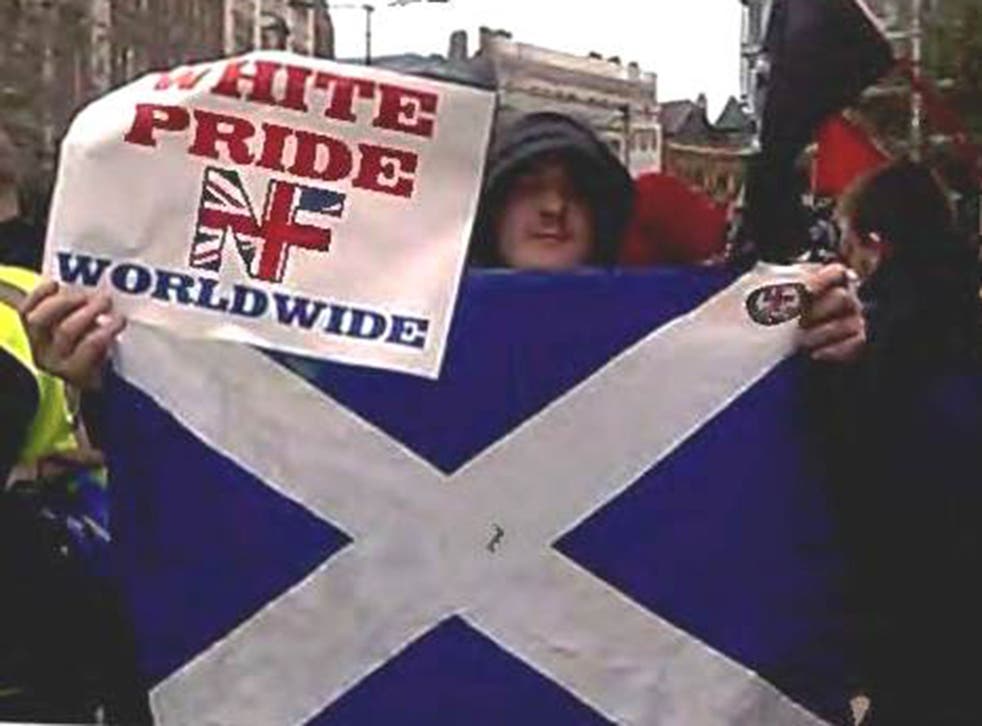 A neo-Nazi who was building a bomb has been jailed for 12 years after being found guilty of preparing for a terror attack.
Peter Morgan's home was filled with explosive components, terrorist literature and Nazi memorabilia including a swastika flag and Second World War dagger.
He claimed he only wanted to blow up a turkey and film it for YouTube but was convicted of terror and explosives offences.
Police uncovered the stash accidentally in July last year when they were called to help a woman who collapsed in an unrelated incident in his block of flats.
The High Court in Edinburgh heard that the 35-year-old had also collected explosive substances, propellants, containers, and a model rocket initiator along with a large quantity of fireworks.
Morgan, of Edinburgh, had modified a vinegar bottle with ball bearings and nail gun cartridges to create a device capable of causing "horrific" injuries, a judge said.
No target was identified for the bombing but the court heard Morgan had not "not disavowed" his extremist views.
He had attended Scottish Defence League protests and was photographed holding a National Front sign at the 2015 White Pride Worldwide Rally in Manchester.
A forensic examination of his computer revealed that he had been viewing and downloading documents on bombmaking, how to remove DNA from a dead body, and the best way to dispose of a dead body.
He also had files on his computer covering torture methods, buying and transporting weapons and guerrilla warfare, and was active on numerous online forums "airing his racist anti-Muslim beliefs", prosecutors said.
Morgan's stash of literature included items from al-Qaeda and the IRA, along with a racist and antisemitic novel that served as inspiration for atrocities including the Oklahoma City bombing, the 1999 London nail bombings, and the attempted murder of a Sikh man in a Welsh supermarket.
Giving evidence, Morgan claimed he "merely intended to blow up a turkey and film it for YouTube" but a jury found him guilty of possessing terrorist publications, preparing an act of terrorism and explosives offences.
Lord Boyd of Duncansby sentenced him to 12 years' imprisonment and a further three years under licence, saying his offences "threaten the safety of the public, our values as a democracy and strike at the dignity and respect which all members of our community are entitled to expect whatever their race or religion".
"You assert your right to freedom of speech. However abhorrent some may find your views, you are entitled to hold them," the judge continued. "What you are not entitled to do is to act on these views for the purpose of committing or preparing an act of terrorism.
"Over a period of five years you amassed a collection of neo-Nazi, anti-Muslim, antisemitic and racist material.
"You downloaded documents from the internet including guides relating to the operation of explosive devices and the manufacture of explosive substances.
"Of most concern is that you not only possessed the ingredients for the making of an improvised explosive device but you had begun to assemble it."
Lord Boyd said Morgan had attempted to make his device more lethal, adding: "The bomb disposal expert described the injuries that might be sustained if one was exploded within three to five metres of a person as 'horrific'."
Morgan, who has a lengthy criminal history including drugs offences, had not been investigated for suspected terrorism before.
The prosecutor fiscal for specialist casework, Liam Murphy, said the authority had "a duty to keep the people of Scotland safe from harm and working with police, government and other agencies are committed to ensuring that those involved in committing offences under the terrorism legislation are brought to justice".
Morgan's was the latest in a series of neo-Nazi terror plots, including the planned assassination a Labour MP and a machete and axe attack at a gay pride event in Cumbria.
British security services have thwarted 13 Islamist and four far-right terror plots since the Westminster attack in March 2017.
Islamists make up the vast majority of suspected terrorists arrested in Britain, but the number of far-right terrorists in prison has more than tripled in a year amid warnings over a rising threat.
Register for free to continue reading
Registration is a free and easy way to support our truly independent journalism
By registering, you will also enjoy limited access to Premium articles, exclusive newsletters, commenting, and virtual events with our leading journalists
Already have an account? sign in
Register for free to continue reading
Registration is a free and easy way to support our truly independent journalism
By registering, you will also enjoy limited access to Premium articles, exclusive newsletters, commenting, and virtual events with our leading journalists
Already have an account? sign in