Alleged member of neo-Nazi terror cell says he entered right-wing politics as a Donald Trump supporter
Samuel Whibley is accused of encouraging terrorism and sharing weapons manuals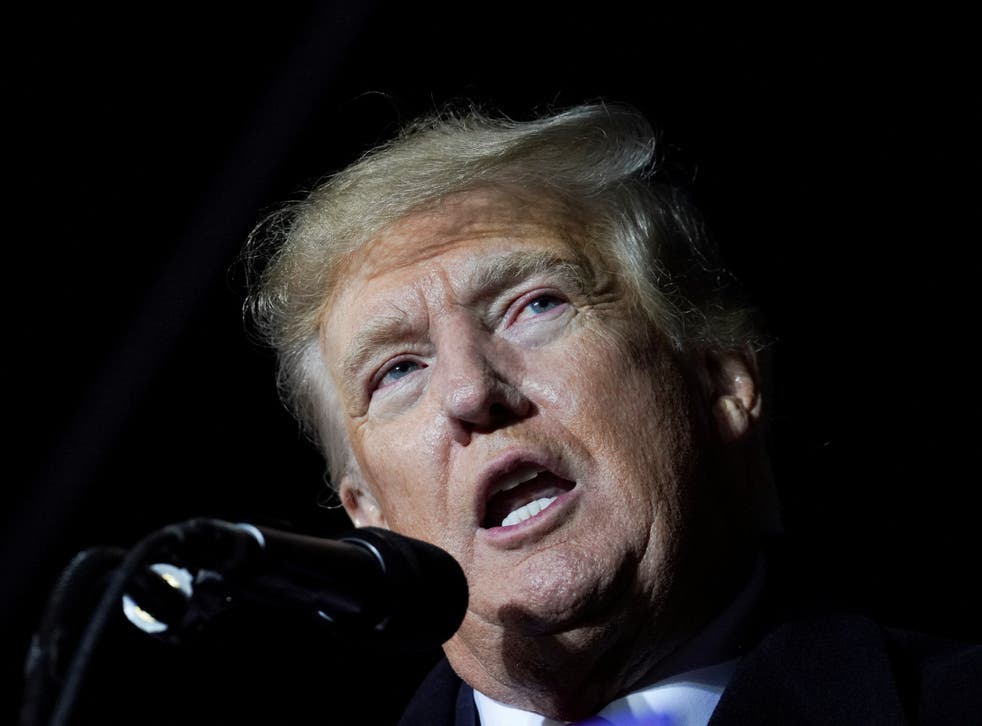 An alleged member of a neo-Nazi terror cell has told a court he first entered "right-wing politics" as a Donald Trump supporter.
Samuel Whibley, 29, is charged with disseminating terrorist publications and encouraging terrorism using the encrypted Telegram messaging app.
Sheffield Crown Court heard he set up a channel and linked chat where neo-Nazi propaganda and bomb manuals were shared.
Prosecutors allege the groups were about "finding the ways and means to copy those responsible for the worst extreme right-wing atrocities", and another of the members is accused of trying to make explosives and a 3D-printed gun.
Giving evidence at the trial, Mr Whibley denied being a neo-Nazi or wanting to encourage terror attacks.
While being questioned by a defence barrister, he said he did not have an "interest in politics" before he started studying for a forestry degree at Bangor University in 2019.
Mr Whibley told the jury he made a new group of friends, including an American student called Noah.
"I started off at the lower end of right-wing politics, I was a Trump supporter from the beginning in 2016," he added.
"Noah was very republican and an ardent supporter of Trump … he introduced me to right-wing memes, he would send them to me."
Mr Whibley said that as time went on he started looking at "more right-wing material", then downloaded Telegram in autumn 2020.
He told jurors that he initially joined groups dedicated to survivalism and prepping, because he had been "involved in doomsday prepping for a number of years".
"I found my way into some right-leaning groups, most of which were based in the US and followed the kind of activity going on around the changeover from the Trump to Biden administration," the defendant said.
He described following the build-up to the Capitol riot in January 2021, saying it "felt like it was going to be some kind of end-of-the-world event".
Mr Whibley said he found the riot "quite frightening" while watching footage of it, and that it "brought out a sense of paranoia".
The previous day, he had set up the Oaken Hearth Telegram Channel, which was described on the app as "a public house and gathering place for British white nationalists".
The channel's logo incorporated a black sun symbol, which the court heard was linked to Nazism, but Mr Whibley said he chose it because it was "aesthetic" and linked to a "love of nature".
The defendant told jurors he originally intended the channel to be "for preppers and survivalists" but decided that to increase following numbers he needed to attract "right-wing preppers".
The court was shown numerous racist memes and posts by Mr Whibley, including some talking about murdering "n*****s" and ethnic cleansing.
He denied holding those views himself and said he was "caught up in the group mentality" and trying to fit in.
The defendant said he was not trying to encourage terrorism with violent posts, and that they were "nonsense" or meant as a "sick joke".
Mr Whibley admitted sharing a post that urged "those who are capable of action to work together" but claimed to have copied and pasted the text from elsewhere, rather than writing it himself.
"No more lone wolf 'take a few with me' s***, as much as we love it isn't good enough. Work in teams and cause utter mayhem when you strike," said the post.
UK news in pictures

Show all 50
Mr Whibley denied advocating for a race war, but said it was one of the "possible scenarios" he envisaged in his doomsday preparation activities.
He said he had been an army cadet as a teenager and had an interest in the history of the Second World War.
The defendant denied being a neo-Nazi or fascist, and described himself as a "right-leaning libertarian with a right leaning" who believes in "minimal government".
He is on trial alongside Daniel Wright, 29, Liam Hall, 31, and his girlfriend Stacey Salmon, 29. They deny a total of 15 terror and firearm charges.
Mr Whibley, of Menai Bridge in Anglesey, is charged with two counts of disseminating terrorist publications using the Oaken Hearth Telegram Channel and linked chat.
He is also charged with encouraging terrorism by sharing a cache of documents including bomb and weapons manuals, and disseminating the files.
Mr Whibley faces three further charges of disseminating other terrorist documents and a separate count of encouraging terrorism.
Mr Wright, of Braithwaite, Keighley, is charged with one count of disseminating a terrorist document and three counts of possessing terrorist documents.
He and Mr Hall, of Keighley, are jointly accused of manufacturing a prohibited firearm. They are also charged, alongside Ms Salmon, of possessing a prohibited firearm.
Mr Wright, Mr Hall and Ms Salmon are jointly charged with possessing components of a 3D-printed gun for a terrorist purpose. They deny all charges and the trial continues.
Register for free to continue reading
Registration is a free and easy way to support our truly independent journalism
By registering, you will also enjoy limited access to Premium articles, exclusive newsletters, commenting, and virtual events with our leading journalists
Already have an account? sign in
Register for free to continue reading
Registration is a free and easy way to support our truly independent journalism
By registering, you will also enjoy limited access to Premium articles, exclusive newsletters, commenting, and virtual events with our leading journalists
Already have an account? sign in