Newcastle grooming gang victim left suicidal and sleeping with knife by bed after being raped, court hears
Four more members of gang jailed for abusing vulnerable women and girls in Newcastle's West End
Lizzie Dearden
Home Affairs Correspondent
Wednesday 06 September 2017 17:55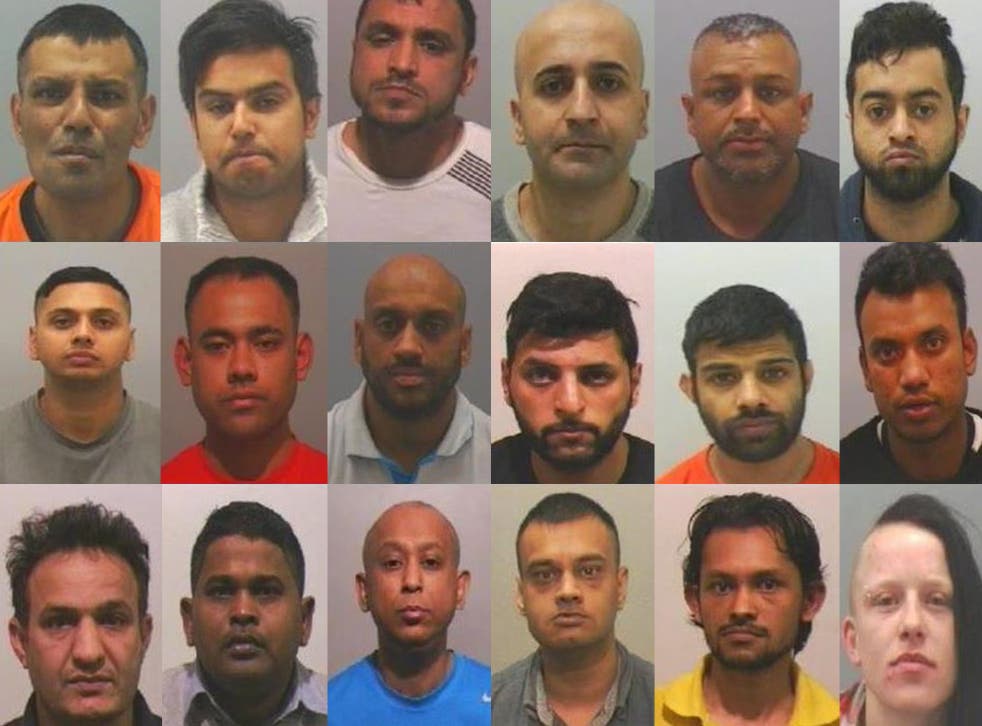 A young woman who was abused by a grooming gang in Newcastle has described how the trauma has left her suicidal and sleeping with a knife by her bed.
The victim was 17 when Habibur Rahim barricaded her inside a room using a wardrobe and raped her.
"I have suffered severe depression and a split personality," she said in a statement read to Newcastle Crown Court.
"I feel paranoid all the time and don't feel safe in my own flat. I have started losing my hair.
"I wake up in the night fearing Sham [Rahim] is in the flat. I keep wanting to take my own life to get away from it all. I now sleep with a knife by my bed.
"My boyfriend is scared to leave me alone in case I try to kill myself."
She is one of 13 girls and women aged between 15 and their early twenties whose cases were used in court, while other victims were too frightened or distressed to go through the judicial process.
Newcastle convictions: 'The idea of the police paying a child rapist may appear morally repugnant'
Rahim, a 34-year-old father-of-two from Fenham in Newcastle, plied the girl with alcohol and drugs before attacking her.
Known as Sham, he was one of 18 convicted members of a gang that groomed vulnerable women and girls, using drugs to coerce or force them into sex and prostitute them to other men.
Rahim was jailed for 29 years for two counts of conspiracy to incite prostitution, relating to eight different victims, a number of trafficking for sexual exploitation offences and one count of rape.
Judge Penny Moreland told the defendant he had been a high profile and active member of the gang and engaged in "sustained and systematic abuse".
She said he had caused extreme harm to his victims by cultivating their dependence on alcohol and drugs, including cannabis and mephedrone.
Six members of the gang have so far been jailed and sentencing for the remaining abusers continues.
Rahim was joined in the dock by Abdul Sabe, 40, Badrul Hussain, 37 and Mohibur Rahman, 44.
Judge Moreland was forced to ask them to stop talking and "stretching and yawning" during Wednesday's hearing.
Sabe, of Dean House in Newcastle, was jailed for 12 years for conspiracy to incite prostitution, conspiracy to traffic for sexual exploitation, conspiracy to sexual assault, and supplying drugs to victims.
He was already on the sex offenders' register, having previously exposed himself to women on the street.
Rahman, known to victims as Jimmy, was jailed for four-and-a-half years for conspiracy to incite prostitution and five drugs charges.
Hussain, of Drybeck Court in Newcastle, was jailed for four years for allowing drugs to be used at his premises and of supplying drugs at so-called "sex parties" where girls were abused.
The court heard Hussain called white women "trash" during a rant at a female ticket inspector, who had found him travelling on public transport without a ticket in 2014.
"All white women are only good for one thing," he shouted. "For men like me to f*** and use like trash. That's all women like you are worth."
Judge Moreland repeated her statement from a previous sentencing that there was no evidence of race being a primary motive for the abuse of white British girls by predominantly Asian men.
She said the gang picked out their victims "not because of their race, but because they were young, impressionable, naive and vulnerable," adding: "This is extremely serious offending against vulnerable members of society and that is the basis on which I intend to sentence."
Rahman's defence lawyer told the court he had made racist comments in "pressured situations", including in a police interview, but was not driven by race.
Juries previously heard how the men would often threaten their victims with violence if they did not take part in sexual activity, while others were raped when they were incapacitated and unable to resist.
Some girls were picked up off the street, while others were introduced through associates and the men frequently groomed them by initially pretending to be friends or loving boyfriends.
One victim told how she was left "feeling like a piece of meat" by abusers, while another said the "monsters" got her addicted to drugs.
In a separate victim statement read out at Newcastle Crown Court, another said she still had flashbacks to what happened to her six years ago at "sessions", where girls were given drugs and then persuaded or forced to have sex with different men.
Another woman said the gang members thought "they are superior to women, and girls do not have the same rights as men".
One victim added: "The way they tricked us into thinking they were our friends was disgusting."
The abuse dates back several years and was only revealed by an investigation codenamed Operation Shelter, that started in 2014 after two victims separately came forward to police.
UK news in pictures

Show all 50
Northumbria Police defended the decision to pay a former child rapist almost £10,000 to spy on defendants' movements to and from "sex parties", where vulnerable girls and young women were given drugs and alcohol and abused.
A total of 17 men and one woman have been convicted of offences including rape, sexual abuse, supplying drugs and trafficking for sexual exploitation in a series of trials.
Local authorities rejected claims of "political correctness" influencing the probe – an accusation that was levelled at Rotherham Council by Theresa May during her time as Home Secretary.
Police said the culprits were mainly "not white" but came from a diverse range of backgrounds including Pakistani, Bangladeshi, Indian, Iranian, Iraqi, Kurdish, Turkish, Albanian and Eastern European.
Steve Ashman, the Chief Constable of Northumbria Police, said a wider investigation throughout the North-east called Operation Sanctuary had identified 700 potential victims of sexual exploitation.
The scale of the abuse has been compared to similar cases in Rotherham, Rochdale and Oxford, with the chief executive of Newcastle council warning that exploitation could be "happening in every town and city across the country".
"What's different here in Newcastle is that we are going out and looking for it," Pat Ritchie told The Independent.
Helplines and counselling services set up during the operation have been kept open, and Newcastle City Council and Northumbria Police have vowed to continue work to support victims, prosecute abusers and prevent sexual exploitation.
Additional reporting by PA
Register for free to continue reading
Registration is a free and easy way to support our truly independent journalism
By registering, you will also enjoy limited access to Premium articles, exclusive newsletters, commenting, and virtual events with our leading journalists
Already have an account? sign in