Pathologist who botched G20 post-mortem abandons appeal against being struck off
Dr Mohmed 'Freddy' Patel gained notoriety after wrongly concluding that Ian Tomlinson was heart attack victim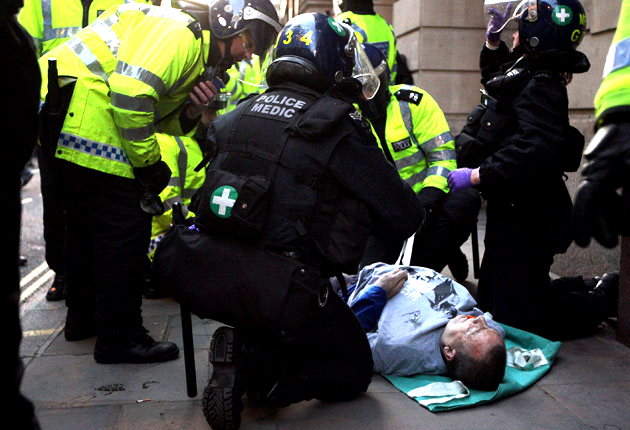 The pathologist who botched the post-mortem of a man struck by a policeman at G20 protests in 2009 has abandoned his appeal against being struck off.
Dr Mohmed 'Freddy' Patel was struck off the medical register last year over a catalogue of errors that went back a decade. He gained notoriety after wrongly concluding that Ian Tomlinson, an innocent bystander who was struck and shoved by a policeman, was the victim of a heart attack.
Later tests by other pathologists found that Mr Tomlinson, a heavy drinker with a history of health problems, had died of internal bleeding after being struck by a policeman as he tried to find his way home through the crowds.
The conflicting evidence meant that the Crown Prosecution Service initially declined to bring charges against PC Simon Harwood, the officer identified after being filmed by a passer-by striking the 47-year-old with a baton and shoving him to the ground.
Keir Starmer, the Director of Public Prosecutions, only reversed his decision after the inquest when he said that medical evidence about the cause of his death had "clearly changed". Mr Harwood was charged with manslaughter but cleared by a jury.
He was later sacked from the Metropolitan Police after a disciplinary hearing for gross misconduct but allowed to keep his police pension because he had not been convicted of any offence.
The fitness to practise panel last year struck off Dr Patel, who had 35 years' experience as a pathologist, from the medical register after finding that had he had deep-seated attitude problems, lacked insight and had an "unwarranted confidence" in his own ability. He planned to appeal, but the General Medical Council confirmed that he had withdrawn his claim and the case was now closed.
Paul King, Mr Tomlinson's son, said: "Dr Patel didn't kill Ian but he obstructed the truth and has caused the family a lot of hurt over the last four years. We are glad if other families are not put through what he put us through."
The families of other people whose post-mortems were handled by Mr Patel called last year for a public inquiry into his work. Police dropped a criminal inquiry into the death of Sally White in 2002 after Dr Patel said she died of a heart attack, although she was found naked in a cupboard.
Anthony Hardy, who lived in the flat where her body was found, was later dubbed the Camden Ripper after admitting that he had killed Ms White and two other women. Dr Patel was also suspended in 2010 for three months because of "deficient medical performance".
Mr Patel's solicitors declined to comment.