Patronia Campbell: Lawyer accused of 'looking for cash' in Tory MP affair claim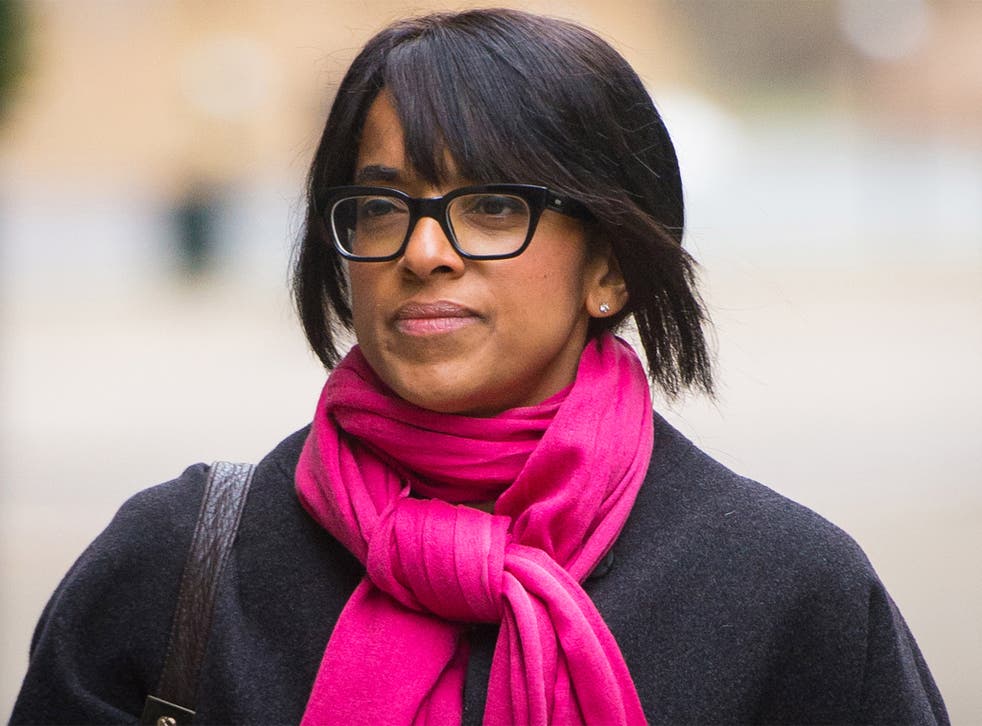 A corporate lawyer who claims her married boss, now a Conservative MP, victimised her at an investment bank after they had a one-night stand was forced to deny that she was "just looking for cash".
Patronia Campbell alleges that she was subjected to a 30-month campaign of bullying by Huw Merriman after they had a night of drunken sex in June 2011 and she subsequently rejected his request that they start an affair.
Ms Campbell, 49, is claiming £250,000 in compensation after saying she was put under "occupational stress" while working for Mr Merriman, who was elected to the Bexhill and Battle seat last year, in the legal department overseeing the liquidation of the defunct Lehman Brothers International.
The solicitor, who had initially claimed £500,000, has told an employment tribunal in east London that she was subjected to unjustified criticism and given low ratings in her annual review by the married father-of-three before she was finally selected for redundancy in 2014.
Among the incidents alleged against Mr Merriman is a claim that he encouraged another colleague to give Ms Campbell a "vulgar" corkscrew as a Secret Santa present. She said she had felt humiliated by the gift, which was in the shape of a man with a corkscrew for a penis and had a cut-out picture of another colleague taped to the head.
Lawyers for Lehman Brothers yesterday denied that Ms Campbell had been the victim of victimisation or harassment and instead accused her of being a "femme fatale" who was seeking to blame others for her own shortcomings.
James Laddie QC, for the bank, said: "I put it to you that you, throughout this process, have just been looking for cash. From the beginning to the end that's what it boils down to."
Ms Campbell told the tribunal that she was looking claim the bonus withheld from her because of her poor performance review and an additional sum for the alleged wrongdoing against her.
She said: "I was looking to receive my contractually agreed bonus that I had earned and also, having taken advice, the intimidation, bullying, sidelining I had gone through since 2011 - there was apparently an additional amount I could claim."
Mr Laddie accused Ms Campbell, who was earning £130,000 a year, of playing the role of a "femme fatale" after she alleged another colleague had wanted to have an affair with her.
He told her: "You love the idea of people lusting after you, don't you, Ms Campbell?"
UK news in pictures

Show all 50
In response, she said: "That's just rude, no I don't."
Ms Campbell added that she had texts to back up her allegations. Under further questioning from Mr Laddie, she acknowledged that she had "no direct evidence" to substantiate her claim that the MP had been behind the corkscrew present but declined to withdraw the claim.
Mr Merriman, 42, has denied having sex with Ms Campbell after a work drinks party in 2011, while accepting that he had returned to the flat where she was staying and spent the night because he had missed the last train home to Sussex.
A friend of Ms Campbell, who was allowing her stay in his home while work was being carried out on her own property, has described how he found the couple drunkenly cooking food in the early hours and believes they shared a room. Simon Carter told the tribunal last week that he encountered Mr Merriman in his underpants the next morning looking "sheepish".
Ms Campbell claims that after a Christmas party the following year Mr Merriman told her he remained attracted to her and wanted a sexual relationship but when she rejected him she was made the subject of a campaign which resulted in her being unfairly made redundant in 2014.
Lehman Brothers International denies the claims. The case continues.