Police investigate Twitter bomb threats against female journalists including The Independent's Grace Dent and The Guardian's Hadley Freeman
Columnists among those told 'a bomb has been placed outside your home' as police advise them to think about moving while they investigate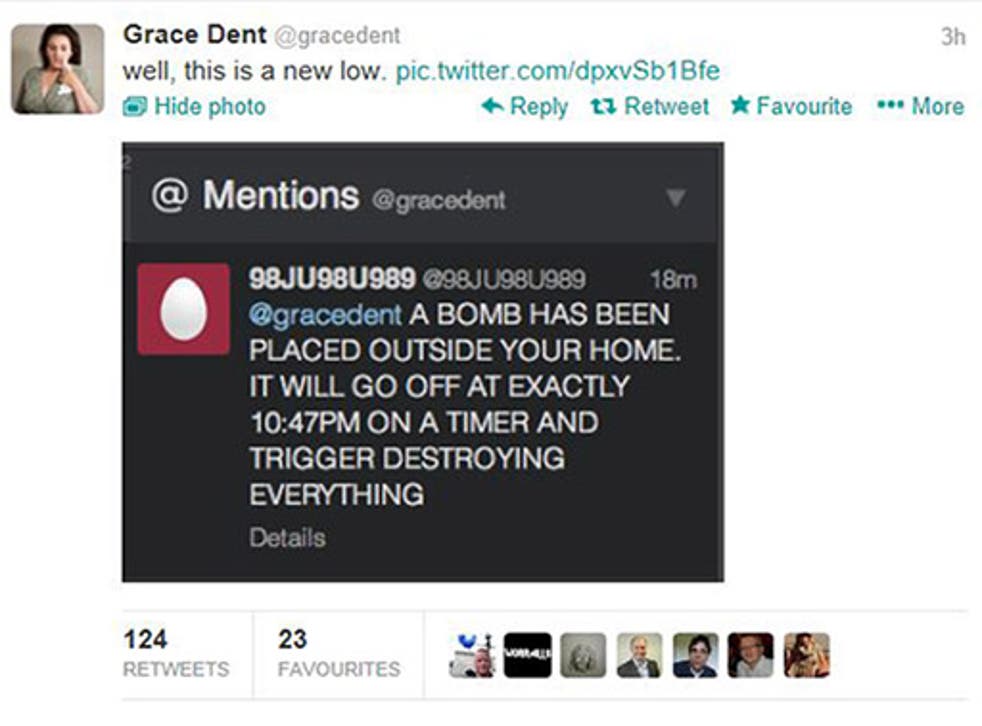 Calls to clamp down on internet abuse sent over social networking sites intensified after a string of leading female journalists and columnists were sent hoax bomb threats on Twitter.
The Independent's Grace Dent, Hadley Freeman of The Guardian, Emma Barnett of The Daily Telegraph and Catherine Mayer of TIME magazine were among those told that explosives would be detonated at their homes at 10.47pm on Wednesday, "destroying everything".
Police advised the writers to think about moving out for the evening while the threats made by anonymous posters on Twitter, using a jumble of letters and numbers as usernames, were investigated. The accounts have since been suspended.
The threats came as the police investigate death and rape threats sent via Twitter to the campaigner Caroline Criado-Perez, who had lobbied for women to be represented on banknotes, and the Walthamstow Labour MP Stella Creasy. Two men have been arrested and bailed in connection with those threats while inquiries continue.
Twitter has been urged by more than 100,000 petition signatories to install a "report abuse" button – making it faster for threats to be investigated and users to be banned.
But some victims fear that regular complaints could overwhelm the system with police unable to track down every user keying in abuse.
Ms Barnett, The Telegraph's women's editor, and a radio presenter on London station LBC, wrote that she had gone to the pub instead of taking the threat too seriously. She said: "Despite this tweeter having committed a crime under the Malicious Communications Act – therefore making the police compelled to act – I understand that behind the scenes, the British police force are terrified that we will get to a situation in this country where they will need to investigate every tweet – which they just can't physically do. Threatening to bomb someone's house and destroy everything is foul. It shouldn't be happening. But it is."
Ms Freeman called the police after she saw the threat. She said: "If it's illegal to threaten to bomb an airport, it's illegal to threaten to bomb me."
Appearing on BBC Radio 4's Today programme Ms Mayer added that she too had called the police but felt less concerned after 10.47pm had passed. She said officers had checked over her home and the targets of the threats had been told that they "may wish to think about moving out for the night".
Ms Creasy said: "Let's be very clear – it's not for us to change our behaviour: it's for them to stop doing this. It's harassment. It's a very old form of crime, particularly when it's targeted in the way that we've had, which is about harassment and hatred of women. It's just taking a new form online."