Prison sentences for any serious crime to be increased for 'terrorist connection' under government plans
Prison worker calls plans to keep terrorists in jail for longer 'crazy' amid radicalisation and networking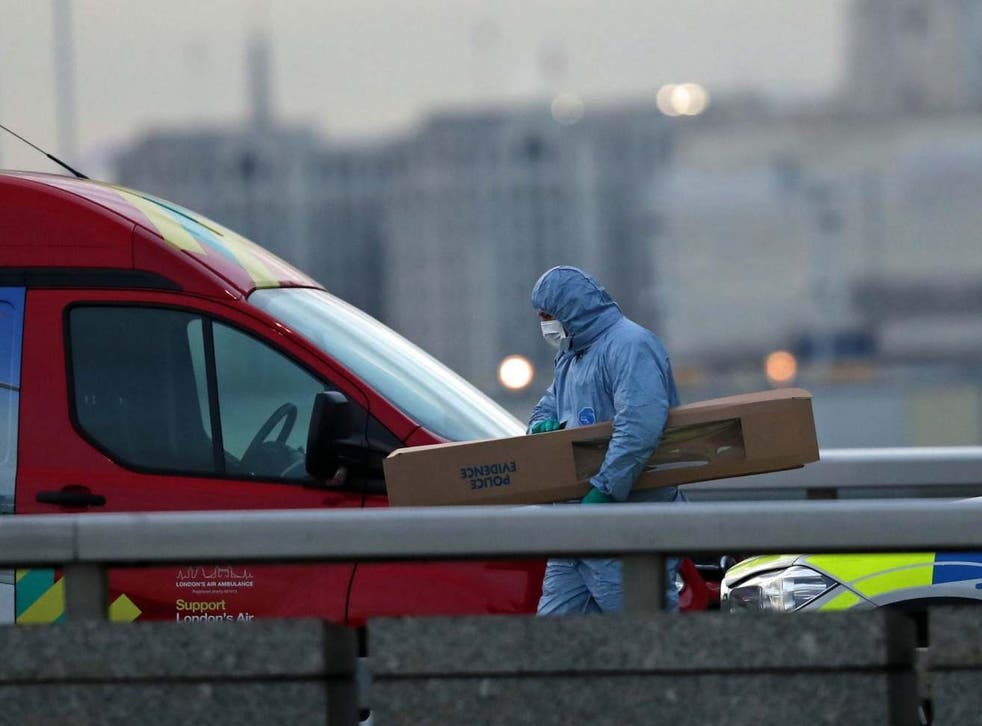 Judges will be able to increase prison sentences for any serious crime by finding a "terrorist connection" under new government proposals.
Currently only specific offences, including murder, hijacking and causing explosions, can be subject to the measure.
But plans being considered by MPs would see judges consider whether there is a "proven terrorist connection" for any crime punishable by more than two years in prison.
The Counter Terrorism and Sentencing Bill, which is being introduced in parliament on Wednesday, would also force terror offenders to spend longer in prison and increase monitoring following their release.
Ministers said the changes were a response to the Fishmongers' Hall and Streatham terror attacks, which were both launched by released terrorists.
But critics accused the government of failing to address the root causes of the incidents and putting public safety at risk with untested strategies.
The changes would force terrorists given extended determinate sentences to serve the entire term in prison, rather than being released on licence, but only if the maximum penalty for the crime was life.
Legal changes would see those found guilty of selected offences, such as planning attacks, handed a minimum 14-year prison term and monitoring for up to 25 years after their release under new "serious terrorism sentence".
They would also increase the maximum penalty from 10 to 14 years' imprisonment for several terror offences, including membership of a banned group, increase licence period and introduce lie detector tests for released prisoners.
The proposals are separate to emergency legislation passed in February that retrospectively ended automatic early release for some terrorist offenders and forced them to spend longer behind bars before being considered by the Parole Board.
Priti Patel, the home secretary, said: "The shocking attacks at Fishmongers' Hall and Streatham revealed serious flaws in the way terrorist offenders are dealt with. We promised to act and today we are delivering on that promise."
Boris Johnson on Streatham terror attack: 'We're bring forward legislation to stop automatic early release'
But there are concerns over the impact of keeping extremists in prison for longer following revelations over radicalisation and terrorist networking inside jails.
A man who works to deradicalise jailed terrorists, and who did not want to be named, called the plans "crazy", telling The Independent: "This is terrible."
Professor Ian Acheson, a former prison governor who conducted a government review of Islamist extremism inside jails, said the sentencing and supervision process was "irredeemably broken and doesn't command public confidence".
But he warned: "We do need to see more focus on how extra time for violent extremists in custody will be used to challenge and change their hateful ideologies. If this isn't effectively addressed, the new measures will simply delay further attacks, and might even inspire them."
Jonathan Hall QC, the independent reviewer of terrorism legislation, said the changes would mean the Parole Board cannot assess the risk posed by some terror offenders before release.
"The calculation appears to be that making these offenders serve their full time in prison is simply the best way of protecting the public in the long term, even if it removes the incentive of parole," he added.
Mr Hall questioned the "operational case" for the changes, which also include a substantial widening of Terrorism Prevention and Investigation Measures (TPIMs).
The orders, which can impose restrictions on movement, communication and association on terror suspects even if they have not been convicted, can currently be imposed for a maximum of two years before being reviewed.
But the new law would lower the standard of proof for imposing a TPIM, expand their powers and enable them to be renewed indefinitely.
"I am uncomfortable with getting rid of protections for individual rights that don't appear to have caused any real problems for the authorities to date," Mr Hall said.
London Bridge attack: Terror police shoot man after stabbing

Show all 29
Only five TPIMs are currently in force and counterterror police said they were used "against a small number of the most dangerous terrorist offenders".
Deputy assistant commissioner Dean Haydon, the senior national coordinator of UK counter terrorism policing, said the proposed changes would bolster the ability to monitor those who pose a threat.
"But this can only work effectively if used alongside a whole society approach aiming to reduce that threat in the long term," he added.
"We need to focus just as much attention on the only strategy which attempts to divert people away from violent extremism altogether – Prevent."
The new law would scrap the statutory deadline for an ongoing independent review of the government's flagship counter-extremism strategy, which was announced last year.
It was due to be completed by August but was hit by controversy and a legal challenge that forced the removal of the reviewer, Lord Carlile. He has not yet been replaced.
The Liberty human rights group said the bill "poses a threat to fundamental pillars of our justice system".
"The government's counter-terror strategy is failing, yet instead of reviewing the errors it is rolling out a bill that threatens all of our civil liberties," said policy and campaigns officer Rosalind Comyn.
"This bill also threatens our safety. Without an evidence-based approach the government is failing to address the root causes of these incidents and therefore failing to stop them."
But the government said it was introducing national standards for monitoring released terrorists, keeping them in probation hostels for longer and putting them under stricter surveillance.
An independent review led by Mr Hall of the way different agencies investigate, monitor and manage terrorist offenders is underway.
The justice secretary, Robert Buckland, said: "From introducing a 14-year minimum for the most dangerous offenders, to putting in place stricter monitoring measures, this government is pursuing every option available to tackle this threat and keep communities safe."
Register for free to continue reading
Registration is a free and easy way to support our truly independent journalism
By registering, you will also enjoy limited access to Premium articles, exclusive newsletters, commenting, and virtual events with our leading journalists
Already have an account? sign in
Register for free to continue reading
Registration is a free and easy way to support our truly independent journalism
By registering, you will also enjoy limited access to Premium articles, exclusive newsletters, commenting, and virtual events with our leading journalists
Already have an account? sign in