Legal challenge launched against government over 'whitewash' review of counter-extremism programme
Exclusive: Legal action lodged at High Court argues appointment of Lord Carlile violates law requiring review to be independent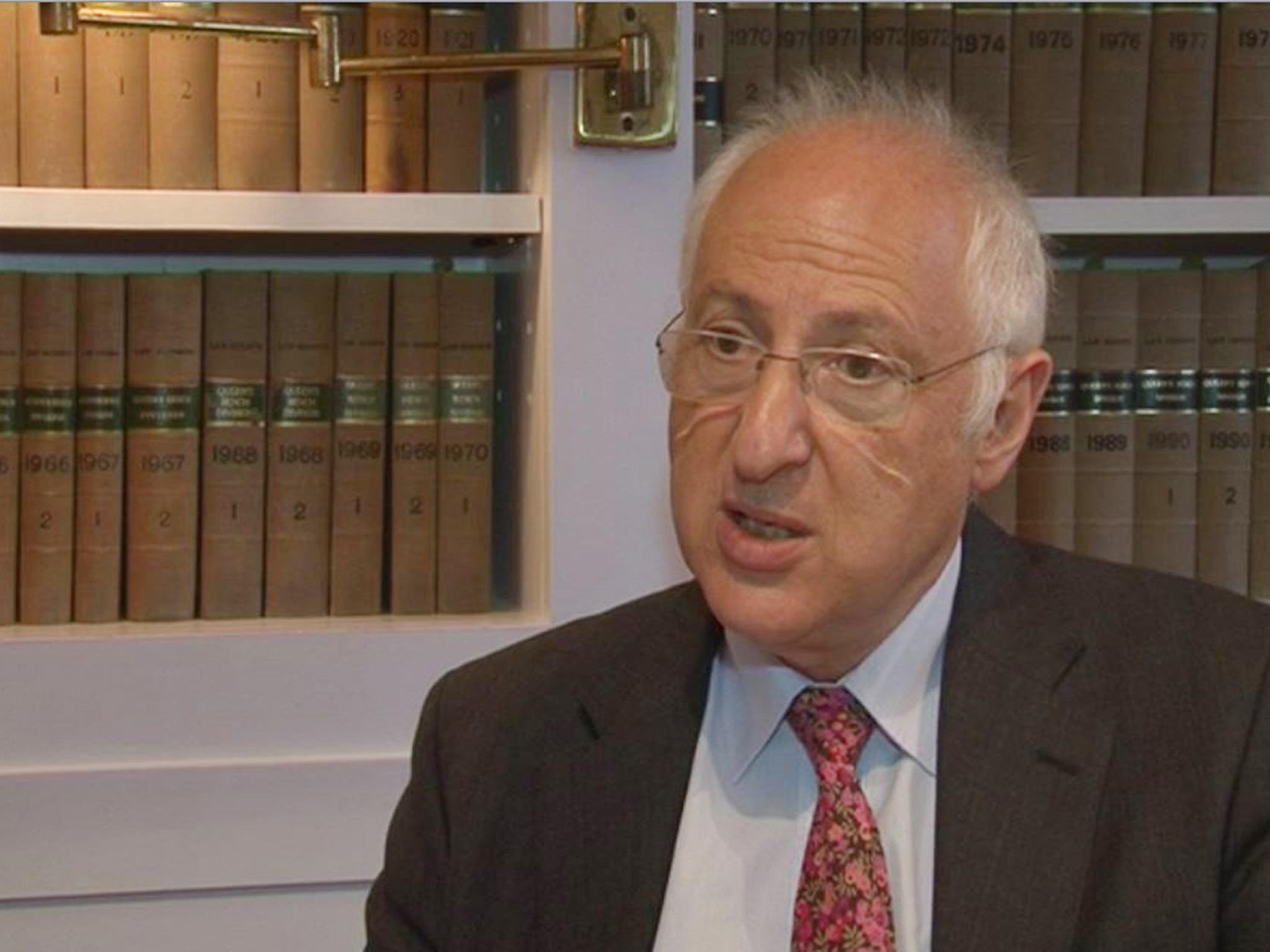 A legal battle has been launched against the government over a review of its Prevent counter-extremism strategy, with allegations it will be a "whitewash", The Independent can reveal.
Campaigners are challenging the appointment of Lord Carlile as the independent reviewer, after he called the probe "completely unnecessary" and claimed it was based on a "complete lack of evidence".
They are also questioning the scope of the exercise, claiming it has been structured to sidestep accusations of discrimination, violations of free speech and religion.
Legal charity Rights Watch UK said it had lodged papers seeking a judicial review against the home secretary at the High Court after receiving "no satisfactory response" to its concerns.
Director Yasmine Ahmed said: "The review that the government has established is nothing short of a whitewash.
"How can it possibly have any integrity when the chair of the review has been so publicly outspoken in support for Prevent, and intimately involved in the policy?"
Appearing at a summit in Canada in May, Lord Carlile said the appointment of a Prevent reviewer "was completely unnecessary, based on fictitious or a complete lack of evidence, and only agreed to because the government doesn't have a majority in the House of Commons".
During a debate in the House of Lords in December, he said he had been a member of the Prevent oversight board and scrutinised the programme as the former Independent Reviewer of Terrorism Legislation.
Lord Carlile told fellow peers Prevent was "achieving a great deal", adding: "I admit I played a part in it, so I may be somewhat biased towards it."
Legal documents seen by The Independent argue that his statements violate the law underpinning the review.
The Counter-Terrorism and Border Security Act, which came into force in April, said the home secretary must "make arrangements for an independent review and report on the government strategy for supporting people vulnerable to being drawn into terrorism".
In the documents lodged at the High Court, Rights Watch UK argued that Lord Carlile's appointment was incompatible with the independence required by the law.
It cited former statements including a 2017 interview with the Russian government-owned RT broadcaster, in which Lord Carlile called claims that Prevent alienated some communities "absolute nonsense", adding: "That is actually, in my view, a lie that third-sector organisations have been trailing out … the evidence in favour of Prevent is overwhelming."
The legal action also challenges terms of reference that restrict the review's scope to its "present delivery … rather than past delivery".
Theresa May: London terror attack shows Britain too tolerant of extremism
A government document said it would assess the programme's effectiveness tackling radicalisation and responding to criticism, but does not mention human rights or discrimination.
"The only reasonable conclusion to reach is that the government has stacked the cards in its favour to ensure the review will not only provide a rubber stamp to the current policy but like the last review, which was also overseen by Lord Carlile, provide the basis to expand its remit and reach," Ms Ahmed said.
"This is the last step available to us to try and ensure this review is genuinely robust and delivers on what parliament wanted – an independent and impartial review."
In a witness statement submitted alongside the application, Labour peer Lord Dubs said there had been a "number of calls over a long period" for an independent assessment of Prevent, and that "an independent and robust review is sorely needed".
Rights Watch UK previously wrote to the government with concerns over the recruitment process, which did not follow the Cabinet Office code for public appointments.
Ministers told parliament the post of independent reviewer was not advertised publicly because of time pressures, and said the home secretary chose the candidate.
Wes Streeting, co-chair of the All-Party Parliamentary Group (APPG) on British Muslims, called the decision "poorly judged" in August, adding: "It is clear that Lord Carlile has pre-determined conclusions that make his appointment entirely inappropriate."
The Muslim Council of Britain said the review would "only have any meaningful impact if it is credible" and called for Lord Carlile to be replaced.
When his appointment was announced, Lord Carlile said his experience showed "a strong track record of asserting and sustaining independence of government".
"I look forward in my new role to seeing Prevent work in action and hearing views from supporters, critics and everyone in between to see the evidence of what is and isn't working," said a quote released by the Home Office. "The review will be strongly evidence -based."
It follows longstanding accusations that the Prevent scheme discriminates against Muslims and creates a climate of suspicion and censorship.
Started in 2003, the counter-extremism programme expanded to include a controversial statutory duty on public bodies such as schools and the NHS to report any signs of suspected extremism.
Critics argue that Muslims have been disproportionately targeted as a result, and that the policy has had a chilling effect in education, but proponents cite a 36 per cent rise in suspected far-right extremists referred as proof it does not single out one ideology.
Official statistics show that only 3 per cent of people are flagged to Prevent by friends and family and 4 per cent by their local community, prompting warnings that the scheme's effectiveness is being undermined by a lack of trust.
In 2017-18, more than 7,300 referrals were made but 42 per cent resulted in no action being taken.
A Home Office spokesperson said: "It would be inappropriate to comment whilst legal proceedings are ongoing."
Join our commenting forum
Join thought-provoking conversations, follow other Independent readers and see their replies