Protesters branded in 'solidarity' with animals
Animal rights activists ignore police warnings they might be arrested for 'outraging decency'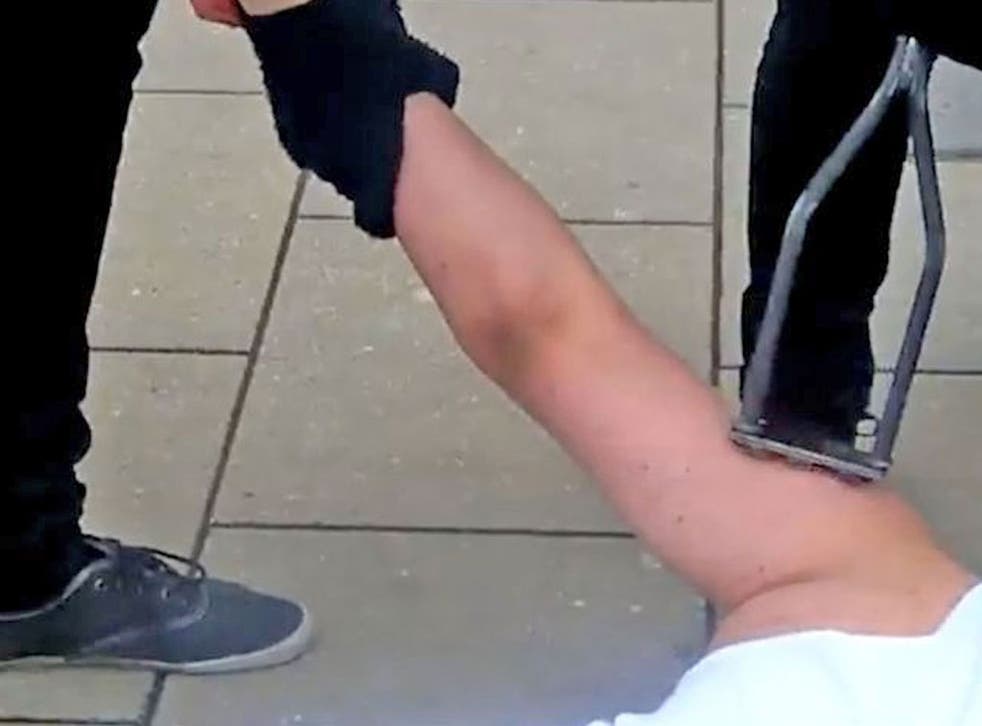 Three animal rights protesters were branded with hot irons on the streets of Leeds in "solidarity" with animals in the livestock industry – despite a police warning that they might be arrested.
The activists had the number "269" burned on to their arms during a small public demonstration on Wednesday. The action was part of a worldwide protest movement founded in Israel, where bare-chested protesters allowed themselves to be chained up and branded in Rabin Square, Tel Aviv, last year.
The group, 269 Life, had planned similar demonstrations in 40 cities around the world. But an event in London was cancelled by organisers after police warnings.
The Leeds brandings took place a day early after police had warned activists they might be arrested if they were seen breaking the law.
A spokesman for West Yorkshire Police said: "Protesters were warned that causing people injury in this way could be interpreted as breaking the law. It could also be interpreted as a threat to public order, or outraging public decency."
Today, protesters returned to Leeds in greater numbers but no one was branded. However, a 28-year-old woman was arrested on suspicion of possession of an offensive weapon, understood to be either a branding iron or blowtorch.
The woman is believed to be one of the three protesters branded the previous day. It is understood she entered a courtroom with the items while attending a sentencing hearing for an unrelated previous offence.
Another protester, Aran Mathai, 23, from Bedford, told The Independent he allowed himself to be branded to draw attention to animals' "pain and suffering caused by human greed".
"Whether it be the animals used for milk, meat or eggs, all of them go through pain and suffering because of human beings," he said. "This was a way to emphasise that pain and suffering and to raise awareness about the way animals are treated."
Mr Mathai, a law student who has been a vegan since the age of nine and involved in several animal rights protests in the past, consented to be branded with the number 269 on each arm by fellow protesters on Wednesday. A video of the event posted online shows a fellow protester holding the hot iron to Mr Mathai's skin for less than a second.
"It is painful," he said. "However, it's nothing to what the animals go through and they have no choice."
Later in the video protesters heat the iron with a blowtorch before branding two other members of the group. The number 269 comes from the label reportedly assigned to a calf in an Israeli dairy farm. The website for the group states: "By branding his number on our bodies, we show our solidarity with the victims of the animal holocaust all around the world, remembering never to forget."
A 269-affiliated protest organised by wealth management executive Becky Folkard had been due to take place in London today. But it was cancelled in February after police warnings that it might break the law.
Ms Folkard, 34, has compared the group's extreme methods to the Suffragette movement.
"Females only have the vote today because women chained themselves to railings and ran in front of horses. We have to move with the times ," she said.
The RSPCA, which campaigns for the improvement of conditions for farm animals, described the protesters' actions as "extreme" but added: "If they want to do it, they can."
Consenting to harm: The law
Contrary to what many think, you cannot consent to serious bodily harm. The precedent was set in 1994 when a group of men were convicted of wounding and assault for a series of sadomasochistic sexual acts. Their defence – that they were consenting adults – was rejected. Jo Boylan-Kemp, principal lecturer at Nottingham Law School, explains that you can only consent to grievous bodily harm in cases such as surgery, but says branding is difficult because it is like tattooing.
Terri Judd