Rape and torture robber jailed indefinitely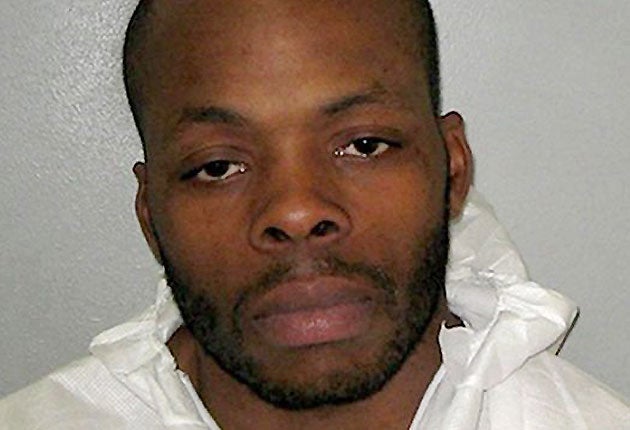 A violent robber who helped rape and torture a couple in their home during an ordeal of "unbelievable brutality" was jailed indefinitely in order to protect the general public today.
Gavin Gordon, 31, who has a string of convictions for violence dating back to when he was a teenager, was given an indeterminate sentence and told he must serve a minimum of nine years before being considered for parole.
But key members of the gang that raped the 26-year-old woman in her home in Clapham, south London, while her boyfriend screamed as he was tortured in the next room, may still be on the loose, Southwark Crown Court in central London was told.
Jailing Gordon, Judge Stephen Robbins told him: "You and others subjected this man and woman to a sustained attack, an ordeal of unbelievable brutality.
"You subjected the male to what can only be described as torture, burning him with an iron, covering him with bleach and rubbing lemon juice into his wounds.
"The female had been orally raped by one of you in the joint and concerted attack carried out in the mistaken belief that there was money in the property."
Gordon's actions "can only be described as horrendous and barbaric crimes on these individuals whose lives have been ruined", the judge said.
He went on: "You would seem to present a high risk of serious harm to the general public, including violence and the use of weapons."
Psychologists found Gordon's drug use and his personality disorder meant he posed a "medium to high risk of future offending" and the risk of future violence was significant.
Gordon, who wore a grey jumper with white trousers in the dock, stared directly at the female police officers in court as he was sent down - but they simply smiled back.
In a victim impact statement, the mother of one, who cannot be named for legal reasons, said: "Before all this happened I was a confident, outgoing girl that enjoyed going out to clubs and had a wide circle of friends.
"Sadly all this has now changed.
"I still have nightmares about that night where people are coming to get me and kidnap me.
"I no longer go out like I would do and find myself staying in with my young daughter as I fear something will happen again.
"I now feel that as a mother I will never be able to protect my daughter as on that night I could not protect myself.
"I still feel totally vulnerable and will live with this for the rest of my life.
"This is something that will not go away."
Describing her ordeal as "life-changing", she said she now suffered panic attacks on a daily basis, was on medication for depression and was seeking counselling after losing more than two stone in weight.
She was leaving her flat shortly after midnight on October 26 2008 when several men approached her and demanded money, the court was told.
They covered her head and forced her back inside her flat, where they made her text her boyfriend and ask him to come over.
When he arrived, they tied his hands with his belt and tortured him, wrapping computer cable around his throat, pressing a hot iron against his forehead and thigh, and rubbing lemon juice and bleach into his injuries. He was also repeatedly kicked and punched.
The woman was forced to perform oral sex and repeatedly raped as she heard her boyfriend screaming in the next room, Scotland Yard said.
The gang later escaped with two cars - an Audi A3 and a Golf GTI, a black Skype 3G mobile phone, a black Nokia mobile phone, £300 in cash and keys.
Her boyfriend added: "The police investigation identified three people but there are still more of them and I don't know who these men are.
"At the time I just felt like giving up.
"After this I began to try to get my life back on track. I am only now starting to feel better about things over a year later."
Gordon was caught because he left his DNA on a juice carton, the court was told.
Robert Rabe, in mitigation, said: "It could be possible that those who were committing the violence and those who planned it would be more cautious about leaving DNA."
Gordon, of no fixed address, had a string of previous convictions.
He was jailed for four years after being found guilty of a series of robberies at the age of 17 and sentenced to a further eight years in July 2000 for repeatedly stabbing a so-called friend he accused of implicating him in a robbery of which he was acquitted.
He was found guilty of robbery, unlawful imprisonment, actual bodily harm and theft following a four-day trial last year.
Two other men - Reon Hall, who was also known as Reon Wong, 20, of Malcolm Road, Coulsdon, Surrey; and Aaron Gelly, 20, of Ferrers Avenue, Wallington, Surrey - were sentenced to nine years each in June for their role in the sustained three-hour attack.
Both Hall and Gelly, who were caught when their DNA was found on a cigarette butt left in the bedroom of the house, pleaded guilty on the basis they did not carry out any of the violence.