Rashan Charles: Police officer suspected of 'gross misconduct' over black man's death still on duty
Metropolitan Police say officer has been placed on 'restricted duties' 
Lizzie Dearden
Home Affairs Correspondent
Wednesday 20 September 2017 17:17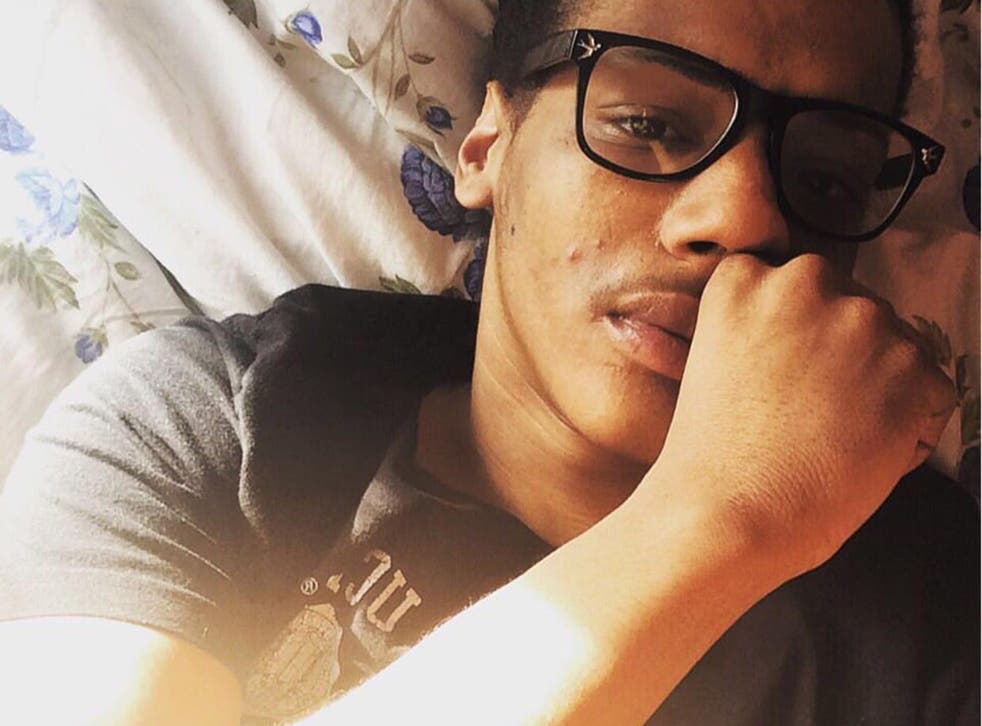 A police officer filmed struggling with a young black man shortly before he died has not been suspended from duty by the Metropolitan Police, it has emerged.
Rashan Charles's family urged the force to reconsider their decision, saying it sends the "wrong message" about Scotland Yard's response to his death.
The Independent Police Complaints Commission (IPCC) previously said it had made representations urging the force to suspend the officer, who it is investigating for gross misconduct.
But the Metropolitan Police has only put the man on "restricted duties" that will prevent direct contact with the public.
Relatives of Mr Charles said footage of the incident showed the "unprovoked use of a great deal of force on a young man", adding: "Rashan died within minutes of that force being used, and we have not been satisfied that he received safe and prompt care from the police.
"Subsequent statements suggesting that Rashan 'became unwell' or that the officer was in some way 'helping' him are a distortion of what we can all see on-screen.
"We are disappointed and concerned that the simple reality of what is seen in the recording has not been translated into prompt and effective action by the police, CPS and IPCC: to suspend this officer and to investigate him as a suspect in possible criminal offences, as well as for gross misconduct. We will continue to press for this."
Rashan Charles was 'well loved' and a 'caring older brother' to many, say residents
Scotland Yard said it had put the officer on restricted duties after being notified that the IPCC was investigating possible gross misconduct earlier this month.
"This means that the officer concerned will be removed from duties that involve direct contact with the public," a spokesperson added.
Deputy Assistant Commissioner Richard Martin said he had "carefully considered" the IPCC's recommendations to make the decision.
"I fully understand the strength of public feeling about the tragic death of Rashan Charles in Hackney," he added.
"Throughout this investigation both the officer concerned and the MPS have fully co-operated with the IPCC investigation and will continue to do so.
"The officer concerned will be office-based and have no direct contact with any member of the public whilst the investigation is ongoing.
"As always, the serving of a notice by the IPCC does not mean that misconduct has been proven against an officer."
Cindy Butts, the IPCC commissioner leading the investigation, said the officer in question had been notified that he is being investigated for gross misconduct.
She added: "The officer may have breached the police standards of professional behaviour regarding the detention and restraint of Rashan as well as how he dealt with Rashan's medical emergency."
CCTV showed the unnamed officer and a member of the public restraining Mr Charles on the floor of a convenience shop in Dalston in a protracted struggle on 22 July.
The IPCC said the 20-year-old "became unwell" during the incident and was pronounced dead in hospital little over an hour later.
A package of caffeine and paracetamol wrapped in plastic was later removed from his airway by paramedics.
The opening of an inquest at Poplar Coroner's Court heard that two post-mortem examinations carried out on Mr Charles, the second of which was on behalf of his family and the police, have been inconclusive.
The full inquest is due to start at St Pancras Coroner's Court in June 2018.
Friends described him as a much-loved member of the community and a good father to his baby daughter, Remiya.
Jada, Remiya's mother, told The Independent he was a "caring and generous" father who was close to his family and always sought to help people.
"Rash was such a caring and generous dad," the 19-year-old said. "He was always buying her things, and he always gave food to the beggars on the street."
Mr Charles was the second young man to die following an altercation with police in London within weeks, with Edson Da Costa dying in hospital six days after being detained by police who stopped the car he was travelling in.
Campaigners claim Mr Da Costa was "brutally beaten" but the IPCC, which is also investigating his death, said an early pathology report showed no sign of serious injury and that he had "a number of packages in his throat".
Violence broke out following a peaceful protest marking both men's deaths outside Stoke Newington police station on 28 July, seeing police officers, a cyclist and lorry driver attacked, and the Metropolitan Police have launched a new appeal to identify three people wanted for questioning.
A spokesperson said the planned demonstration was initially peaceful but "was used by a small number of people as an opportunity to commit disorder".
Mr Charles's family have expressed concerns over the "openness and transparency" of the IPCC investigation into his death, vowing to use "all lawful means available" to establish what happened.