Rebekah Brooks in new email mystery: Police were not given email showing former editor of The Sun signed off all payments, court told
Brooks was cleared of paying public officials for information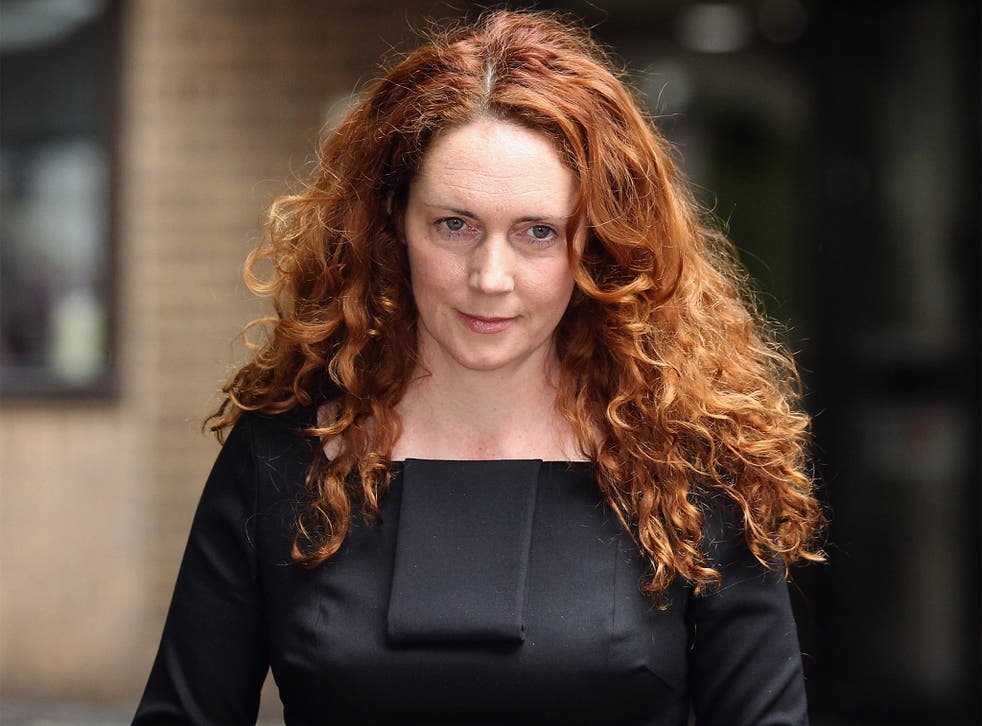 The police chief in charge of one of Scotland Yard's largest investigations, into alleged corrupt payments to public officials by Sun journalists, has claimed not to have seen an internal email stating all cash payments had to be approved by Rebekah Brooks.
Detective Superintendent Mark Kandiah was asked at Kingston Crown Court yesterday about an email dated April 2006 sent to senior executives by the newspaper's managing editor, Graham Dudman, which stated: "With immediate effect, no cash payments to be made without Rebekah's approval."
The jury at the trial of six Sun journalists accused of paying public officials for confidential information was told by lawyers for Mr Dudman that the email had "literally surfaced in the last week". Oliver Blunt QC asked: "I imagine you haven't seen it?" Mr Kandiah, recently retired from the Met, replied: "No."
The former police boss led Operation Elveden, which is investigating allegations of inappropriate payments to police. It led to Ms Brooks, a former editor of The Sun, standing trial at the Old Bailey this year, where she was acquitted of paying public officials for information that led to stories in the newspaper.
Mr Kandiah said much of the evidence for Operation Elveden was handed to police by the Management and Standards Committee (MSC), a unit set up after the phone-hacking scandal by News Corp, the US parent company of News International, publisher of The Sun and the News of the World.
Nigel Rumfitt, acting for Chris Pharo, The Sun's head of news, claimed they were "shopping their own staff". Mr Kandiah admitted that complications over the police's ability to obtain confidential journalistic material had led the Met to rely on the MSC and that "lines of enquiry were dictated by material identified by News International".
However, Mr Kandiah said the company's willingness to co-operate with the police lessened in 2012 when the MSC was asked for "minutes of board meetings". He also said the MSC was "not happy" when it was warned by the Crown Prosecution Service that it could be prosecuted for corporate offences.
Mr Rumfitt asked Mr Kandiah whether "the whole shooting match was run by Mr Rupert Murdoch and his family"? Kandiah replied: "I couldn't comment on that."
The jury heard that News Corp became increasingly concerned when told by the Met in 2012 that responsibility for corporate offences lay at "editor-level" with Rebekah Brooks and Andy Coulson, the former News of the World editor who was convicted of phone-hacking this year.
Mr Rumfitt asked how the MSC reacted to the news that the company was a corporate suspect in May 2012. Mr Kandiah replied: "They were certainly not happy about the company being prosecuted." He continued: "One of the concerns of News International was that the directing minds of the company might be at editor level?" Mr Kandiah said: "That was the situation in 2012."
Mr Kandiah was taken through the minutes of meetings between senior Met officers and officials from the MSC, including Lord Grabiner and several leading News Corp executives from America including Joel Klein and Gerson Zweifach.
Mr Rumfitt said: "There have been allegations of a deal between the Met and the company where News International would not be prosecuted in return for co-operating with police. News International may have convinced themselves of that position, but it is not true."
Hacking trial: The verdicts in full

Show all 7
Mr Kandiah replied: "The minutes of the meetings suggest that." He also admitted there were "concerns" about the way the evidence was collected but told the jury the police had "no choice".
Asked if "there were concerns that the police would look too cosy with News International" Mr Kandiah replied: "That is correct, sir." Mr Rumfitt went on: "There were concerns that News International could fiddle with it. Either tamper with the documents or not provide the full picture."
Later, the jury heard that documents allegedly detailing the authorisation for cash payments by the former Sun editor Dominic Mohan had also only surfaced "recently".
Asked by Mr Blunt QC if he had seen the documents or any other payment signed by Mr Mohan before, Mr Kandiah said he had not. He added that the MSC had declined a request for Mr Mohan to provide a statement to police.
Mr Rumfitt has previously told the court that Mr Pharo believes News International holds "hundreds" of cash payment authorisations signed by Mr Mohan and Ms Brooks.
Mr Pharo faces six charges of conspiring to commit misconduct in a public office; Mr Dudman and Ben O'Driscoll, The Sun's former deputy news editor, are accused of four.
Jamie Pyatt, the newspaper's Thames Valley district reporter, and John Edwards, a picture editor, are charged with three counts each and John Troup, a former reporter is accused of two counts. They all deny the charges.
Explainer: Operation Elveden
Q | What is Operation Elveden?
A | It is one of the largest police investigations in history, mounted by the Metropolitan Police into alleged payments to public officials for information by journalists at The Sun and other newspapers.
Q | When did it start?
A | It began in June 2011 when News International handed over evidence to police that suggested the former News of the World royal editor Clive Goodman had paid police officers for information on the Royal Family. An Old Bailey jury failed to reach a verdict on Goodman and he is due to face a retrial.
Q | Why has it gone on for more than three years?
A | Unknown. The investigation was based largely on evidence handed over by News International to the Met. However, Kingston Crown Court has heard that when the company was informed it was a corporate suspect itself in May 2012, it dramatically lessened its co-operation with police.
Q | Why was News Corp so concerned?
A | Gerson Zweifach, News Corp's general counsel, told police the consequences of a corporate charge could "kill the corporation and 46,000 jobs would be in jeopardy". He said his "job was to defend the company and protect it". He added: "Crappy governance is not a crime. The downstream effects of a prosecution would be apocalyptic. The US authorities' reaction would put the whole business at risk, as licences would be at risk."
Q | How many officers are on Operation Elveden?
A | Seventy – more than double the size of a murder squad.
Q | Where does the name Elveden come from?
A | It is the name of a village in Suffolk with 270 inhabitants that was generated at random by a police computer.