Riots Q&A: What really happened? And, what happens next?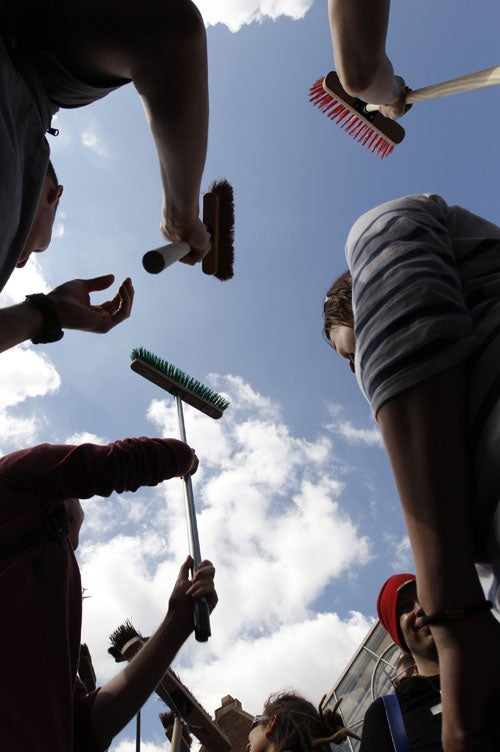 Why did this happen?
The million-dollar question. Everyone has a theory. Chronologically, it began on 4 August, when Mark Duggan, a 29-year-old father of three, was shot dead by police in Tottenham. The handling of the shooting, particularly by the Metropolitan Police and the Independent Police Complaints Commission, seems to have made a bad situation worse. About 100 people staged a vigil on Saturday 6 August, marching towards Tottenham police station. It escalated into outbreaks of violence, looting and arson, but there was nothing inevitable about what followed. A perfect storm of school holidays, rising living costs, warm weather, cautious police tactics, rolling TV news and social media arrived, with deep-seated social and cultural problems, including poverty, failing schools, gangs, joblessness, materialism and poor parenting, playing a part.
Why did it spread?
Factors include a combination of solidarity between deprived areas, relentless television coverage, the reluctance of police to step in and the apparent ease with which looters made off with stolen goods. By Sunday, there was trouble in Enfield, Islington and Walthamstow, spreading to areas including Bromley, Camden, Clapham, Croydon, Ealing, Hackney, Lewisham and Woolwich on Monday. On 9 August, rioting broke out of the capital, reaching Birmingham, West Bromwich, Manchester, Salford, Leicester and Wolverhampton.
Just how much damage was done?
The Association of British Insurers has put the bill at an estimated £200m, though many small businesses and homeowners will not have had contents insurance, so the real cost could be much higher. Under the 1886 Riot Act, anyone who has property damaged in a riot can apply for compensation from their police force, with no limit on the size of claims.
How many people got involved?
It is hard to tell. Police are combing thousands of hours of CCTV footage and, in a handful of high-profile cases, parents have turned in their own children, while others have given themselves up. Scotland Yard expects eventually to bring 3,000 people to justice in London, but, given the number of forces involved around the country, the final figure could be double that.
Could it have been prevented?
It's hard to see how. The scale and randomness of the looting made it near impossible for police to predict – or prepare for – how far it spread.
Is this the same as the anti-cuts riots?
Not really. The student demonstrations in the autumn and the anti-cuts march in the spring began peacefully, escalating into attacks on symbols of power and wealth, notably the Tory party HQ, Prince Charles's car and Fortnum & Mason. What marked the riots last week was the looting, suggesting those taking part were motivated by greed rather than politics.
So who was rioting?
The knee-jerk brigade was quick to condemn a young, predominately black, underclass. The truth, as ever, is rather more complicated. Perpetrators include a youth ambassador for the 2012 Olympics, a teaching assistant and the daughter of a millionaire. But the magistrates' courts have also heard familiar tales of family breakdown and disrespect for community and the police, as the spotlight was shone once again on an oft-forgotten section of British society. For many, looting a store will have provided an adrenalin rush and sense of power lacking from their everyday lives. They did it because they realised they could.
Was race an issue at all?
Not initially. It was more about class than race. In parts of London, some deprived areas are predominately black, whereas in, say, Manchester, the rioters were mostly white. In Enfield, there were reports of about 200 vigilantes taking to the streets. One man said he was pursued by people who shouted "get the blacks and Pakis".
When does community spirit turn into vigilantism?
About 700 Sikhs turned out to defend their temples and homes in Southall, west London, many armed with swords and hockey sticks. Others patrolled the streets with bats and broken pool cues. To a large extent it was fuelled by concern that there were not enough police on the streets.
Are Twitter and BlackBerry Messenger (BBM) to blame? And can we just clamp down on social media?
People who use technology to keep in touch every day of their lives obviously did so during the riots. Information could be passed quickly, and in the case of BBM, was not publicly viewable. However, several people have already been charged with inciting violence online while others have been caught flaunting their looted wares on Facebook. And part of the fightback was online, including the co-ordination of the clean-up and police forces using social media to dispel rumours of trouble. As for shutting down Twitter, do we really want to share social networking policy with Iran and China?
Could the police have done more?
The police insist not, but in the early stages, in particular, eyewitnesses complained that officers appeared reluctant to step in. A culture of political correctness and concern about policing of the G20 may have blunted the response. After recent anti-cuts demonstrations, police adopted tactics to contain and disperse troublemakers. In short, officers turned up ready to police a protest but the rioters did not play by the rules and just disappeared into side streets.
Why not let rip with water cannon, plastic bullets and baton rounds?
It's not very British for a start. It made a nice soundbite for David Cameron and tapped into public anger, but they are almost utterly unsuited to dealing with fluid, moving crowds. After years of police attempts to work closely with community groups, opening fire on the streets would seem a return to the bad old days.
Why can't we just send in the Army?
Tim Godwin, the acting Met commissioner, has said he would rather be the last man left in Scotland Yard, with all his management team out on the streets, before he asked for the Army. Not a great advert ahead of the Olympics next year, with tourism chiefs using the slogan "You're Invited".
Are spending cuts, including to the police, to blame?
There's very little to suggest the riots were connected with the rioters' perception of policing. The later surge in police numbers, from 3,000 to 16,000, shows what can be done. Even after the cuts, police forces will be able to muster large numbers for one-off events. The bigger problem could be detection rates for run-of-the-mill crimes.
What about the Government's response?
David Cameron's lauded reputation for spin seems to elude him at these big moments, with him often appearing behind the curve for 48 hours, as he did when in Afghanistan as the phone-hacking scandal erupted. Attacking the police also seems to have backfired. As Sir Hugh Orde said: "The fact that politicians chose to come back is an irrelevance in terms of the tactics that were by then developing." Ouch.
Why was everyone on holiday at once?
No 10 needs to get a wall chart and some coloured stickers to make sure the Prime Minister is not in Tuscany while his deputy is in the South of France, Home Secretary in Switzerland and his Chancellor taking a double dip on a log flume in California. Two-thirds of people think ministers were slow to get back from their holidays, and the majority would prefer the Government to have been even tougher. No politician has managed to capture the public mood.
Are pockets of society sick, as David Cameron says?
Yes. And it was ever thus. Human beings can be a grim lot sometimes. It just comes as more of a shock to the comfortable inhabitants of the Westminster bubble when these groups make their existence felt.
What about the previous Labour government – should it share any of the blame?
Ed Miliband sought to rise above the politics, while also attacking cuts to the police. His call for an inquiry seems opportunistic – and ultimately doomed. The idea that all was well among Britain's youth until the Tories took power is fanciful and Harriet Harman's attempts to link looting and arson to cutting the educational maintenance allowance were roundly ridiculed.
Is it all simply a four-day wonder?
In a summer as unpredictable as this – remember hacking? – no sane person would definitively say it was a passing fad. But nor would they predict the complete breakdown of society.
What happens now?
Expect the police to be tougher on the streets, while the courts will mete out tougher sentences to make an example of the perpetrators. It might not be fair, but it could recalibrate the justice system. Most of the spending cuts people refer to have not been made yet, and the riots will be used as another argument to put off tough decisions. But the problem with deep-seated social problems is they are hard to solve for politicians who like eye-catching easy wins around election time.
Contributors: Matt Chorley, Emily Dugan, Kunal Dutta, Sarah Morrison and Andrew McCorkill