Rolf Harris guilty: How Australian artist journeyed through TV personality of year and Queen's portrait painter to adulterer and convicted paedophile
The 84-year-old entertainer found guilty on all 12 counts of indecent assault between 1968 and 1986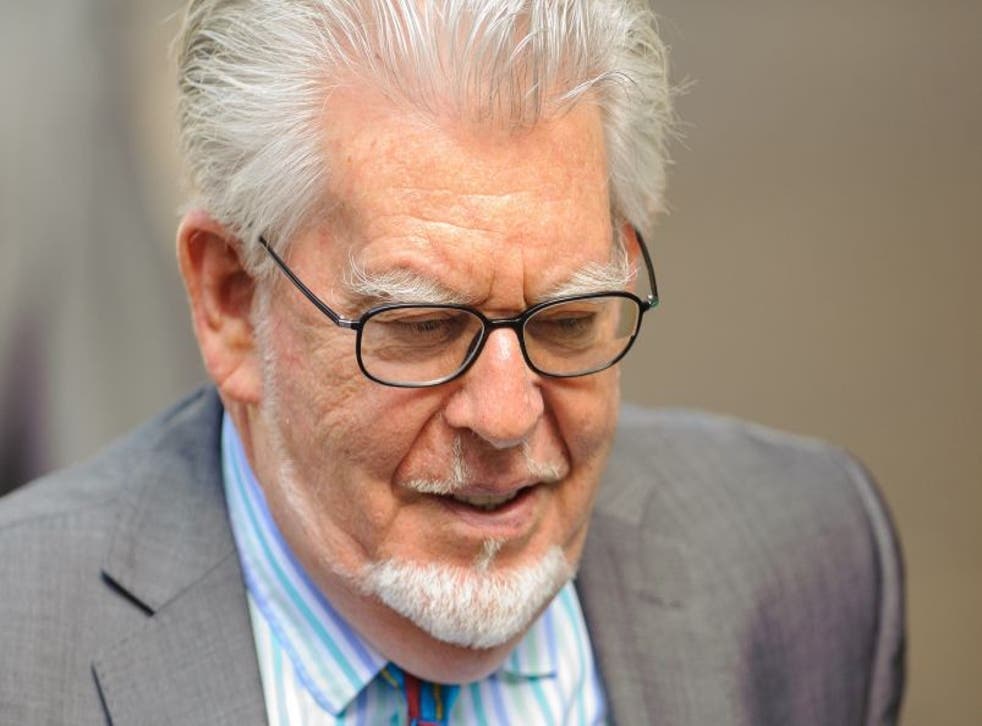 The veteran entertainer Rolf Harris has been found guilty on all 12 charges of indecent assault at Southwark Crown Court.
The 84-year-old has been convicted of attacks on four victims between 1968 and 1986, after the jury of six men and six women deliberated the case for more than 33 hours and into an eighth day.
During his trial, which opened on 9 May, prosecutors claimed that the entertainer was a "Jekyll and Hyde" character who had a dark side to his personality and used his fame to abuse under-age girls with impunity.
His conviction is the most high-profile of those achieved by officers from Scotland Yard as part of the sex crime investigation Operation Yewtree, set up in the wake of the Jimmy Savile scandal.
Once regarded by a UK audience as a national treasure, Harris had enjoyed years of success, bringing him a multi-million pound fortune and the opportunity to paint the Queen.
Rolf Harris: A life in pictures

Show all 20
During a 60-year showbusiness career, the honours for Rolf Harris kept rolling in: BBC TV Personality of the Year, chart-topping star, MBE, CBE, Queen's portraitist, multimillionaire. Into his 80s the titles kept coming to light: the 'Octopus,' adulterer, abuser and finally – as the jury announced its verdict today – convicted paedophile.
Video: Rolf Harris leaves court
Of all the celebrities named during Operation Yewtree, Scotland Yard's investigation into historic sex abuse, Harris's name was the one that emerged with the greatest capacity to shock. While Jimmy Savile was quite clearly odd, Harris was the ebullient but apparently harmless entertainer, tea-time fixture for generations of enthusiastic children, and favourite of the Queen.
He remained impassive as the forewoman delivered the jury's unanimous verdicts, while his daughter Bindi, wife Alwen and niece Jenny watched on from the public gallery.
Harris has now been released on bail until Friday, when he will be sentenced. He was warned by Justice Sweeney that, given his conviction on all 12 counts, it was "inevitable" that there was the possibility he will face a jail term.
Despite his apparently well-known reputation for groping in his native Australia that had earned him the nickname the Octopus, he was viewed as an early champion of child protection campaigns and was considered suitably safe for the model Lily Cole and the actress Dervla Kirwan, among others, to pose semi-naked for paintings inspired by Titania, queen of the fairies, for a BBC documentary.
"I was always quite nervous of asking people to pose naked for me," he told The Independent in 2010. "Would they think I was a dirty old man? I still have a slightly nervous attitude about it, like a naughty boy."
Yet like his former BBC colleague Savile, he operated in plain sight before he was unmasked as a repeat child abuser who used his power to exploit the vulnerable. He was a "sinister pervert who had a demon lurking beneath the charming exterior", his trial heard.
He confessed to at least two 'affairs' – one with a woman down-on-her-luck who he and his unwitting wife installed in a converted boathouse at the bottom of his sprawling Oxfordshire home – and the other with a woman who was not a mistress, but a child groomed, abused and left a mental wreck after more than a decade of exploitation at his hands.
His modus operandi was to operate in the middle of a crowd, and abuse a child that pressed close in their eagerness to meet the celebrated entertainer.
After he was finished, he continued playing the fool as if nothing had happened. One photograph of Harris with one of his victims showed him gurning at the camera as he took to the dance floor before he shoved his hand up her dress.
His predatory behaviour was like his paintings, said Sasha Wass, counsel for the prosecution. "Each stroke can be a little bit vague or unclear but taken together you can identify what is happening," she said. It demonstrated the "Mr Hyde concealed behind Rolf Harris's Dr Jekyll who was his public profile".
Even in the courtroom his demeanour changed. After he had sung a verse of Jake the Peg and laughed his way through his reminiscences detailing his rise to showbusiness stardom, he became persistently aggressive when cross-examined by the barrister and was chastised by the judge.
The boy from Bassendean in Perth, western Australia, was already a household name by the time that he abused his first victim. The son of Welsh migrants, Harris found early fame as a junior swimming champion. He was set for a career as a teacher, but a virus that left him bedbound for weeks prompted a change of heart and he left for Britain to pursue his dream as an artist in 1952.
With his broad Australian accent and his piano accordion, he worked the cabaret circuit to pay his way and his persistence was rewarded with a five minute slot with a puppet called Fuzz on a children's show from 1953.
He married his wife Alwen, a sculptor, in 1958 and by the late 1960s he was a major star of the small screen. He had his own eponymous show, hosted a Song for Europe and was set to end the decade and start the next on top of the charts with Two Little Boys. He was already abusing children.
In 1969, Harris was in Australia to film Rolf's Walkabout with his wife and daughter Bindi in tow. During the trip, he stayed briefly with a family friend who had an open area beneath the house where the artist worked on some of his creations. There he encountered a girl, aged 11 or 12, who was staying with there because she was off sick from school. "He asked me how old I was," the woman told the court. "And he said good, I want to be the first person to introduce you to a tongue kiss."
Back in Britain, the next victim was younger. Within months he was in Hove, promoting Two Little Boys, at a community centre. Harris denied ever being there – he said the chart-topping song never required any promotion – but one woman, aged about seven at the time, told how he abused her while she was queuing for an autograph.
"He was looking at me, smiling, and I was smiling, looking excited, and suddenly out of nowhere I felt his hand go down the back and up between my legs," he said. "He scared me because he was looking at me all the time. His eyes were fixed and I kind of backed away, and I sat on a chair trying to process what was going on and looking at him carrying on as if nothing had happened."
She later told friends that the entertainer was a dirty old man. She said that her life changed because of it. "I can hear a song or something from that era and go straight back. I can shut my eyes and go straight back," she said. Harris said it never happened and he had never been to the centre.
The following year he was accused of groping a woman while dancing in New Zealand, and then indecently assaulting a woman in Malta, where he had opened a club.
The woman told the court that she feared he was going to rape her after he pinned her against the wall and pressed his hand inside her clothing.
In 1978, he indecently assaulted a teenager at a celebrity event in Cambridge. He had claimed not to have been in Cambridge until a few years ago, but he was presented with incontrovertible filmed evidence of him bouncing like a kangaroo down the track in typical Harris showman fashion.
He said he could not remember being there and received backing from the former Crimewatch presenter, Sue Cook, who became a defence witness after tweeting: "I was one of the participants in that Star Games show in 1978. I must say I have no memory of where it took place."
The abuse that brought about his downfall came in that same year with the sexual assault of a 13-year-old schoolfriend of his own daughter. He first abused his daughter's friends as she came out of the shower during a stay in Hawaii and continued throughout the trip until she was in her late 20s. He treated her like a prostitute, the court was told, as she performed sexual acts in him in his car and during a visit to Harris's daughter's home in Devon while he appeared in pantomime.
The 'affair' drove the woman to alcoholism. After a bout of heavy drinking she confessed what had happened to her family. She reported it to the police after she saw him at the Queen's diamond Jubilee celebrations, where he sang Two Little Boys – and earned the sympathy of a nation after he was peremptorily cut off by Lenny Henry so he could introduce Stevie Wonder to the crowds. Other women came forward when it was finally reported that he had been questioned by detectives from Operation Yewtree.
The Jubilee concert had marked the renaissance of his career that had ranged from Cartoon Club to Animal Hospital, to Led Zeppelin's Stairway to Heaven complete with trademark wobble board. He wowed crowds of up to 30,000 at Glastonbury.
With age and under the spotlight of scrutiny, the performances have waned. It remains to be seen but his last public performance could have been to a room of a few dozen: a muttered barely sung rendition of Jake the Peg, before his voice dropped and he was forced to answer to his crimes from previous decades.
"In the courts of England and Wales all men are equal before the law," said Ms Wass. "You can't buy your way out of a criminal charge, you can't bully your way out of a criminal charge, and you certainly can't sing your way out of a criminal charge."
Register for free to continue reading
Registration is a free and easy way to support our truly independent journalism
By registering, you will also enjoy limited access to Premium articles, exclusive newsletters, commenting, and virtual events with our leading journalists
Already have an account? sign in