Rotherham grooming gang: Judge attacks 'indifferent' authorities as five more men jailed for sexually abusing girls
Men waited in cars outside girls' schools, then gave them alcohol and drugs before abusing them
Lizzie Dearden
Home Affairs Correspondent
Friday 30 August 2019 13:53 BST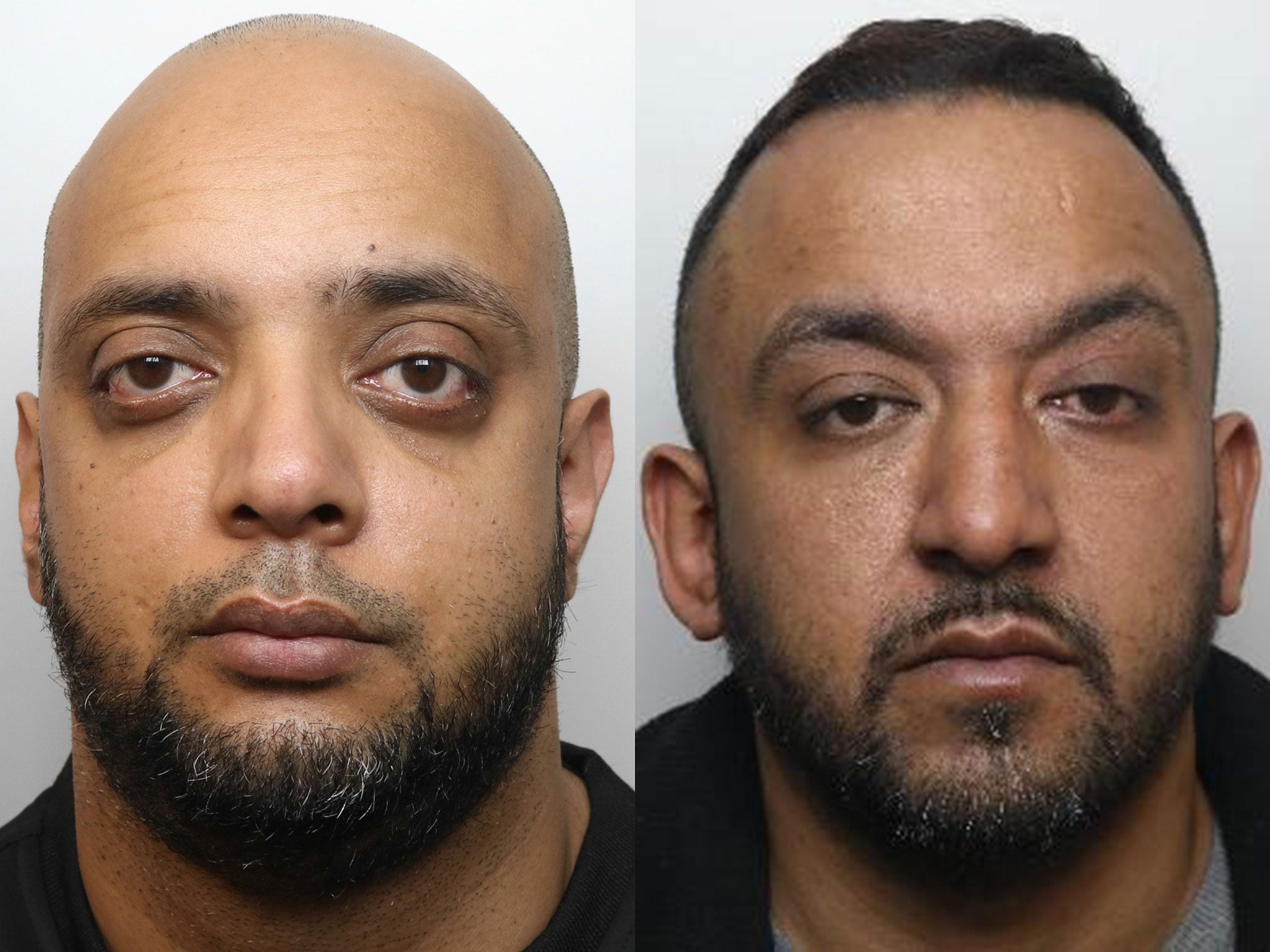 Five more members of grooming gangs that sexually abused girls in Rotherham have been jailed by a judge who attacked the "indifference" of authorities who failed to protect their victims.
Aftab Hussain, 40, was jailed for 24 years for rape and indecent assault and Abid Saddiq, 38, was jailed for 20 years by a judge who described him as a "cunning and determined sexual predator".
Saddiq had been found guilty of two rapes, five indecent assaults and two child abductions.
Masaued Malik, 35, was jailed for five years for indecent assault and Sharaz Hussain, 35, was handed a four-year prison sentence for the same offence.
Another 35-year-old man, who cannot be named for legal reasons, was jailed for 10 years for indecent assault and child abduction.
Mohammed Ashan, who pleaded guilty to three indecent assault charges before the trial began, will be sentenced at a later date alongside a seventh man.
The group abused seven victims, who were all under 16 at the time, after plying them with alcohol and drugs between 1998 and 2002.
Judge Michael Slater said he was "quite satisfied" that relevant authorities were well aware of the way vulnerable teenagers were being targeted at the time.
He told the court that officials were at best "totally ineffectual" and, at worst "wholly indifferent".
"Nothing I can say to you can restore those childhoods of which you were so cruelly deprived by the actions of these defendants and others," Judge Slater told the victims.
He said he was "particularly concerned" to hear that victims "expressed feelings of shame, guilt and self-loathing in relation to what happened to her and by extension to her family".
The defendants are the latest group of offenders jailed as part of Operation Stovewood, which continues to investigate the sexual exploitation of girls in Rotherham between 1997 and 2013.
A total of 20 men have so far been convicted and the National Crime Agency (NCA) vowed to continue the investigation, which has so far identified 190 suspects and engaged with 313 alleged victims out of an estimated 1,500.
A five-week trial at Sheffield Crown Court heard the abusers knew the girls were underage and lacking in confidence.
The men would regularly park outside the girls' schools to engage them in conversation, or hang around at the local park, bus station or in Rotherham town centre waiting for young girls to approach.
The NCA said the victims were "vulnerable and craving attention and love" when they were targeted to become sexual objects for the group.
They believed sex was a price for friendship with the older men and did not realise they were being groomed and exploited at the time.
The girls were given alcohol and drugs, belittled and passed around the group to be abused in Rotherham and the surrounding areas.
"If the girls didn't comply with the men's sexual demands, they turned violent and the power exerted over the girls became more apparent," the NCA said.
"They were given drugs and alcohol and often raped by multiple offenders and they felt obliged to comply."
One victim said in a statement read to the court: "They took my childhood away."
Judge Slater the women should be praised for the "incredible resolve and bravery" they showed to bring the men to justice, and how they "stood up to ensure that what happened to her should never happened to young girls in the future".
Kate Hurst, of the Crown Prosecution Service, said the defendants knew the girls were vulnerable or underage when they abused them.
"They were reckless and did not care if they were children or not," she added.
"Some of the men used threats of violence and they often had sex with these children while they were drunk or high on drugs. They tried to deny their responsibility claiming that the victims were lying or that they did not know they were underage."
Rotherham child abuse: More than 40 suspects arrested over past two months, says National Crime Agency
Sarah Champion, the Labour MP for Rotherham, paid tribute to the survivors and witnesses that came forward to secure the convictions.
"I will continue to campaign for these issues in parliament until all survivors of sexual violence and abuse, in Rotherham and across the country, can be confident that the criminal justice system will support them appropriately, protect them from perpetrators and deliver justice," she added.
The NCA took over the Rotherham investigation following the 2014 Jay Report, which shocked the nation by revealing the scale of the offending against children in the town.
The agency now has more than 200 people working on Operation Stovewood, which had a budget last year of just under £12m, and is looking to increase this as it works towards recruiting a staff of 250.
Philip Marshall, the senior investigating officer for Operation Stovewood, said the NCA "remains committed" to bringing grooming gang members to justice.
"The victims in this case have shown immense courage and bravery in re-living what happened to them and I would like to thank them for helping us bring their abusers to justice," he added.
"I hope these convictions build confidence with the victims and survivors we are currently working with – and those who are yet to come forward – showing that we will listen to you and do all we can to get positive court outcomes.
"We still have a lot of work to do and are not complacent about the task we face – Stovewood is complex in its nature and scale but this will not diminish the pace of our effort."
A further trial is due to go ahead in February 2020 for four defendants accused of 12 offences including rape and indecent assault.
The other abusers jailed as part of Operation Stovewood so far are Riaz Mahmood, Sajid Ali, Zaheer Iqbal, Asghar Bostan, Khuram Javed, Tony Chapman, Darren Hyett, Mohammed Imran Ali Akhtar, Nabeel Kurshid, Iqlak Yousaf, Tanweer Ali, Salah Ahmed El-Hakam, Asif Ali, and a 40-year-old man.
Additional reporting by PA