Russell Brand faces new allegation as Met speak to 'sexual assault victim'
Brand's 'Bipolarisation' live show postponed on Monday evening amid allegations of rape and sexual assault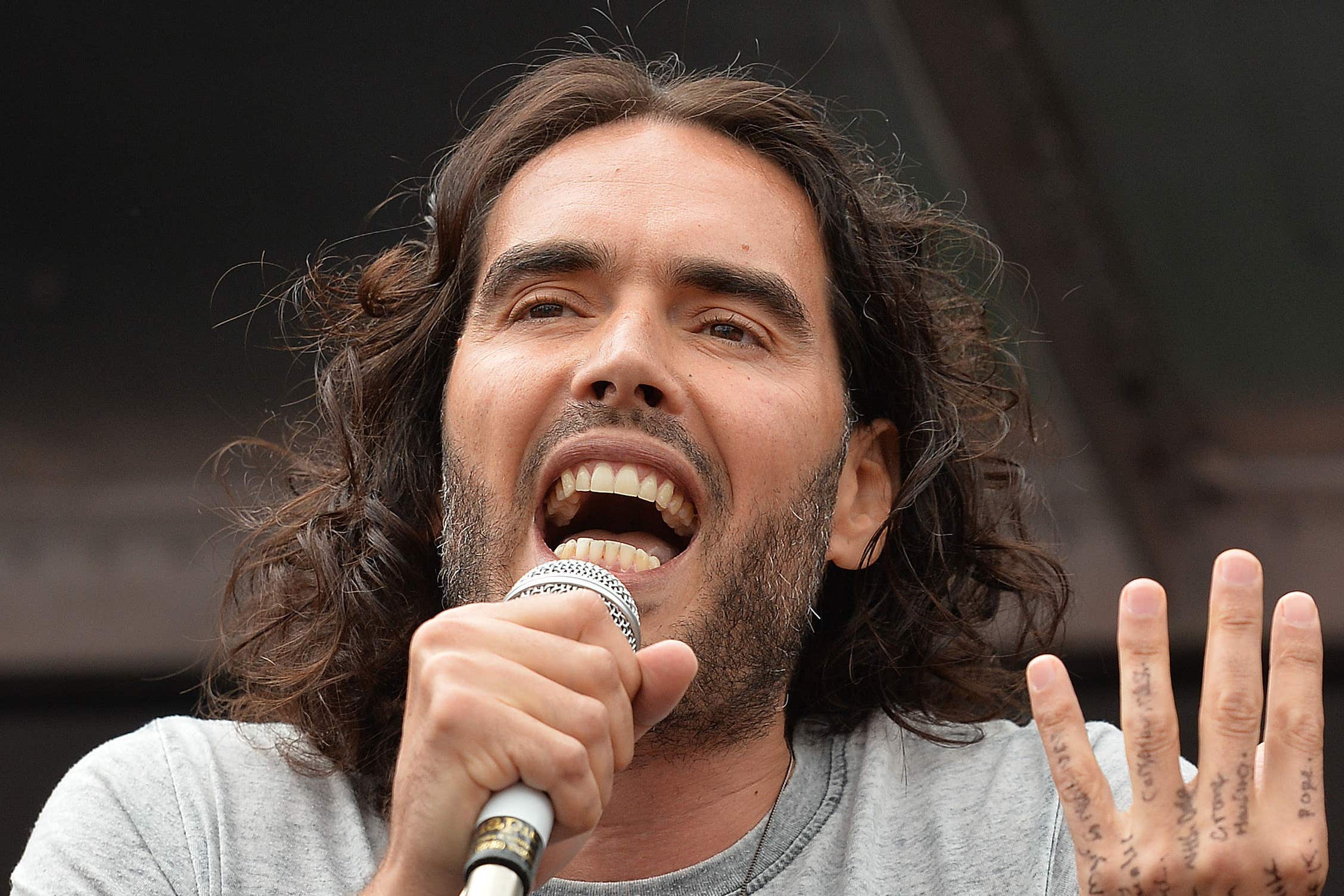 Russell Brand is facing a new allegation of sexual assault, police said on Monday, as a performance by the comedian was called off.
The alleged assault, in London's Soho in 2003, was reported to the Metropolitan Police on Sunday.
The fresh claim comes after The Sunday Times and Channel 4 Dispatches investigations into the 48-year-old comedian accused him of rape, assault and emotional abuse between 2006 and 2013.
The accusations include claims Brand raped a woman at his Los Angeles home, sexually assaulted another woman and caused his colleagues to feel like "pimps" working on his behalf.
Brand has vehemently denied The Sunday Times allegations and claimed his relationships were "absolutely always consensual" during a video posted to his social media and YouTube channel.
The newspaper said more women have since come forward with allegations about Brand, while the BBC and Channel 4 urgently launched investigations into the former presenter.
Downing Street has described the allegations as "very serious and concerning", while the Commons Culture, Media, and Sport Committee said there may be a "full-on inquiry" into the culture of "open secrets" in the TV industry.
A performance of Brand's Bipolarisation show, due to go ahead at the Theatre Royal in Windsor on Monday night, was postponed and ticketholders offered refunds.
The Met Police said: "We are aware of reporting by The Sunday Times and Channel 4's Dispatches about allegations of sexual offences.
"On Sunday, 17 September, the Met received a report of a sexual assault which was alleged to have taken place in Soho in central London in 2003. Officers are in contact with the woman and will be providing her with support."
It added that it encouraged anyone who believes they may have been a victim of a sexual offence to make contact.
One of Brand's accusers told Radio 4's Woman's Hour she was collected from school in a car organised by the broadcaster during her three-month relationship she says she had with the comedian in 2006.
She claims the relationship took place when she was 16 years old, while Brand was aged 30 and 31 and was already an established household name.
Known as Alice, she said her experiences with Brand had left her feeling "dirty" and "cheap".
She said she told Brand her age before their first date, adding: "He just replied saying, 'OK, so we're still on for dinner at 7.30?'
"He was 30," she continued. "Now that I'm in my 30s looking at 16-year-olds, I can't imagine finding them sexually attractive. I can't imagine thinking of them as a potential mate in any way."
Alice claimed Brand "coached" her into lying to her parents and that there had been discussions with his management on pretending she was his goddaughter, as it was "not a good look" for their relationship to be made public.
BBC cars were allegedly used to transport her to and from Brand's home on two occasions, with the broadcaster stating it was "urgently looking into the issues raised" while he was a presenter for BBC Radio 2 and 6 Music.
Alice also alleges that Brand sexually assaulted her at his home, before she cut contact after discovering him in bed with another woman.
Asked how she feels about the comedian denying the allegations, Alice said: "First of all, I think it's insulting, and it's laughable that he would even imply that this is some sort of mainstream media conspiracy."
In his video statement on Saturday morning, released before the investigation was published, Brand claimed that he was the victim of a "coordinated attack" from the "mainstream media".
He stressed that he "absolutely refutes" the allegations, which he described as a "litany of egregious and aggressive attacks".
His father, Ron Brand, jumped to his defence and suggested the BBC was pursuing a "vendetta".
The 80-year-old wrote: "Is this seriously the most important thing happening in this world? Immigrants? Cost of living? 10s of thousands killed in Ukraine? Who is prioritising at BBC News. Who is really driving this vendetta?"
He added: "With many struggling to pay bills. The unproven accusations of 15 years ago take lead on BBC News?".
Caroline Dinenage, chair of the Commons Culture, Media, and Sport Committee, said there could be an inquiry with television executives invited to give evidence in front of a select committee.
The BBC, Channel 4 and Banijay UK, which bought Endemol, the company commissioned by Channel 4 to produce the Big Brother spin-off shows he hosted, have all launched investigations into Brand's behaviour while he was working on their programmes.
Rishi Sunak's spokesman said: "These are very serious and concerning allegations. The prime minister has been clear there should never be any space for harassment, regardless of where it is found."
Culture secretary Lucy Frazer is also expected to speak to broadcasters about their investigations into Brand.
The Los Angeles Police Department (LAPD) said it is not currently investigating alleged offences by Brand said to have taken place in the United States.