'He was carrying a knife and he had blood on his hands': What happened in six terrifying minutes at Russell Square
How events unfolded on a night when one woman died, five others were injured, and witnesses described an attacker 'going for anyone he could see'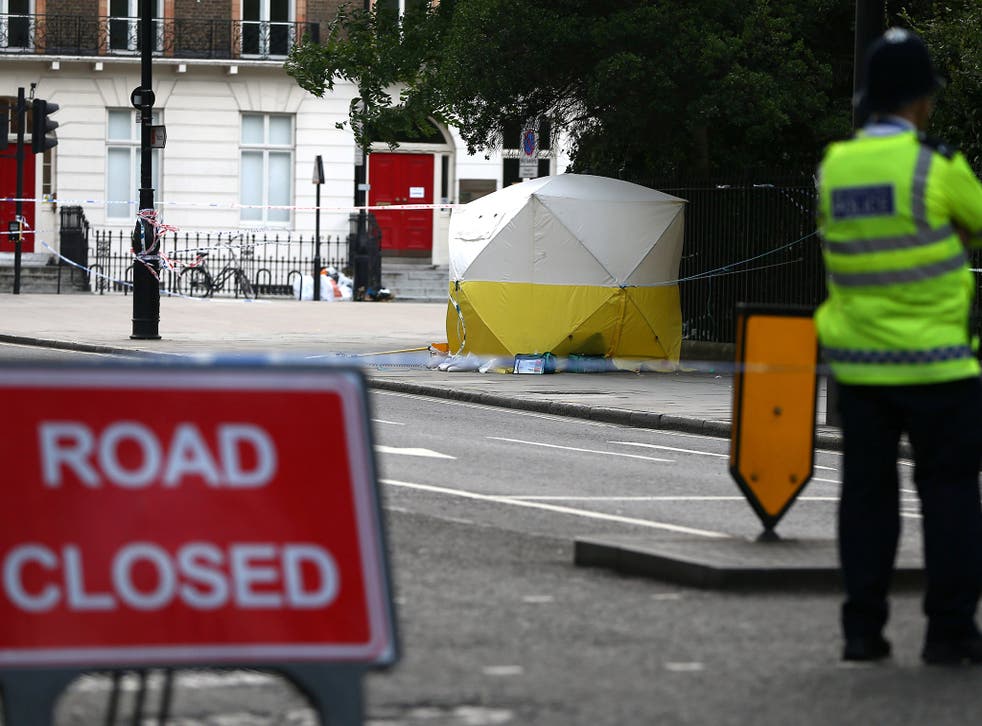 The screaming began just after 10.30pm on Wednesday.
Visiting London from Canada, Michael Godbout was falling asleep in his room in the President, a hotel boasting of its "tranquil" lounge and "peaceful" coffee bar, in a location just off Russell Square.
Now Mr Godbout was shocked awake by the sounds of a woman's screams.
The screams came "a couple of times in one minute", he said. "Then I didn't hear anything."
Though he had yet to realise it, Mr Godbout had heard the opening of a chaotic and terrifying six minutes which would leave one American woman stabbed to death and five people – of British, American, Israeli and Australian nationality – wounded.
In fragmentary, occasionally conflicting accounts, witnesses would describe how a knifeman with blood on his hands rampaged around a Bloomsbury square normally prized as a small haven of greenery and calm in the midst of a bustling city.
Wednesday night's drama came hours after Scotland Yard announced it was putting 600 more armed police on the streets of London as part of its drive against terrorism.
As the first reports came in, Police were unable to rule out terrorism as a motive.
Was there, some wondered, a frightening symbolism in the location? For all its everyday tranquillity, Russell Square is a short walk from Tavistock Square, where in 2005 one of the 7/7 suicide bombers detonated his device on a bus. Another bomber attacked an underground train between King's Cross and Russell Square tube station. And by an oak tree in Russell Square, there is a plaque marking the spot where flowers were laid in tribute to the 7/7 victims.
Against a backdrop of terror attacks in France and Germany, in Nice, Normandy, Ansbach and Wuerzburg – the latter incident involving a teenager on a train armed with an axe and a knife – fears mounted that now it was London's turn to be targeted by a lone wolf terrorist.
Police received their first call at 10.33pm. Then came multiple reports of a man attacking people with a knife in Russell Square, and the neighbouring roads: Montague Street, Bloomsbury Square and Great Russell Street.
In pictures: Russell Square stabbing

Show all 6
It appears the stabbing began on the Southampton Row side of the square.
One witness was overheard talking to police about a man wearing black shorts and a white T-shirt, and covering his face as he made sweeping, stabbing motions towards his victims.
Had the attacker said anything, the police asked. From the witness, it was reported, came the answer: "He didn't say anything. When he stabbed the people he didn't shout or scream or anything."
Perhaps it was this silence that meant that as the first victims started falling, others failed to realise what was happening.
One hotel worker said he heard a guest telling police what he had seen: "He said there was a madman running around with a knife just lunging at people randomly and stabbing them. He was just going for anyone he could see.
"People didn't realise what was happening until they saw the knife, then everyone ran."
Some scattered, screaming, towards the British Museum. Others ran northwards, in the general direction of Euston Station.
Spanish tourists Anna Calderón and Laura Gómez, visiting from Madrid, had just said goodbye to a friend who lives in London when they saw one of the victims, a blonde woman in her twenties or thirties, running, holding her side and shouting: "I need a hospital, I need a hospital."
A middle-aged man and a woman flagged down a taxi for her.
"We didn't understand what was going on because there was no blood," said Ms Gómez. "We didn't know anything until we saw what had happened [the next] morning on the TV."
Back in Russell Square, there was no mistaking the unfolding tragedy.
As he cycled into Russell Square, Fernando, 40, from Brazil, was stopped by a family of Spanish tourists – a mother, father and two daughters – shouting at him to "call someone, call an ambulance", as they desperately tried to help three of the victims.
Fernando described a woman in her twenties with an arm wound and "an Englishman, in his mid-forties", who had been stabbed in the ribs under his left armpit.
"He said 'I'm okay, I'm okay, please help the woman' but I don't think he realised he was so seriously injured."
The Englishman was referring to the third victim seen by Fernando, "an older woman slumping against the gates [of Russell Square Gardens]".
It seems that this was the woman who died, an American in her sixties.
In her seventh floor room in the Imperial Hotel, overlooking where the stabbing occurred, Rehana Azam, 42, a GMB trade union worker from Darlington, heard sirens and looked out of the window.
"I saw a paramedic performing CPR on the person on the ground," she said. "But then it became clear the person being treated for CPR had died. They put a blanket over them."
Russell Square attack: Woman killed in London was American citizen
According to some reports, as she lay dying, the American had tried to warn others that the knifeman was still on the loose.
One witness told the Daily Mail that as they tried to console the woman and stem the flow of blood with new towels they had bought on a shopping trip, "the victim said something about: 'He's still here, he's still here'".
"That's when I saw someone. He was meandering about. He was very disturbed."
In the relative safety of her hotel room, Jodie Parry heard a "commotion" in the street below and looked out of the window.
"He was running down the street," she told the BBC. "He was turning to see if the police were coming close.
"I could hear the policeman screaming: 'Stop, don't move, don't go any further, just stay where you are' and he turned around and continued running.
"He just wasn't prepared to stop. He was actually carrying a knife in his hand and he had blood on his hands."
In Bedford Place, just south of the square, Ellie Cattle, a criminology student from Hull, had been celebrating her 21st birthday. She looked out of her hotel room window when she heard sirens.
"I could see police, three police vans coming down the road," she said, "And all I heard was them shouting 'Put it down, put it down'.
"They sounded urgent for him to put it down.
"Then I heard what sounded like a gunshot, but it must have been the Taser. After that they just stopped shouting. I didn't hear any screams from anyone."
At the Grange Clarendon Hotel in Bedford Place, a night porter saw what happened after the Taser was fired.
"He wasn't struggling," he said. "I think he knew it was over.
"I could see four police officers restraining him, holding him face-down on the floor. One police officer was about to get his handcuffs on him and was speaking into his ear.
"Others were searching the street for something he threw."
When photographers later arrived on the scene, they would see police officers in forensics suits standing over a knife lying on the pavement.
At 10.39pm, police arrested a 19-year-old man of Somali origin, who was taken first to hospital and then to a south London police station.
Specialist detectives from murder and terrorism teams worked through the night on the case.
Londoners awoke to an increased police presence on the streets, including armed officers on patrol "to provide reassurance and safety".
But by midday on Thursday, senior police officers were playing down any suggestion of terrorism.
Assistant Commissioner Mark Rowley, Scotland Yard's head of counter-terrorism, told reporters: "Whilst the investigation is not yet complete – all of the work that we have done so far, increasingly points to this having been triggered by mental health issues."
It emerged that none of the injured were in a life-threatening condition, and three of the five had been discharged from hospital.
But in Russell Square, near the plaque commemorating the victims of 7/7, bunches of flowers were being left along the railings, close to where one woman died; a victim selected, the police now believe, "at random".