Self-harm, drug-taking and sexual abuse more common in privately run prisons, new figures show
Exclusive: What was billed as a breakthrough for the prison system is failing inmates and staff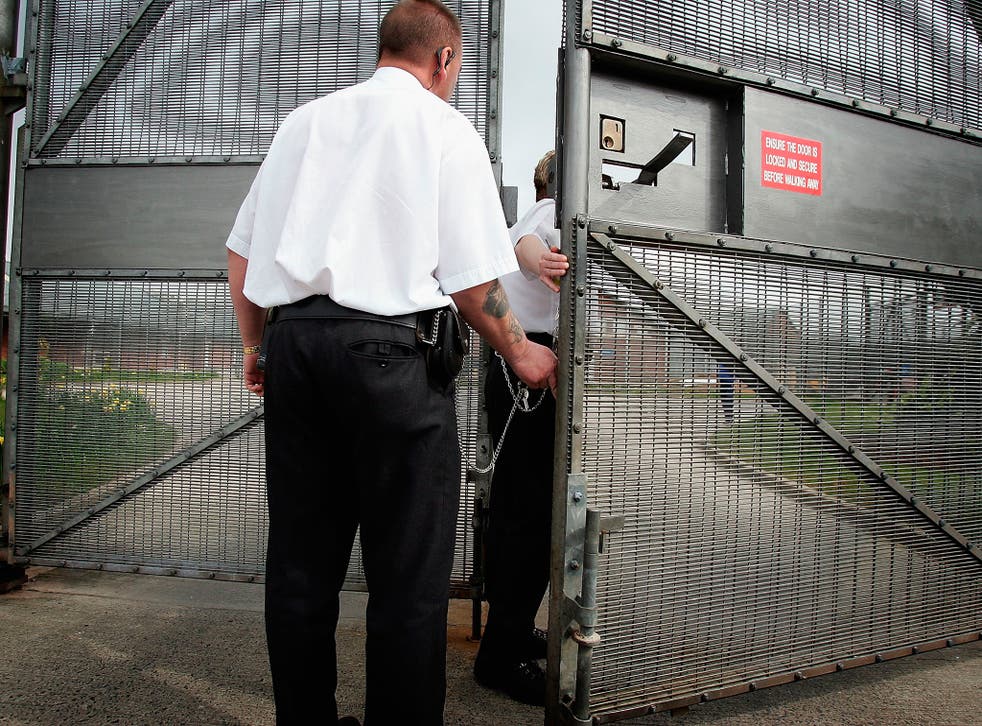 Twenty-five years after the first private facility opened in Britain, private jails are performing far worse than government-operated facilities on at least a dozen counts. They account for a higher proportion of fighting, sexual assaults, drug-taking, self-harming, hunger strikes, and prisoner escapes than public-sector prisons, according to an analysis by The Independent on Sunday of new government statistics.
Private prisons were supposed to be the saviours of Britain's crumbling penal system, leading by example to inspire better conditions for prisoners and safer jails. In the words of the former Home Secretary Ken Clarke, privately run prisons would bring "considerable" benefits and help "raise standards".
But the new data shows that while Britain's 14 private prisons hold fewer than one in five (18 per cent) of the country's prisoners, they accounted for 23 per cent of assaults in the first six months of 2014 alone and one in four prisoner escapes. And the jails, run by Sodexo Justice Services, Serco Custodial Services and G4S Justice Services, also accounted for more than a third of all drug seizures, half of "full close- down searches" and 32 per cent of "deliberate self-harm" incidents involving prisoners.
The figures, from the Ministry of Justice (MoJ), are a snapshot of incidents in all jails between January and June last year. They include a breakdown of the incidents in publicly run prisons and those in jails operated by private companies.
About a third of all cases of vandalism by prisoners and hunger strikes – dubbed "food refusal" – occurred in private prisons. Almost a third (28 per cent) of rooftop protests took place in private facilities, which also logged one in four of all "mobile phone finds" and "key or lock incidents".
The statistics do not pick out incidents such as bomb threats and attempted escapes, but these are included in a category called "miscellaneous" incidents. Of these, more than 1,200 (around 28 per cent) took place in private jails. Private jails also accounted for 21 per cent of all cases of "concerted indiscipline" and fires. The statistics were obtained by Sadiq Khan, the shadow Justice Secretary and Labour Party candidate for Tooting, south London.
"This data I have uncovered is really startling," he told The IoS. "To see such differences between public and private prisons demands answers. Private prisons provide a very important public service paid for by taxpayers' money. The public expect the same high standards from all prisons, regardless of who runs them. Yet this data suggests that the performance of private prisons in providing an environment that both punishes and rehabilitates offenders is lacking."
The Government, he said, should demand an explanation from the "multimillion-pound private companies" in charge of Britain's private jails, with an "urgent plan" drafted to rectify the situation.
Privately managed prisons were introduced to Britain in the 1990s, amid criticism of the way public-sector prisons were being run and now represent about 11 per cent of jails.
Juliet Lyon, director of the Prison Reform Trust, said: "There are good and bad private prisons, just as there are in the public sector. But these statistics show a consistent and worrying pattern, with people held in contracted-out establishments more likely to be involved in an assault or to have harmed themselves."
As well as the high rate of incidents at private prisons, the MoJ figures highlight wider issues in the prison system as a whole. More than 7,700 assaults were reported in Britain's jails in six-month period under study.
During this time, there were also almost 12,000 cases of self-harm, 600 "fire incidents", and almost 100 cases of what officials describe as "concerted indiscipline".
And the situation could be even worse than official figures suggest, according to Frances Crook, chief executive of the Howard League for Penal Reform. "There are often anomalies in record-keeping in prisons, particularly in relation to violence and purposeful activity, and it is easy to 'game' the system. There needs to be a more impartial system for gathering information about what is going on in prisons, both private and public
"Figures like these indicate that there are very serious problems in both private and public prisons – problems such as high levels of violence, self-injury and drugs – and these result in there being a greater risk to the public."
This comes as a new report warns that the past two years have seen a "worrying deterioration in safety and standards in prisons". The report, by the Prison Reform Trust, was released to mark the 25th anniversary last week of one of the worst prison riots in British history with two men dead and 194 injured at Manchester (Strangeways) Prison.
It warns: "Rising numbers of deaths in custody and a marked increase in violence, coupled with continued overcrowding and falling rates of purposeful activity, have called into question basic standards of safety, fairness and decency in our jails."
An MoJ spokesperson said: "It is wrong to make comparisons between establishments, whether public or private sector, based on just a partial view of the data. It is totally misleading, and does not take into account the different circumstances in each prison.
"We have a comprehensive system for measuring prison performance, and manage private prison contracts to get the best performance for the taxpayer. Public- and private-sector prisons have comparable performance levels."
That confidence is not reflected by the latest annual performance ratings issued by the National Offender Management Service. Data based on 27 indicators reveals that not one privately run prison managed to score a 4 rating for "exceptional performance". In contrast, more than one in 10 of the publicly run prisons were judged to be in this category.
Register for free to continue reading
Registration is a free and easy way to support our truly independent journalism
By registering, you will also enjoy limited access to Premium articles, exclusive newsletters, commenting, and virtual events with our leading journalists
Already have an account? sign in