Sexual abuse inquiry: Investigation into Jimmy Savile's years of abuse at the BBC delayed for a third time
Dame Janet Smith's review makes chiefs nervous – and lawyers richer – as it goes into another year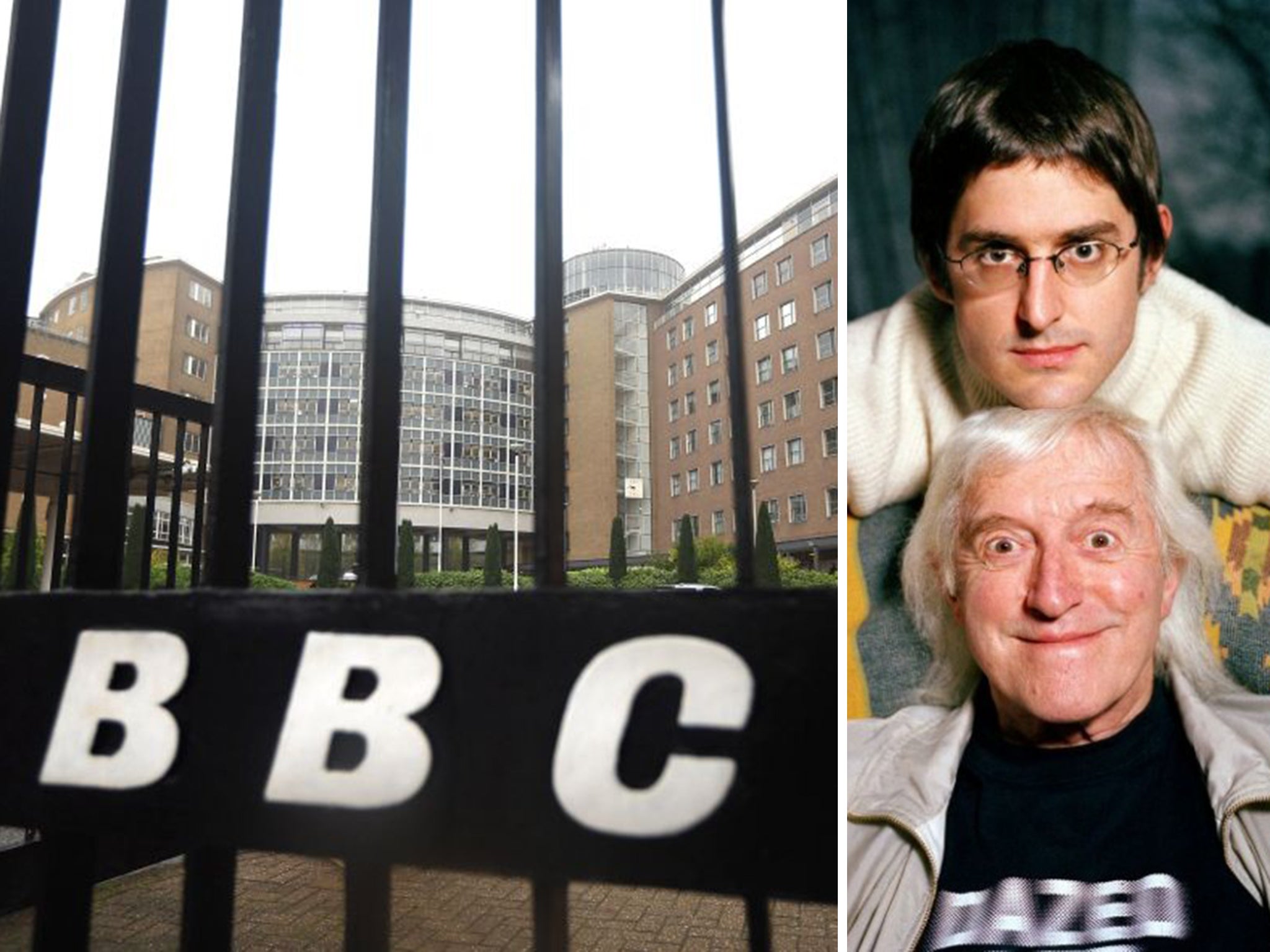 The judge-led inquiry into sexual abuse at the BBC has been contacted by so many witnesses that publication of its findings has been delayed yet again, until next year. The Dame Janet Smith review, set up in 2012 in the wake of the Jimmy Savile scandal, was initially expected to conclude in January 2014, and another date was set for the summer.
More than 740 people have approached the six-strong inquiry team, with evidence relating to Savile and how he was able to target victims while working for the BBC. The team is also focusing on whether BBC bosses turned a blind eye to his behaviour.
Witnesses were still coming forward to give evidence, the inquiry team admitted. "In the light of this, the Report is not expected to be finalised until early 2015," a statement acknowledged.
The delay fuelled speculation that the report will cause "severe turbulence" for the BBC. Those likely to be criticised in it will then be given an opportunity to defend themselves before the report is released, potentially pushing publication back to next spring.
It is also feared that the cost of the inquiry could now absorb at least £5m of licence-payers' money, bringing the total amount spent by the BBC on Savile-related inquiries to about £10m – similar to the amount spent on the Chilcot inquiry into the Iraq war.
By 15 September, the inquiry had held more than 350 telephone conversations with witnesses; almost 190 witness interviews had taken place in connection with the investigation into Savile. A separate strand, relating to former BBC presenter Stuart Hall, had involved 100 telephone conversations with witnesses and a 31 witness interviews. Hall, 84, is serving five years in prison for multiple sexual offences.
Dame Janet's remit is "to conduct an impartial, thorough and independent review of the culture and practices of the BBC during the years that Jimmy Savile worked there". The review is believed to be covering the years 1965 to 2006.
The inquiry was set up in October 2012 by George Entwistle, the BBC director-general who resigned after 54 days in the job because of his handling of the Lord McAlpine scandal, in which the late Tory peer was falsely accused by BBC2's Newsnight of being a paedophile. BBC insiders now believe there is "regret" that Mr Entwistle ever established the Janet Smith review.
One source said: "George set up this inquiry to calm the storm generated by the Savile scandal but, at the time, nobody realised it was open-ended, and nobody imagined it would last more than two years. When the report is published, there is going to be severe turbulence at the BBC. She's obviously doing an incredibly thorough job and executives are nervous. Let's not forget this is the woman who ran the Harold Shipman inquiry."
This weekend a former colleague of Savile, who has also given evidence to the inquiry, expressed frustration at the delay. Speaking on condition of anonymity, the source said: "Those of us who worked with Savile have now been waiting over two years for this report to be published.
"While we have great faith in Dame Janet, we are dismayed that it is taking so long for her findings to see the light of day. Giving evidence … without the cloak of anonymity has not been easy."
In February, Tory MP Rob Wilson wrote to Dame Janet urging her to interview former BBC chief Mark Thompson and BBC executive Alan Yentob over concerns that they heard allegations about Savile's behaviour more than a decade ago. Mr Thompson has repeatedly claimed that during his 30-year BBC career he was never aware of rumours that Savile was a paedophile.
Mr Wilson pointed out, however, that Mr Thompson was director of television, with responsibility for all TV output, at the time the award-winning BBC2 documentary When Louis Met... Jimmy was broadcast in April 2000. In a notorious 70-second exchange during the film, journalist Louis Theroux tackled Savile over allegations that he had an unhealthy interest in children.
Mr Theroux asked if Savile pretended to hate children "so tabloids don't pursue this whole 'Is he, isn't he a paedophile?' line". Savile responded: "Yes. How do they know whether I am or not? How does anybody know whether I am? Nobody knows whether I am or not."
The documentary was watched by about four million viewers and won the Richard Dimbleby Award at the 2002 Baftas.
Mr Wilson wrote: 'It is unlikely the programme escaped Mr Thompson's attention... I also consider that it is implausible that the makers of When Louis met... Jimmy and the BBC would not have taken legal advice before putting the allegations of paedophilia to Savile and broadcasting them on air.
"This advice... would have been referred up to the highest levels of senior management."
BBC records show Savile was paid £4,000 to take part in the film.
Mr Thompson was installed as director of television on 3 April 2000, 10 days before Theroux's documentary was broadcast. He held the post for almost two years. His predecessor was Mr Yentob, who was in the job when Theroux's film was commissioned in 1999.
Law firm Reed Smith LLP will benefit from the latest delay. It made £1m in fees from a previous Savile-related inquiry, the Pollard review, which was conducted over just eight weeks in 2012.
A spokesman for the inquiry refused to comment.
Failure to report
29 Oct 2011: Savile dies.
3 Oct 2012: ITV programme reveals widespread allegations of child sexual abuse by Savile. BBC faces criticism for failure to broadcast an earlier Newsnight investigation.
19 Oct 2012: Metropolitan Police launch Operation Yewtree. BBC asks Dame Janet Smith to conduct an inquiry.
Dec 2012: More than 290 witnesses come forward.
Jan 2013: Police and NSPCC report says allegations against Savile cover a period of 50 years.
23 May 2014: Stuart Hall found guilty of indecently assaulting a girl. BBC says a further investigation will take place into Hall. Dame Janet Smith declares a potential conflict of interest.
2014: Report delayed until 2015.