'You don't belong here': Solicitor caught on camera in racist train rant against mother and child over first class seats
'You should be in common class. In fact, you shouldn't be in this country at all'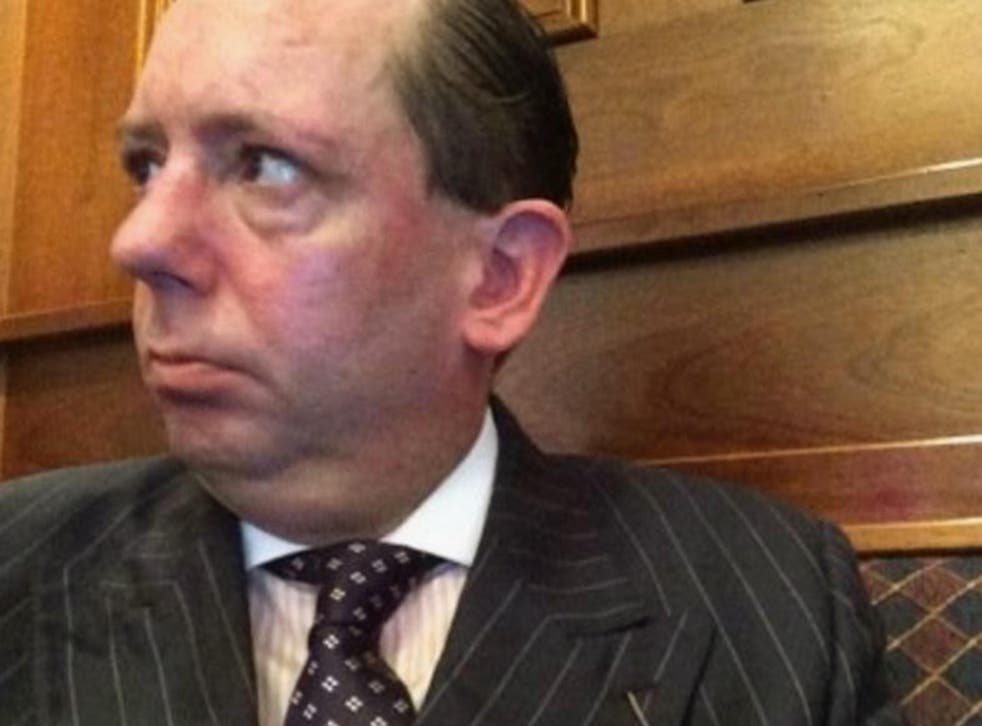 A solicitor who launched into a drunken, racist rant against a woman and her four-year-old son has been convicted and fined after he was caught on camera.
Former public schoolboy, Alexander MacKinnon, objected to the presence of Sannaa Shahid and her son, Zayn, in the first class carriage of a Virgin train travelling from London Euston to Glasgow in December.
The mobile phone footage, taken by Ms Shahid, shows the 47-year-old asking: "How did you get into first class? You don't deserve to be in first class."
He sneered at them: "You should be in common class. In fact, you shouldn't be in this country at all.
"You don't deserve to be here. Bloody foreigners. Where were you even born?"
Ms Shahid, a Glasgow-born lawyer, said the altercation began when MacKinnon shouted at her son for no apparent reason, and then escalated into the racist tirade.
Around a dozen other passengers looked on and did not intervene, leaving Ms Shahid to confront MacKinnon and report him to the train manager.
MacKinnon appeared at Carlisle Magistrates Court to plead guilty to a racially aggravated public order offence and was fined £1,154 plus costs.
Ms Shahid praised the actions of the train manager, who ordered MacKinnon off the train, calling him a "drunken racist". He was then arrested by British Transport Police.
She had been heading home to Glasgow after visiting her husband Aftab, who is working in London, when the incident occurred.
She told the Daily Record: "I was taken aback. I've lived in Scotland all my life and nothing of this nature has ever happened to me. I told him straight that he was being racist and the staff on the train heard it.
"There were another 10 to 12 passengers in the carriage and not one of them spoke up. That was shocking too."
After she complained to train staff, MacKinnon made a phone call in which he said someone was "wasting police time" by accusing him of racism.
He said to Ms Shahid: "I'm a racist, am I? You're a racist!" before swearing aggressively at her and her little boy.
MacKinnon is originally from London and was a boarder at the exclusive Milton Abbey School in Dorset before embarking on his legal career.
UK news in pictures

Show all 50
Social media "likes" include Donald Trump and Scottish Conservative groups as well as the BNP and the English Defence League. He has also shared articles about former Ukip leader Nigel Farage.
PC Mark Mellenthin, who investigated the case, said MacKinnon's "frightening racist outburst" left Ms Shahid "visibly distressed and shaken".
He said: "People like MacKinnon must understand that abusive, racist behaviour has no place on the railway. Everyone has the right to travel without fear of abuse like this.
"When it does happen we will do everything in our power to bring people before the courts.
"Hopefully MacKinnon's substantial fine will make him think twice before unleashing such vitriol on other members of the public."
His conviction comes as figures show racially-aggravated hate crime has been on the increase since the Brexit vote last year.
Register for free to continue reading
Registration is a free and easy way to support our truly independent journalism
By registering, you will also enjoy limited access to Premium articles, exclusive newsletters, commenting, and virtual events with our leading journalists
Already have an account? sign in
Register for free to continue reading
Registration is a free and easy way to support our truly independent journalism
By registering, you will also enjoy limited access to Premium articles, exclusive newsletters, commenting, and virtual events with our leading journalists
Already have an account? sign in