Stop and search has no real impact on reducing knife crime, research suggests
Exclusive: 'Attempts to punish and prosecute our way out of knife crime are doomed to failure,' researchers say
Lizzie Dearden
Home Affairs Correspondent
Sunday 25 November 2018 13:39 GMT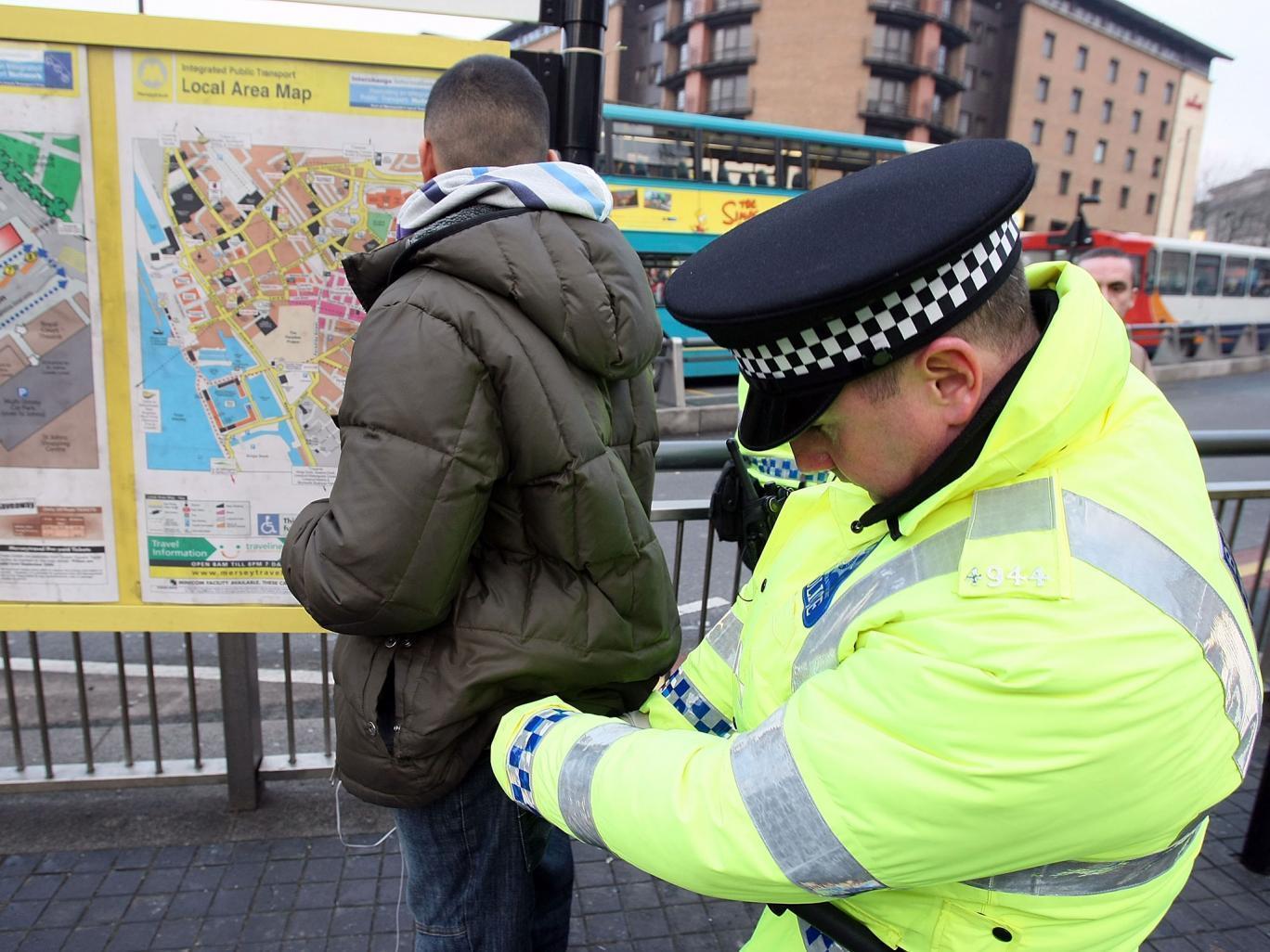 Stop and search does not significantly reduce knife crime, research has suggested, as the home secretary and senior police officers call for the power to be used more widely.
The study also found that stop and search "is disproportionately used against people of colour".
Researchers from the Centre of Crime and Justice Studies examined data including a study commissioned by the Home Office – and concluded there was "limited evidence of the effectiveness of stop and search in reducing crime".
Their report, seen exclusively by The Independent, said: "It is also recognised as having detrimental effects on certain groups and on community relations with the police. Stop and search is disproportionately used against people of colour, and, after initial improvements, this disproportionality has widened."
While the number of searches carried out has fallen overall, in 2016-2017 black people were eight times more likely than white people to be stopped by police in England and Wales, according to another report published last month.
Researchers said punitive approaches to gang crime can "have the unintended consequence of pushing people into gangs as a form of reaction and defiance".
They added: "The vast majority of stops and searches do not result in arrests, and reasonable grounds for a search have been found to not be apparent in around one in six stops, leading to further feelings of victimisation and unfairness."
A Home Office study of targeted weapons searches in London found no statistically significant reductions in crime as a result of the intervention, and a College of Policing report looking at 10 years of Metropolitan Police data "found only a weak relationship between stop and search and overall levels of the types of crimes the practice aims to reduce".
Met Police Commissioner Cressida Dick wants stop and search to include acid attacks
The use of stop and search fell in England and Wales from a peak of 1.5 million in 2008-09 to a record low of 304,000 in 2016-17.
There were 7,097 arrests for offensive weapons, including knives, as a result of stops and searches in 2016-17. There were 32,852 total stops and searches for weapons in the same period.
Researchers said that some of the arrests were the result of searchers targeting other items such as drugs. They added that the gap between the number of those searched and detained "means that stop and search is a very inefficient way of confiscating knives from people who would carry them as weapons".
But some police leaders have blamed Theresa May's 2014 rule change for a dramatic rise in violent crime – as officers are reluctant to use stop and search for fear of accusations of racism.
The debate around how to tackle stabbings has been reignited by a spate of murders in London. Concern has also been growing over rising recorded knife possession among ever-younger children.
Sajid Javid is among politicians backing the use of stop and search as part of efforts to take weapons off the streets before they are used, and the Home Office is considering extending the powers to tackle acid, drones and laser pointers.
In October, the home secretary told a police conference that he wanted officers to feel "feel confident, trusted and supported in using stop and search".
He added: "I will be looking at ways to reduce bureaucracy and increase efficiency in the use of this power."
Police were outraged when Mr Javid told them to "step up" their response to knife crime earlier this month by using stop and search more, amid a row over funding cuts that have seen more than 20,000 officers lost since 2010.
The teenagers murdered in London in 2018
Show all 21
Sara Thornton, chair of the National Police Chiefs' Council (NPCC), said it was an "important tool" in protecting the public.
Earlier this year, she wrote that the "power may have been used too freely in the past, but the pendulum has now swung too far in the opposite direction".
Mayor of London Sadiq Khan has backed "intelligence-led" stop and search, while Metropolitan Police Commissioner Cressida Dick has hailed it as "one of the many things" that will bring the number of stabbings down.
Richard Garside, director of the Centre of Crime and Justice Studies, told The Independent that "big social forces" including poverty, inequality and mental health were driving violence.
"It's difficult to see how police themselves are in a position to do anything other than keep a lid on it at best," he said.
"The police themselves aren't going to be able to resolve this issue but an increase in stop and search is a very easy response.
"The government can say 'look, we're on top of it' when of course they're not, they're just repeating failure."
Researchers also said that increased prison sentences and other "attempts to punish and prosecute our way out of knife crime are doomed to failure".
They noted that while a rising number of people have been sent to prison over recent years, and for longer periods, there has been no demonstrable effect on knife violence.
"Interventions which do not seek to address wider social issues such as inequality, deprivation, poor mental health and drug addiction are unlikely to provide long-lasting solutions to knife violence," the report said.
It concluded that a public health approach to prevent violence, which focuses on early intervention to improve children's prospects and divert them from crime, would be more effective.
Researchers said that although this approach has been backed by the home secretary and incorporated into London programmes, it "lacks consistent funding or genuine policy support".
Report author Dr Roger Grimshaw said: "A genuine and successful public health approach requires multi-faceted leadership, long-term funding commitments and the political will to sustain violence reduction.
"It should be informed by public health approaches seeking to educate, prevent and treat, rather than enforcement approaches seeking to prosecute and punish."
A Home Office spokesperson said: "Stop and search is a vital policing tool and officers have the government's full support to use these powers in a way that is fair, lawful and effective.
"The home secretary has said he wants police officers to feel confident, trusted and supported when they are using stop and search powers.
"We are looking at ways to work with the police to reduce bureaucracy and increase efficiency in the use of this power."