Stepping Hill nurse Victorino Chua: Worker who poisoned his own patients may have been employed without proper qualifications
Chua was convicted of 33 separate charges, including two of murder and 22 of attempted grievous bodily harm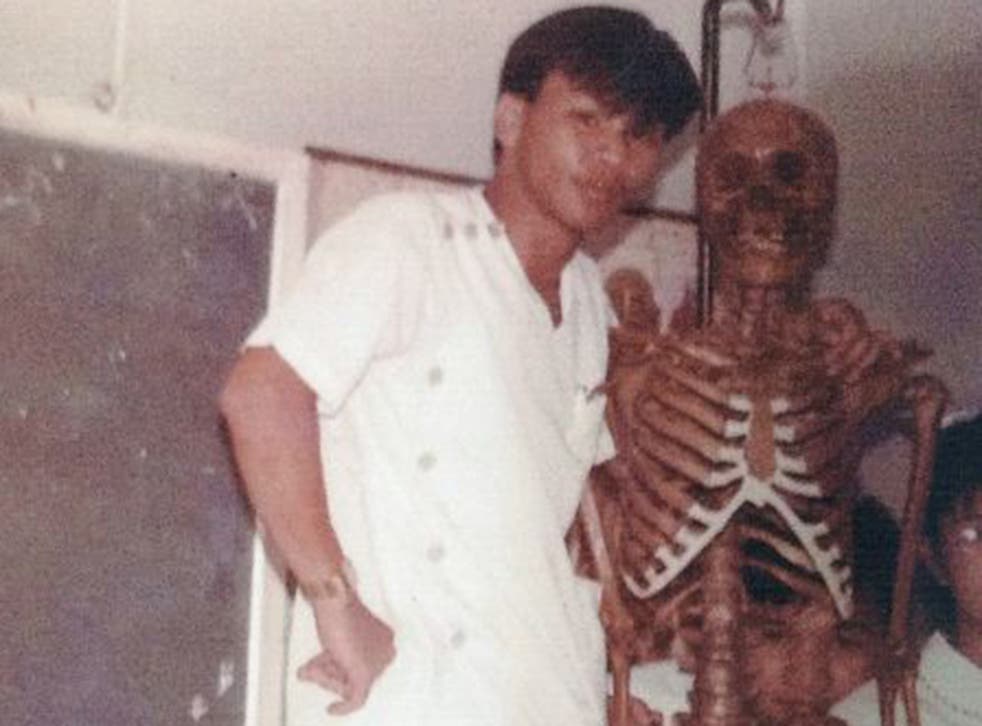 A nurse who described himself as an "angel turned evil" will be sentenced to life imprisonment after he was convicted of a murderous spate of poisonings at a hospital where he may have gained employment without proper qualifications.
Victorino Chua, 49, injected insulin into saline drips and ampoules while working Stockton's Stepping Hill Hospital, inducing a series of life-threatening overdoses in his mainly elderly victims and murdering two them as he masqueraded as a caring professional while exposing his colleagues to suspicion.
The Filipino father-of-two showed no emotion as he was convicted of 33 separate charges, including two of murder and 22 of attempted grievous bodily harm, following one of the most complex and exhaustive investigations in the history of the Greater Manchester Police. Detectives described Chua as a "narcissistic psychopath".
Stepping Hill nurse murder case in pictures

Show all 22
The convictions opened the way for his 21 victims to sue the hospital trust for compensation as it emerged that detectives have serious doubts about the validity of the qualifications presented by Chua, who conducted his attacks while on two wards in a two-month period between June and July 2011.
Both the Stockport NHS Foundation Trust and the Nursing and Midwifery Council (NMC) insisted that Chua had complied with the registration requirements in place when he first came to Britain in 2003. The NMC said it had not seen any documents which showed the nurse had committed fraud and added that it had recently tightened its registration procedures for staff from the Philippines, though it insisted the process was not linked directly to the Stockport case.
But the relatives of some victims were sharply critical of the scrutiny to which Chua had been subjected.
After his arrest, the nurse, who has two daughters, was found to have written a long document which he referred to himself as "the bitter nurse confession" and mused that there was a "devil in me" before adding he was "an angel turned into an evil person".
Police said the nurse had "hidden in plain sight" by injecting saline drips with insulin while in storage and then watched while his colleagues unwittingly carried out his intentions by administering the tainted liquid to patients.
Judi Jones said her 88-year-old mother Mary Cartwright was turned from a "strong and completely lucid" woman to a "brain-damaged, totally dependent and unrecognisable old lady" after being injected by Chua. Mrs Cartwright has since died.
Ms Jones said: "We do feel that Stepping Hill Hospital let us and all the other families affected down... The background checks were obviously inadequate in relation to this particular employee and the continued monitoring of the staff and daily procedures were not up to acceptable standards."
Glasgow bank clerk Zubia Aslam, who at 24 was Chua's youngest victim said the conviction of the nurse offered some "closure" but she said the scar of the experience inflicted upon her and her family would never go away. The young woman was hooked up to a saline drip by Chua containing so much insulin that she would have certainly died had not her initial reaction been spotted by other staff and treatment carried out.
Ms Aslam said: "Life has not been the same and never will be. This has turned my life upside down, but also that of my family and I still have questions about how this was allowed to happen in the first place. What measures have been taken to date and will be taken going forward to ensure that this never happens again?"
Chua, who only blinked as the chairman of the jury which had spent 11 days deliberating delivered the verdicts, was convicted of murdering Tracey Arden, 44, a multiple sclerosis sufferer, and 83-year-old Alfred Weaver. Mrs Arden had been expected to "sail through" a chest infection when she was admitted while Mr Weaver was described as being "in agony, his eyes rolling back" after being administered the poisoned saline.
The nurse, who was cleared of a third murder charge, was also convicted of poisoning Grant Misell, 41, a high-flying corporate treasurer who has been left severely brain damaged.
During his trial, prosecutors had outlined the chaos caused by Chua as staff experienced a sudden spike in cases of hypoglycaemia in June and July of 2011, leading to a growing feeling of unease and "something not right" among medics.
On one single nightshift of July 10 to 11, five patients had unexpected hypoglycaemic attacks - a naturally rare event had suddenly become "alarmingly common", jurors were told. The succession of incidents led to a police inquiry but Chua then changed tack, resorting to changing prescription charts and doubling or even trebling doses.
As detectives ploughed through a mountain of evidence, eventually resulting in a prosecution file running to 28,000 pages, one of Chua's colleagues - nurse Rebecca Leighton - was arrested on suspicion of carrying out the poisonings and spent six weeks in custody until the charges against her were eventually dropped.
It is feared Chua may have carried out additional attacks in the Philipines and elsewhere in the UK. In his handwritten "confession", the nurse hinted that resentment at anyone who questioned his professionalism may have lay behind his actions. He wrote: "Still inside of me I can feel the anger that any time it will explode just still hanging on can still control it but if I will be pushed they gonna be sorry."
Detective Superintendent Simon Barraclough, who led the investigation, said: "Hidden in plain sight and using unsuspecting colleagues to carry out his sinister plan, Victorino Chua deliberately poisoned and murdered those who were under his care and those who were at their most vulnerable and most in need of help.
"He would then watch the fruits of his labour unfold, as absolute chaos ensued across the wards as colleagues fought to save patients whilst attempting to comprehend what was happening."
Officers visited the Phillipines as part of their three-and-a-half-year investigation and as a result of their enquiries it is understood they now entertain serious doubts about Chua's qualifications. He attended a now-defunct nursing college with a poor reputation and is thought to have provided three different versions of his medical school record. There are suspicions he may even have used someone else to sit his final exam. Mr Barraclough told the Daily Mail he had "no confidence" in the qualifications provided by Chua to the Filipino regulator prior to his arrival in Britain, when he would have been required to provide only copies of his certificates of training.
The NMC insisted the nurse had passed the requirements at the time but said foreign nurses now undergo a more stringent process, including undergoing an online test and a requirement to provide original documents.
Jackie Smith, chief executive of the NMC, said: "When he was put on our registration, he provided what was required at the time and we have not seen a document that indicates he has committed fraud, but we do understand police have got concerns about qualifications.
"The NMC in the last two to three years have done a serious amount to strengthen the process to put the nurses and midwifes coming from the Philippines to join our register."
The regulatory body, which has 23,000 Filipino nurses on its register, said it had also analysed the registration process of all who registered between 2002 and 2006 - some 11,500 nurses in all - and found no causes for concern or irregularities similar to Chua.
The nurse now joins a list of medical professionals whose instinct to care was twisted into a desire to kill.
Nurse Beverley Allitt , who was given 13 life sentences in 1993 for crimes including the murders of four children in her care, and Dr Harold Shipman, who was found to have killed some 250 of his patients between 1971 and 1998, remain the most high profile clinician killers.
But there have been similar cases of the use of insulin for murderous purposes, including nurse Colin Norris, who was convicted in 2008 of four murders at hospitals in Leeds. His conviction is currently being examined by the Criminal Cases Review Commission.
Ann Barnes, the chief executive of Stockport NHS foundation trust, apologised to the victims of Chua and their families but said the hospital could not have been expected to prevent his murderous acts. She said: "Our storage of saline and management of prescription charts at the time of the incident was typical of those in other hospitals across the country. Whilst no hospital's systems and processes can offer a complete guarantee against the actions of a determined criminal, additional measures are now in place which go beyond standard practice. She added: "Whilst Victorino Chua's crimes are truly dreadful, we are sure patients will understand that they have no bearing at all upon our care."
Lawyers for Chua, who is due to be sentenced today at a hearing expected to be attended by some of his victims and their relatives, had said the nurse was being made a "scapegoat" because of the need of a massive police investigation to find a culprit. They said an appeal was being considered.
Poisoned patients: Victorino Chua's victims
Tracey Arden, 44
Her blood sugar level was later found to be "catastrophically low". Her condition deteriorated, her lungs filling with fluid. She died having suffered a hypoglycaemic episode caused "unquestionably" by insulin poisoning.
Alfred 'Derek' Weaver, 83
Given a saline drip, he "appeared to be in agony, eyes rolling back in his head". Given "fast-acting" dextrose, his blood sugar levels rose but overall his condition deteriorated and he died 10 days later.
Arnold Lancaster, 81
Given saline infusion, his condition, "suddenly deteriorated unaccountably" from a hypoglycemic episode. He later died. His blood sugar reading was found to be "as low as analysis can measure".
Chua was cleared of his murder but convicted of attempting to cause him grevious bodily harm with intent by poisoning.
Grant Misell, 41
Survived, but suffered a devastating brain injury due to a hypoglycemic episode triggered by insulin.
Chua's victims who made a recovery
Josephine Walsh, 69
Jack Beeley, 72
Linda McDonagh, 59
Joseph 'Eric' McDonald, 66
Antony Smith, 47
Joyce Atherton, 81
Beryl Hope, 70
Doreen Brace, 87
Kathleen Murray, 53
Lillian Baker, 85
Beatrice Humphreys, 84
Lillian Armstrong, 83
Philip Jones, 67
William Dickson, 82
Daphne Harlow, 86
Zubia Aslam, 24
Register for free to continue reading
Registration is a free and easy way to support our truly independent journalism
By registering, you will also enjoy limited access to Premium articles, exclusive newsletters, commenting, and virtual events with our leading journalists
Already have an account? sign in