Police powers to stop and search people without suspicion enhanced to fight knife crime
Black people are nine-and-a-half times more likely to be stopped and searched than white people in England and Wales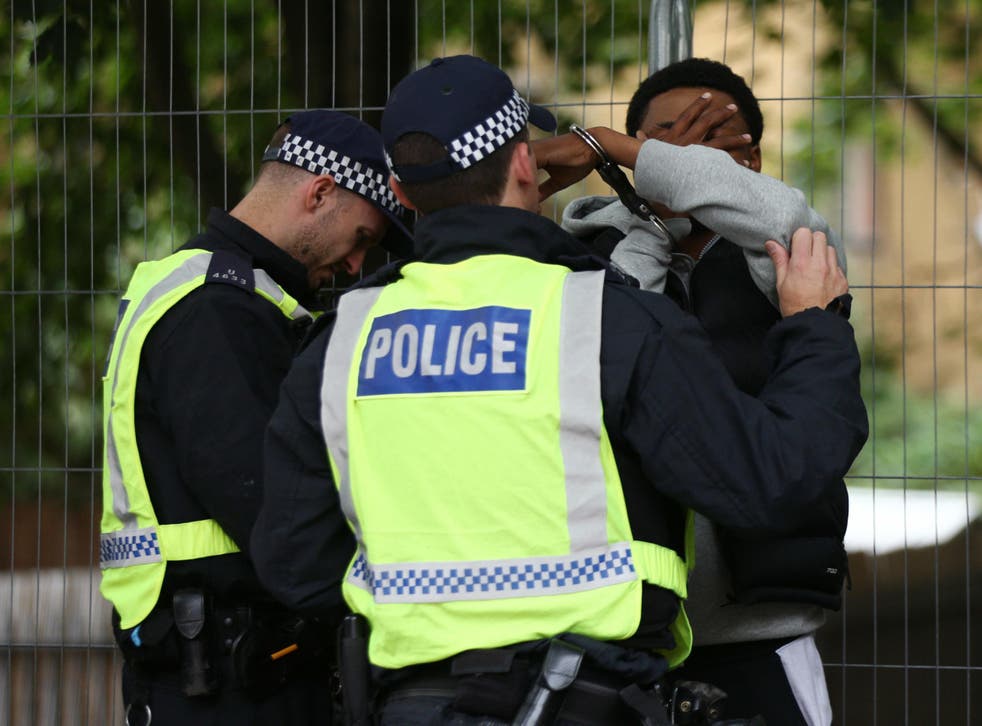 Blanket stop and search powers that let police challenge people without reasonable suspicion are being extended by the government amid rising knife crime.
Theresa May claimed the enhanced powers would help police tackle serious violence in the worst-affected areas of England and Wales.
But human rights groups warned the change could worsen racial disparities and drive resentment and distrust in targeted communities.
Black people are currently nine-and-a-half times more likely to be stopped and searched than white people in England and Wales, and official figures suggest use of the law being boosted by the government is even more disproportionate.
The Home Office is lowering the bar for Section 60 stop and searches, which allows police to search anyone in a designated area without reasonable grounds for suspicion.
The teenagers murdered in London in 2018

Show all 21
Previously, the power could only be authorised by a senior officer with intelligence that an incident involving serious violence – such as a gang fight – would occur.
But the home secretary, Sajid Javid, has changed national guidance to mean that lower-ranking inspectors can authorise Section 60 stop and searches, and only have to believe serious violence might occur.
Under Mr Javid, stop and search powers have also been enhanced to cover drones, acid and laser pointers.
The Home Office said the latest changes would initially apply to seven police forces that experienced the most knife crime, and would result in at least 3,000 more officers being able to use the powers.
But the human rights group Liberty warned that Section 60 stop and searches were even more racially disproportionate than those under Section One.
"Properly accountable use of stop and search may have a role in an evidence-based policing strategy, but this latest move risks being counterproductive," policy and campaigns officer Rosalind Comyn told The Independent.
"Research has shown time and again that overuse of stop and search drives resentment and mistrust of police, undermining the community relations that they depend on to do their jobs."
The Home Office said police forces were expected to engage with communities on the use of stop and search, and nobody should be stopped on the basis of their ethnicity.
Met police forcibly restrain black man after stop and search as he screams 'I can't breathe'
Mr Javid said: "The police are on the front line in the battle against serious violence and it's vital we give them the right tools to do their jobs.
"Stop and search is a hugely effective power when it comes to disrupting crime, taking weapons off our streets and keeping us safe."
The prime minister, who was blamed for slashing the use of stop and search powers with a previous rule change in 2014, said: "We will continue to drive tough law enforcement to protect the public.
"As a whole society, we also need to take a hard look at the root causes of these crimes so we can intervene earlier and stop young people from being drawn into violence in the first place."
Ms May was to hold a Downing Street summit on serious youth violence to look at the causes of knife crime and early intervention on Monday.
Section 60 is less commonly used than Section One stop and search, where officers target individuals they suspect to be carrying weapons, drugs or contraband.
In the 2017-18 financial year, only 18 out of 44 police forces in England and Wales used the power, resulting in 2,500 searches – compared to almost 280,000 section one searches.
Around 8 per cent of stop and searches under Section 60 resulted in an arrest, compared to 17 per cent under Section One.
Forces have been increasing their use of the power amid a nationwide rise in violence, but research published by The Independent suggested that stop and search did not significantly reduce knife crime.
Metropolitan Police commissioner Cressida Dick said: "Stop and search is an extremely important power for the police. It is undoubtedly a part of our increasing results suppressing levels of violence and knife crime.
"Our well-trained officers, acting on intelligence, use their powers professionally every day to remove weapons and other illegal items from the streets and to arrest violent offenders and those who habitually carry weapons."
The National Police Chiefs' Council said the new guidance would reduce bureaucracy and allow police to respond moe quickly to potential violence.
"Section 60 powers are an important tactical option that can be extremely effective," a spokesperson said.
Chief constable Mike Cunningham, the College of Policing chief executive, said: "Any move that aids a swifter response to serious violence and knife crime is a welcome one.
"The legitimacy of Section 60 rests on the public knowing it is being used to protect them. It is important the police engage with the communities to ensure use of this power doesn't become counterproductive in the longer term."
The new rules will run for up to a year in London, West Midlands, Merseyside, South Yorkshire, West Yorkshire, South Wales and Greater Manchester, with a review after six months.
The Police Federation, which represents rank-and-file officers, welcomed the decision to cut red tape but warned that knife crime was increasing in forces outside the seven selected.
Chair John Apter said officers were already buckling under the strain of competing demands. "The knife crime epidemic sweeping this country is not going to be solved overnight, or by the police service alone," he said.
"This issue needs tackling head on and it will take time and money to address. While moves like this are welcome, they do not provide long-term solutions."
Register for free to continue reading
Registration is a free and easy way to support our truly independent journalism
By registering, you will also enjoy limited access to Premium articles, exclusive newsletters, commenting, and virtual events with our leading journalists
Already have an account? sign in