Teenage neo-Nazi convicted of planning terror attack targeting synagogues as part of 'race war'
Police warn others may be 'susceptible to his influence' from posts on fascist forums
Lizzie Dearden
Security Correspondent
Wednesday 20 November 2019 15:50 GMT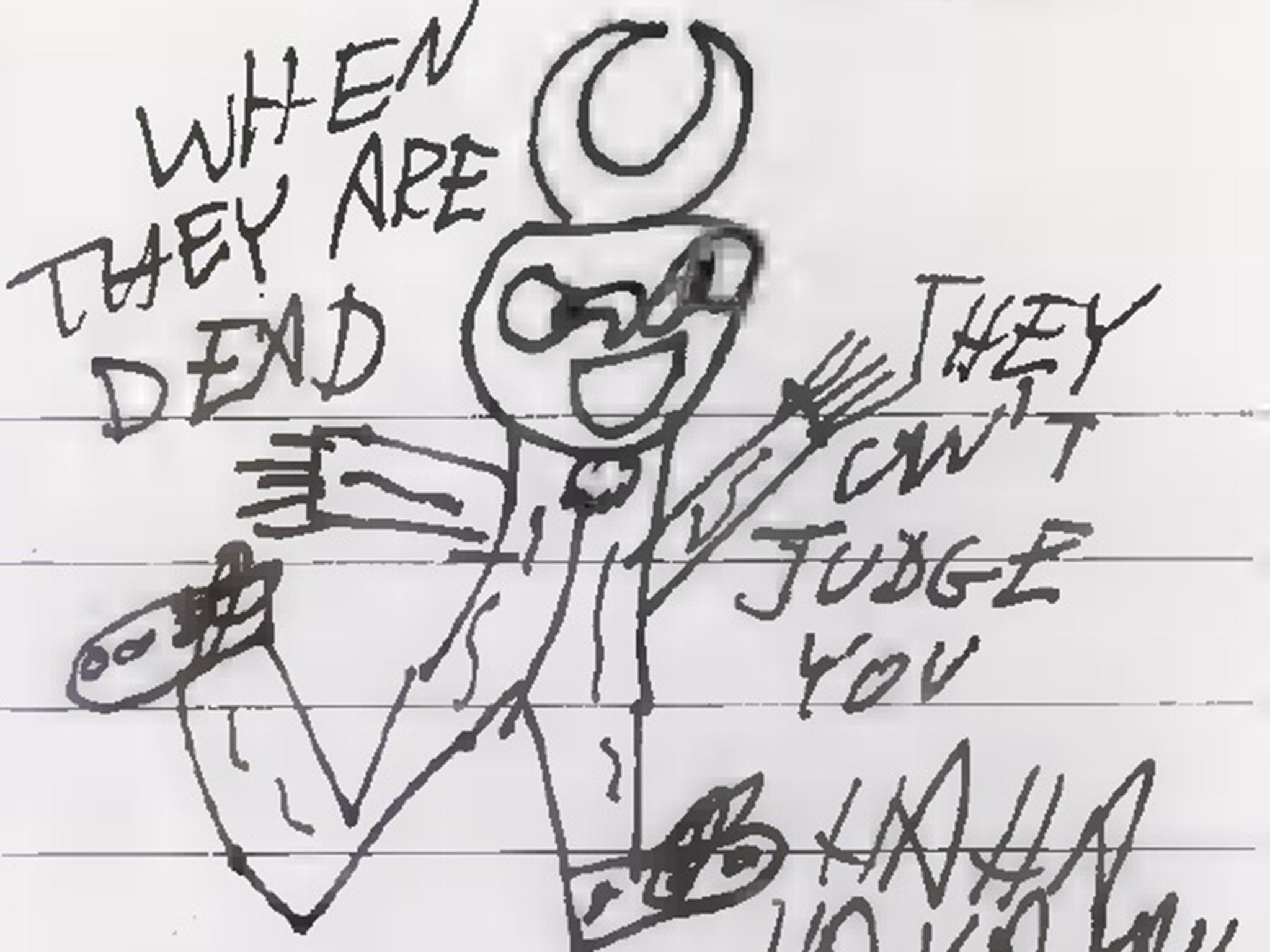 A teenage neo-Nazi has been convicted of planning terror attacks in the UK as part of what he believed was an upcoming "race war".
The 16-year-old boy, who cannot be named for legal reasons, had detailed plans to firebomb synagogues in the Durham area and searched for targets online.
"Once we get study leave, those glorious 12 weeks of freedom, it's showtime," he wrote in January.
The boy had also written his own manifesto, which aimed to advise and inspire other terrorists as seen in recent far-right attacks in Halle, El Paso and Christchurch.
He denied six terror offences, claiming he had adopted the terrorist persona for "shock value" and did not want to carry out attacks, but was convicted unanimously of all charges on Wednesday.
UK terror plots that were foiled by security services
Show all 14
When he was arrested in March, police found a piece of paper in his pocket containing a message on code that said: "Killing is probably easier than your paranoid mind thinks. You're just not used to it … good hunting Friday."
He was carrying a second piece of paper containing a drawing of a fellow school pupil being beheaded.
Prosecutors said the boy had called for the student's death, and had described how he wanted to violently attack a second pupil – who he thought was gay – as "judgement exacted on the lowest of the low, as deserved".
Michelle Nelson QC told Manchester Crown Court: "He was attempting to practice the tenants of the extreme ideology he had chosen.
"Assaults upon fellow students, who had no place in the new world order, was in line with that; it was something he saw as part of generating race war and chaos."
After reading Norway shooter Anders Breivik's manifesto, which called for lone wolf terror attacks to fight the "genocide" of white people, the teenager started drafting his own.
The document was entitled: "Storm 88: A manual for practical sensible guerrilla warfare against the kike [offensive term for Jewish] system in Durham city area, sieg hiel."
It listed proposed attack targets in Durham, including schools, public transport and council buildings.
Prosecutors said they had not identified a "particular act or acts" of terrorism that the boy was going to commit, but that he had been preparing for some kind of atrocity since October 2017.
The teenager demonstrated a fascination with mass killers including Breivik, the Oklahoma bomber, Columbine shooters and Unabomber.
The court heard that the boy had been an "adherent of a right-wing ideology" since the age of 13, and that his views became more extreme as he immersed himself in fascist websites and forums.
By 2017, he was describing himself as a neo-Nazi and operated a since-deleted Twitter account with a handle referring to a British fascist leader.
His racist and homophobic tweets drew the attention of police but when he was interviewed in September that year, he claimed they were posted "for a laugh".
The boy claimed he was not an extremist, but started another Twitter account and continued communicating with contacts, while accessing a "large quantity of extreme right-wing literature" online and in hard copies.
The court heard he had steeped himself in antisemitic conspiracy theories and ranted about Jewish governors at his school, Jewish MPs and the press.
In August 2018, he described himself as a "radical national socialist" and follower of Adolf Hitler, saying he had read Mein Kampf and had a photo of the Nazi leader on his phone.
Prosecutors said the boy obtained and shared terror manuals on making explosives and firearms on the Ironmarch and Fascist Forge online forums, but also drew on jihadi propaganda.
He had searched for Isis execution videos and used al-Qaeda literature and a jihadi guide on making deadly poisons, including ricin.
By November last year, he had progressed to extreme occult neo-Nazism, which has gained traction among the UK's banned National Action terrorist group, and voiced support for satanism.
The teenager declared his support for the "siege" ideology, which was started by an American neo-Nazi and advocates the use of terror attacks to trigger a race war and chaos.
"Democracy is very much a dead system; political violence therefore, can only help us," he wrote. "The white race is being silently genocided, the west is dying."
He claimed a race war was "inevitable", and called himself an "accelerationist".
On Wednesday, the boy was convicted of six terror offences, including preparing acts of terrorism, disseminating terrorist publications, possessing material for terrorist purposes and possessing information useful for terror attacks. He will be sentenced in January.
Det Ch Supt Martin Snowden, of Counter Terrorism Policing North East, said police had taken "appropriate action" by arresting the boy after previous attempts at intervention failed.
"The extreme right-wing views and hateful rhetoric displayed by this teenager are deeply concerning and we cannot account for those who may have been susceptible to his influence or how they may act in the future," he added.
"His extensive repetitious internet searches, diary entries and escalating behaviour combined with his desire for notoriety highlight how dangerous he could have become had he not come to the attention of the authorities.
"While no single target for an attack was identified, the handwritten expression of his mindset combined with his aspiration to commit violence towards others cannot be underestimated and could not go unprosecuted."
Counterterror police have named right-wing extremism as the fastest-growing terror threat to the UK, although Islamists still make up the largest proportion of investigations.
Of the 24 terror plots foiled by security services since March 2017, 16 were Islamist and eight were far right.