Thousands of taxi and private hire drivers allowed to work despite criminal convictions, research suggests
Campaigners demand changes to regime that is 'not fit for purpose'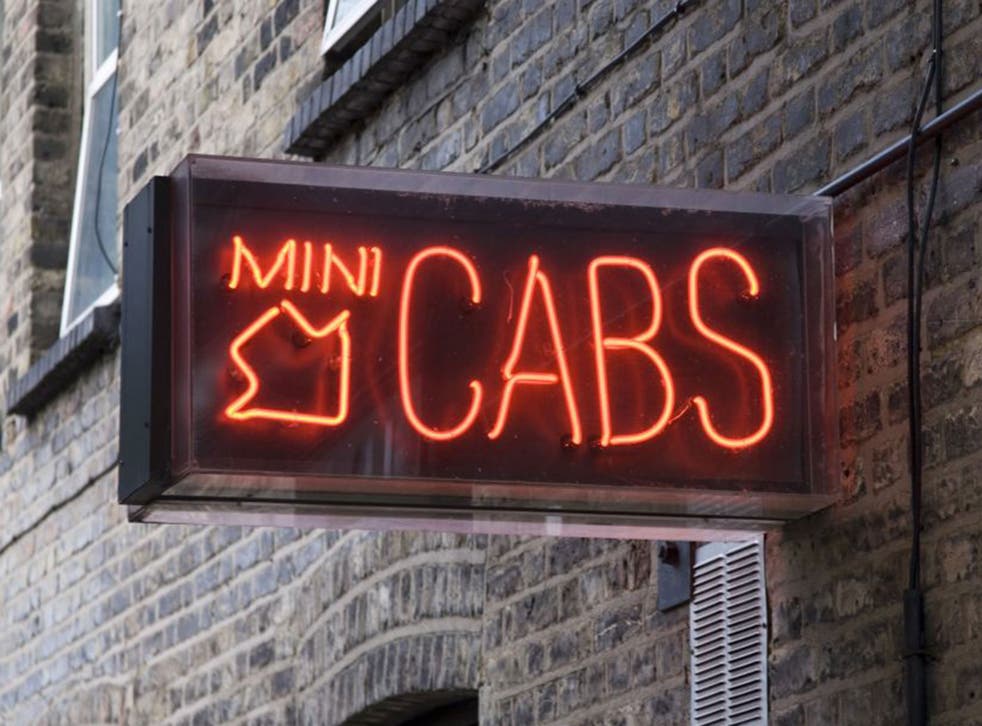 Thousands of taxi and private hire drivers with serious criminal convictions are carrying passengers around Britain, research suggests.
At least 865 drivers with convictions have successfully gained or renewed a licence since 2012, but the figure only covers 38 authorities that gave details to the Suzy Lamplugh Trust.
They were a fraction of the 316 councils that provide licences, with the vast majority claiming they were unable to provide details in response to a freedom of information request.
Among the crimes were actual bodily harm, common assault, speeding and drink driving, with one driver retaining a licence despite 36 separate convictions for offences including violence, taking a vehicle without the owner's consent and threatening behaviour committed from 1973 to 2017.
Public safety campaigners are demanding minimum standards for licencing, arguing the current requirements are "not fit for purpose".
The Suzy Lamplugh Trust said that while the majority of drivers do not pose a risk to passengers, a "minority are slipping through the net".
Chief executive Rachel Griffin said she feared the figure was the "just the tip of the iceberg".
European Union categorises Uber as a taxi company forcing strict regulations
"It is deeply troubling that there are taxi and minicab drivers with serious criminal convictions operating across the country," she added.
"The ambiguity currently surrounding what constitutes a 'fit and proper' person with regards to taxi and private hire vehicle licensing is unacceptable.
"Inadequate regulations can, and in some cases have already, led to passengers being victimised by drivers with a known history of unsafe behaviour and even criminal convictions.
"Despite this, local authorities are continuing to take unnecessary risks when granting and renewing taxi and private hire vehicle licences."
The trust said the law on criminal checks needed for taxi drivers must be strengthened because of their position transporting people who are often alone, in a locked vehicle, and may be vulnerable.
Current guidelines mean that the highest level of criminal checks is only recommended, rather than legally required, and are being applied inconsistently across the country.
The Suzy Lamplugh Trust also raised concern over alleged failures by police forces to communicate with licencing authorities over offences and other concerning behaviour by drivers.
It is calling for a national database where information can be collated to ensure officials have details of past offences and know whether applicants have had licences refused by other authorities.
The charity, which was created in the name of a 25-year-old woman who disappeared in 1986, aims to improve public safety and reduce the risk of violence.
Its campaign comes amid efforts by victims of the "black cab rapist" John Worboys to prevent him being released from prison after serving just nine years of an indefinite sentence for rape and sexual assault.
Worboys used his job to pick up targets in London and ply them with spiked champagne before attacking them.
Numerous taxi and minicab drivers – both licenced and unlicensed – have been convicted of sexually assaulting passengers in recent years, prompting repeated calls to improve safeguards.
Concerns over inadequate regulation have recently focused on booking apps like Uber, which has been banned in several cities.
A former taxi firm owner in Rotherham, Qurban Ali, was among the men convicted of grooming and sexually abusing girls in the town over a number of years.
The case sparked tightened restrictions causing around 40 drivers to lose their licences, but the licencing loophole let them continue working in other areas nearby outside of the council's control.
Sammy Woodhouse, a survivor of the abuse in Rotherham, called on the CCTV and audio recording now required in the town's taxis to be rolled out in other areas.
She said it would prevent crime against both passengers and drivers, as well as providing evidence to secure conviction if one is committed.
"By introducing national minimum standards for licensing we can improve safety checks on drivers making it a safer and better trade for all," Ms Woodhouse added.
"Improvements to passenger safety can only be achieved by the government implementing national minimum standards in legislation for taxi and private hire licensing."
James Button, president of the Institute of Licensing commented, gave the body's support for the "vital" change, adding: "Without national minimum standards, any attempts by licensing authorities to improve standards and remove unacceptable people and sub-standard vehicles from the trade are easily undermined by simply obtaining licences elsewhere.
"The current system places passengers at risk and must be addressed as a matter of urgency."
The Local Government Association (LGA) said it was creating a voluntary register of taxi drivers so councils can monitor those banned or refused licences in other regions.
UK news in pictures

Show all 50
The proposed Taxi Licensing Bill would make the register part of new laws if it receives Parliamentary support, a spokesperson said.
Simon Blackburn, Chair of the LGA's Safer and Stronger Communities Board, said: "Councils have consistently called for our out-of-date patchwork of taxi laws, some of which date back to Victorian times, to be updated with a legal framework fit for the times in which we live.
"We agree that should include national minimum standards for drivers everywhere. Updating laws would also deal with developments such as app-based ordering, which is essential to how the modern marketplace operates.
"The Government needs to deliver serious reform in this area so councils are equipped with the tools they need to keep our residents safe."
A Department of Transport (DfT) working group is currently looking at potential reforms to regulation, which currently allows drivers to leave licencing areas on pre-booked journeys.
Councils in England and Wales have a duty to ensure drivers are "fit and proper" to hold a licence but the term is not defined in law.
The Government says it is already leading work with businesses to reduce the risk of sexual exploitation linked to taxi and private hire firms.
"It is never acceptable for the public to be put at risk and all transport operators must provide a safe and quality service for their passengers," a spokesperson for the DfT said.
"While the licensing of taxis and private hire vehicles is a matter for local authorities, we have made it clear that we expect them to carry out criminal record checks for all drivers and check they have the licences they need to carry passengers."