Terrell Decosta Jones-Burton: Police under investigation after 15-year-old black boy suffers horrific injuries while being detained by officers
Police watchdog appealing for witnesses to incident in Bermondsey following reported mugging
Lizzie Dearden
Home Affairs Correspondent
Wednesday 22 November 2017 20:04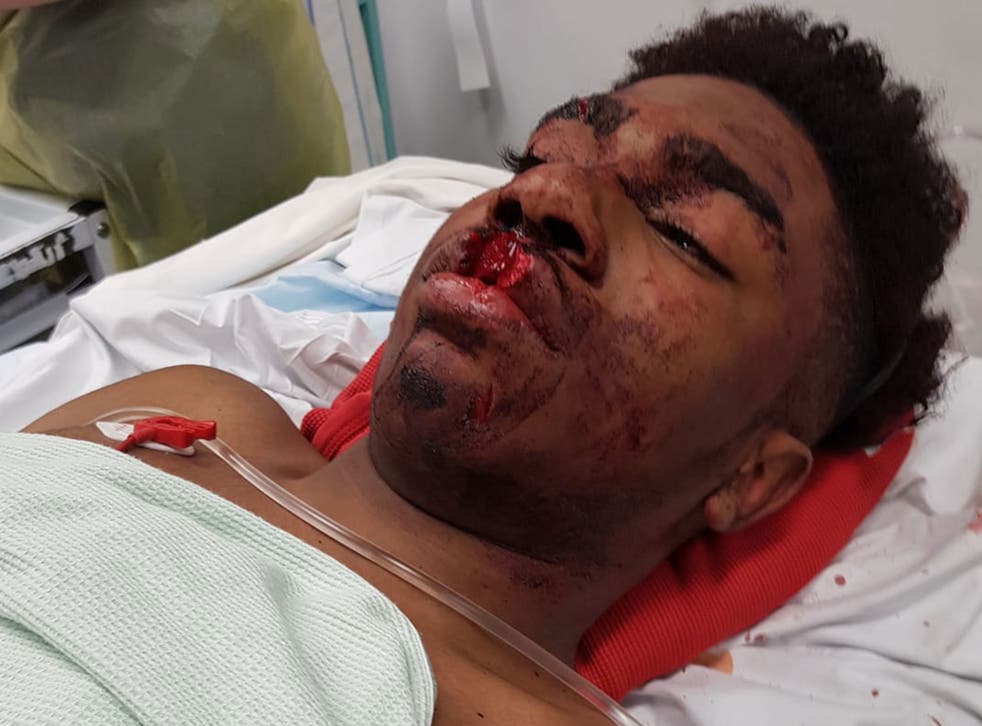 A watchdog is investigating police officers who detained a 15-year-old boy who was left with severe injuries in London, as his mother calls for justice.
Terrell Decosta Jones-Burton remains in a stable condition in hospital while the Independent Police Complaints Commission (IPCC) appeals for witnesses.
A spokesperson said officers attempted to detain him as he rode through Bermondsey on Tuesday evening, following reports of a robbery.
Warning: Graphic image below
"The cyclist came off his bicycle and sustained facial injuries," a statement added.
"An ambulance was called and he was taken to hospital where he remains in a stable condition."
Terrell's mother, Shereen Jones, said her son had been left with a split lip, lost teeth, broken jawbone, bruising on the brain and abdominal pain.
Writing on Facebook, she said the teenager "is not a thug" and had been on his way home from local shops with friends when he was approached by officers accusing him of involvement in a mugging.
"He has no criminal record and no involvement with the police," Ms Jones wrote, using the hashtag #JusticeForTerrell.
"Was all of this necessary over a phone? Police brutality on young black boys has to stop."
Ms Jones alleged that her son was beaten by police but Scotland Yard and the National Police Chiefs' Council said they were unable to respond to the claim at this stage of the investigation.
A spokesperson for the Metropolitan Police said officers were called to nearby Albion Street, Rotherhithe, shortly after 9pm, adding: "The female victim informed officers that her mobile phone had been stolen by a male youth who had then fled on a bicycle.
"A short while later officers detained a 15-year-old male youth on a bicycle in Southwark Park Road.
"While being detained, the male came off his bicycle and was taken by the London Ambulance Service to a south London hospital where he remains in a stable condition with facial injuries."
UK news in pictures

Show all 50
The incident comes amid persistent allegations of discrimination against young black men by the Metropolitan Police.
Five police officers are being investigated for alleged misconduct over the detention of Edson Da Costa, a 25-year-old black man who died following an altercation in June.
Weeks later Rashan Charles, a 20-year-old black man, died after being chased by police and restrained on the floor of a shop in Dalston. An inquest into his death will be heard in front of a jury next year.
Both deaths sparked vigils and protests, including one that spilled over into isolated violence, and have reignited allegations of racial discrimination in Scotland Yard.
Statistics showed the UK's largest police force used force disproportionately against black suspects, while a separate review conducted by Labour MP David Lammy showed that black convicts are proportionately more likely to be imprisoned in Britain than the US.
Police are under pressure to respond to rising levels of reported crime, which rocketed by 13 per cent in England and Wales last year, including increasing knife crime, shootings, acid attacks and robberies in London.
Rotherhithe, where Tuesday's incident took place, has seen a recent spike in robberies of mobile phones snatched from pedestrians by muggers on mopeds, bicycles or on foot.
The IPCC is appealing for witnesses to come forward by calling 0800 029 4687 or emailing southwarkparkroad@ipcc.gsi.gov.uk.