Police 'don't want' new law against intimidating politicians backed by Theresa May
Government asks Law Commission to review existing offences for offensive communications 
Lizzie Dearden
Home Affairs Correspondent
Tuesday 06 February 2018 20:38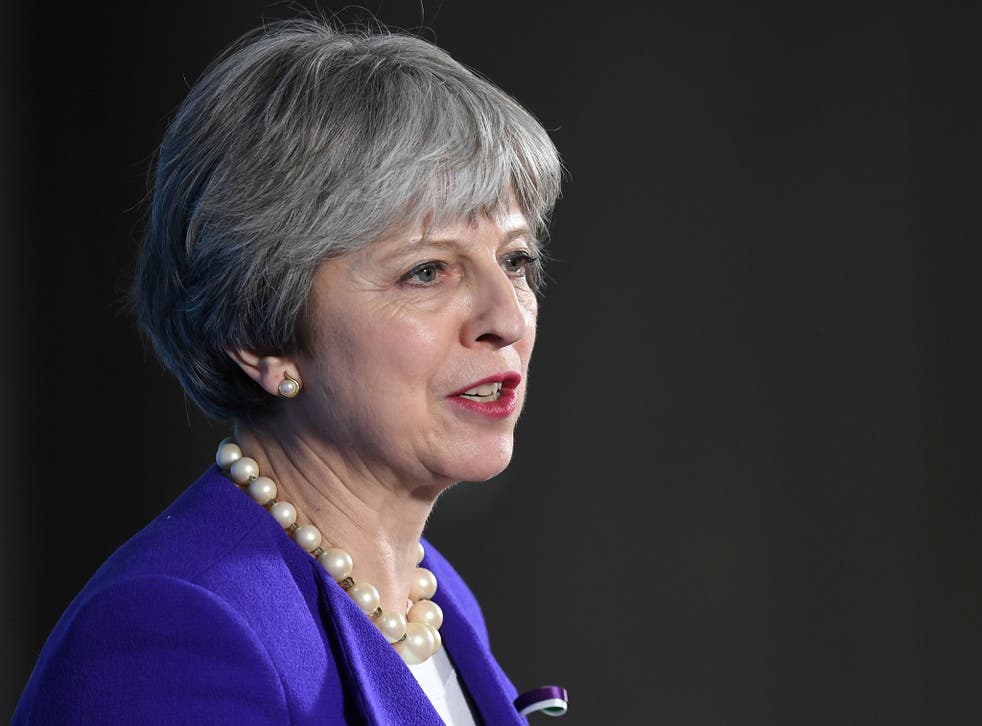 The Prime Minister is backing a new law making it illegal to "intimidate" election candidates and campaigners – despite police saying new offences are not needed.
Lawyers warned the move could have a "chilling" effect on free speech and said current legislation adequately covers threats and harassment.
Citing the online abuse suffered by MPs, journalists and commentators, Theresa May said "a tone of bitterness and aggression has entered into our public debate".
"While intimidation is already a crime, we will consult on making it an offence in electoral law to intimidate candidates and campaigners," she said.
"And because some candidates and their families have been targeted for abuse in their own homes, we will extend to candidates for local government the same protection which parliamentary candidates have to keep their home addresses secret."
Ms May made the announcement in Manchester during a speech marking the centenary of some women being given the right to vote.
Yvette Cooper grills Twitter spokeswoman on online abuse and hate speech
She said the Law Commission would be reviewing legislation relating to offensive communications online, while the Government calls on social media companies to combat malicious messages leaving "some women feeling that they don't want to take part in public life".
The Prime Minister vowed to enact all recommendations made in a report by the Committee on Standards in Public Life in the wake of last year's general election.
It found candidates who were female, black and minority ethnic or LGBT+ were disproportionately targeted with abuse and recommended the introduction of a new electoral offence making "intimidating Parliamentary candidates and party campaigners" illegal.
But the report said it should "be no broader than existing criminal law", which police said was sufficient.
Chief Constable Mike Barton QPM, of the National Police Chiefs Council (NPCC), told the committee that "law enforcement and policing are content with the law".
"There is a view that, with the advent of the internet, some of our more ancient laws are probably not applicable, but we do not find that," he added, saying officers were effectively employing a "suite" of laws dating back to 1861.
"Our view on social media at the moment is that we feel that we already have a suite of offences there."
UK news in pictures

Show all 50
Adam Wagner, a human rights barrister from Doughty Street Chambers, told The Independent the proposed law would propose a "real risk" to free speech, adding: "With criminal laws it's not just the enforcement that's the problem it's the chill it creates because people are suddenly worried their behaviour falls into the category."
He warned the definition of intimidation had so far been "very vague and subjective", adding: "Vaguely drawn laws are the worst kind of laws and particularly dangerous when they surround speech."
Mr Wagner said the threshold for abuse that would force someone to withdraw from public life varies and "heated" political debates are a necessary part of democracy.
"That's the real point here is that nobody is calling for the new law," he added. "The police don't – they found no evidence there should be a new one – but the Government is proposing one anyway because it sends a message … it's this classic thing of 'something must be done'."
Research shows that nearly a third of internet users in the UK were trolled, harassed or cyberbullied last year, causing the Government to draw up a new "digital charter".
The Law Commission said it would be providing a "robust review of the current laws" and set out how they apply online, with the process expected to take six months.
Professor David Ormerod QC, the Law Commissioner, said: "There are laws in place to stop abuse but we've moved on from the age of green ink and poison pens.
"The digital world throws up new questions and we need to make sure that the law is robust and flexible enough to answer them.
"If we are to be safe, both on and offline, the criminal law must offer appropriate protection in both spaces.
"By studying the law and identifying any problems we can give government the full picture as it works to make the UK the safest place to be online."
The Law Commission will consider the powers under existing laws, what "grossly offensive" means, the overlap between laws and if intention needs to be proved to prosecute someone.
The NPCC said it would implement recommendations from the Intimidation in Public Life report including providing quarterly reports, updated training and guidance.
"The police are committed to tackling abuse and intimidation in all its forms, including the growing problem of abuse aimed at those in public life," a spokesperson said.
"While powers are available and used regularly in tackling online abuse, we recognise the need to review legislation to ensure that it continues to be effective and we are therefore supportive of the proposed Law Commission review of legislation relating to online abuse."
Register for free to continue reading
Registration is a free and easy way to support our truly independent journalism
By registering, you will also enjoy limited access to Premium articles, exclusive newsletters, commenting, and virtual events with our leading journalists
Already have an account? sign in