Thieves rip cash machine out of wall with JCB at Co-op in Derbyshire
The thieves cut the roof off a van so they could drop the ATM in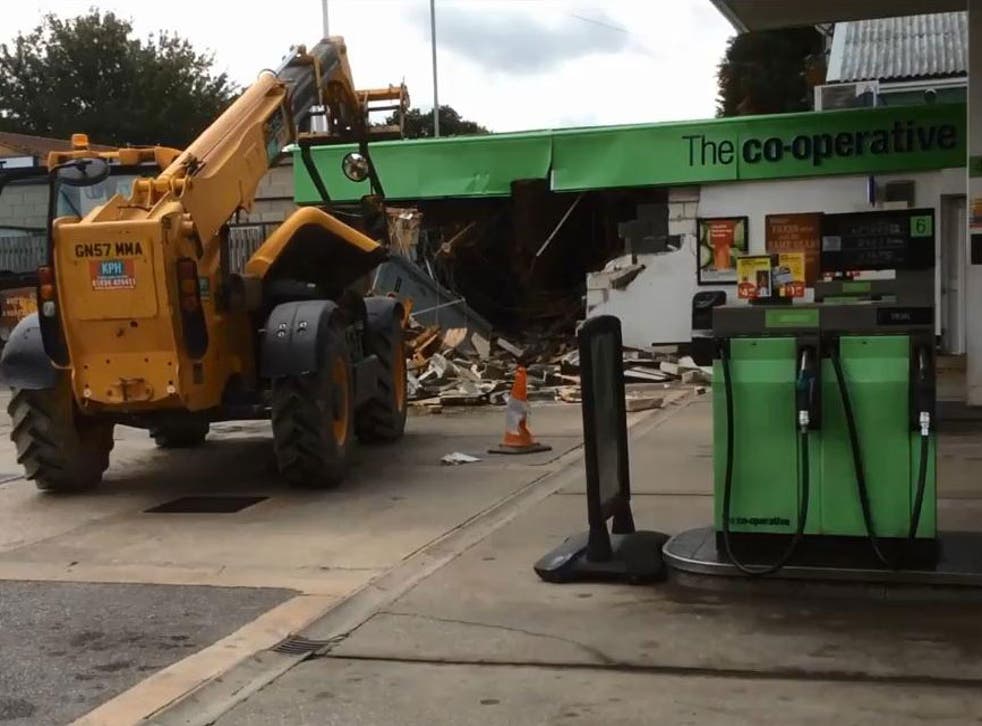 Thieves in Derbyshire have stolen a cash point from a Co-op by ripping it out of the wall using a stolen JCB.
Police said the shop was targeted at a petrol station in Duckmanton at around 4am today.
Officers believe the raiders cut off the roof of a van so the digger could lower the ATM into it for a swift getaway.
The cash machine and van were found nearby hours after the theft.
A man living next to the petrol station told the Derbyshire Times that he woke up to the sound of a digger and a "crashing noise" and called the police.
"There were three perpetrators hanging around, all with hoodies on, all male," he added.
"I saw somebody driving that digger attempting to lift the cash machine out. There was a white Vauxhall Vivaro van, and they had cut the roof out so they could drop it in the top."
Photos of the crime scene showed the JCB left dumped on the petrol station forecourt amid the wreckage.
A huge hole could be seen in the wall where the cash machine was ripped out, showing layers of plaster, wires, insulation and breeze blocks destroyed by the machinery.
The Co-op and petrol station remained shut today as police continued investigations at the cordoned-off crime scene.
Stolen industrial equipment is commonly used in attempts to steal ATMs in the UK.
In May, a cash machine was stolen from a Co-operative shot in Collingham, Nottinghamshire using a JCB.
Another Co-op in York was hit by a similar crime in January and eight ATMs were ripped out of buildings in just three months in northern England earlier this year.
A spokesperson for Derbyshire Police said: "It is thought that a white Vauxhall Vivaro van was used in the incident that had its roof cut off.
"The ATM and the van were found by officers this morning near to Buttermilk Lane (in Bolsover).
"It's believed several vehicles were involved and it's understood the offenders made off on the M1."
Anyone with information is asked to contact Chesterfield CID on 101 or call anonymously Crimestoppers on 0800 555 111.
Register for free to continue reading
Registration is a free and easy way to support our truly independent journalism
By registering, you will also enjoy limited access to Premium articles, exclusive newsletters, commenting, and virtual events with our leading journalists
Already have an account? sign in