'Three Musketeers' terror attack plotters sentenced to life in prison
Lawyer tells court gang may have planned to use cars as weapons after being influenced by Isis' Nice attack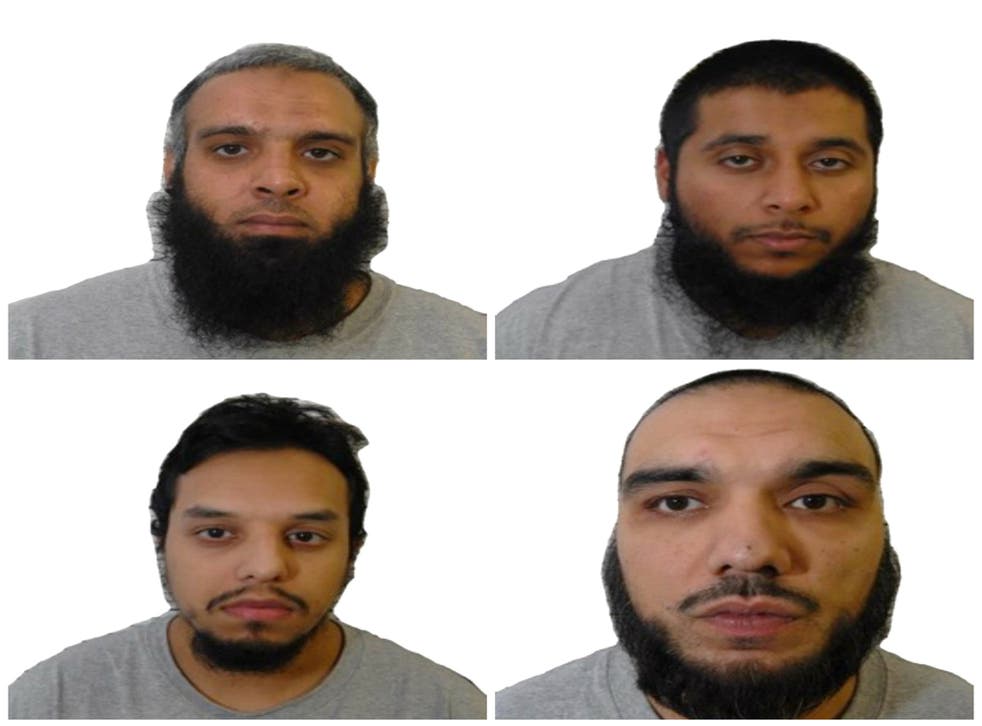 A terror cell who called themselves the "Three Musketeers" as they plotted a Lee Rigby-style terror attack in the UK have been jailed for life.
Naweed Ali, 29, Khobaib Hussain, 25, Mohibur Rahman, 33, and Tahir Aziz, 38, had been found guilty of preparing terrorists acts at the Old Bailey following a lengthy trial that was dogged by debates over secrecy and almost collapsed over a female juror's crush on an "attractive" investigator.
The gang, from the West Midlands, were poised to strike police and military targets in the UK using a pipe bomb and meat cleaver inscribed with an Arabic word meaning "unbeliever".
Ali, Hussain, and Rahman refused to leave Belmarsh prison to attend the sentencing hearing, where the judge handed down a minimum term of 20 years for their "significant role" in the planned attack. Aziz, who became involved in the plot at a later stage, was ordered to serve a minimum term of 15 years.
Bill Emlyn Jones, a lawyer for the prosecution, told the court that the defendants may have also planned to use their cars as weapons after being influenced by Isis's Nice attack that left 86 victims dead. Mr Justice Globe noted that the four-and-a-half-month trial came amid four separate attacks in Britain, some of which were carried out by terrorists linked to the same banned al-Muhajiroun network as the "Three Musketeers".
"These attacks demonstrate in stark form the carnage that can be created by different types of terrorist attack that can be carried out with a vehicle, explosives and loaded weapons," he told the court. "I am satisfied from the evidence and the jury verdicts, but for the intervention of the counter terrorism unit of West Midlands Police and the security services, there would have been not dissimilar terrorist acts in this country using at the very least the explosives and or one or more bladed weapons."
The partially constructed pipe bomb and meat cleaver were found in hidden inside a JD Sports bag also containing latex gloves, cartridges, industrial tape and an imitation handgun that was found in Ali's car.
The men were arrested following an intensive undercover operation that saw a fake courier firm set up in Birmingham to get access to Hussain.
He and Ali had met Rahman in jail in 2013, where they were all serving time for terror offences linked to supporting al-Qaeda. The trio started plotting their attack in May last year, the Old Bailey heard, and brought in Isis-supporting Aziz just days before they were arrested.
Police found a large sword in Aziz's car but he and his fellow plotters all denied the charges and claimed incriminating evidence was planted by undercover police.
After they were convicted on Wednesday, Rahman shouted out: "I hope you're happy with your lies. Lying scumbags."
Prosecutors dismissed the claims as "theoretical conspiracy theories", telling the jury there was overwhelming evidence of guilt including instructions on how to make a pipe bomb being downloaded by Aziz, which matched the partially constructed device found in the car.
Mr Justice Globe called attempts by defence lawyers to have the jury dismissed and their "root and branch" attacks on prosecution witnesses from the West Midlands Police were "totally unfounded".
Phones and laptops belonging to the plotters were found to have been used to view radical content, including a document called "What is terrorism?" by Isis leader Abu Bakr al-Baghdadi, articles from al-Qaeda's Inspire magazine, advice on how to carry out attacks and religious songs glorifying violence.
The group gained their name from a group chat they used to share extremist material on the encrypted messaging app Telegram, which was named the "Three Musketeers".
Questions have arisen over how the plot reached such an advanced stage given the previous terror convictions of three defendants and their known contacts with extremist Anjem Choudary, who has since been jailed for supporting Isis, and his network.
Ali and law student turned trainee gas fitter Hussain had been jailed for attempting to travel to an al-Qaeda training camp in Pakistan in 2013 but violated licence conditions to move next to each other in Sparkhill after being released.
While in prison the met Rahman, of Stoke, who had been jailed for possessing an al-Qaeda magazine containing instructions on how to make a pipe bomb similar to the one found in Ali's car years later.
Rahman had connections with other extremists, including Choudary, who he is believed to have visited with Aziz, an Isis fanatic and Primark employee, last May while the radical preacher was on bail awaiting trial.
The court heard that MI5 had attempted to use two of the plotters as informants, but that Rahman attempted to double cross an MI5 contact to get information on the surveillance operation being mounted against them.
The fake firm Hero Couriers was set up as part of an elaborate undercover operation to monitor the group, with agents discovering the pipe bomb and meat cleaver after arriving to bug Ali's car on 26 August.
The defendants were arrested by West Midlands Counter Terrorism officers the same day.
David Videcette, a former counter-terrorism detective in the Metropolitan Police, said security services were "very lucky" to have caught the plotters in time.
"It's extremely worrying that individuals previously imprisoned for terrorism do not have their risk assessments upgraded," he told The Independent. "We've got lucky on this occasion."
Part of the trial was held in secret after the judge accepted a submission from the Home Secretary regarding a potential risk to national security arising from the disclosure of secret service operations.
Detective Chief Superintendent Matt Ward, head of the West Midlands Counter Terrorism Unit, said he was proud of the sometimes dangerous work done as "one of the most complex counter-terrorism investigations in a number of years" but conceded more needs to be done to monitor known extremists.
"This is the second time three of these individuals have been convicted of terrorism offences after planning an attack," he said.
"Although much work is being done in prisons and following the release of individuals, it is clear that more needs to be done. These are dangerous men who seem committed to carrying out an attack.
"The nature of this investigation demonstrates that the police together with our partners must stay one step ahead and that we must be ambitious in our tactics to be able to defeat the terrorist threat to our communities."
The court heard that Aziz had previous convictions dating back to 1997, had been jailed for five years for dealing in heroin and cocaine and became radicalised after the breakdown of his marriage. The pattern fits that seen with many of Europe's deadliest terrorists and Isis fighters, as researchers warn of a growing "crime-terror nexus" seeing criminals attracted by the promise of redemption and the name of jihad.
Rahman was also sentenced for two further offences after pleading guilty earlier this year to breaching his licence conditions. It followed his failure to notify police of a change of address under requirements of a sexual offences order relating to a conviction in 2002, and an order under the Counter Terrorism Act 2008.
Additional reporting by PA