Tia Sharp: Police hold murder suspect after fourth search reveals body
Grandmother's partner is arrested - but questions are raised over why detectives did not make crucial discovery sooner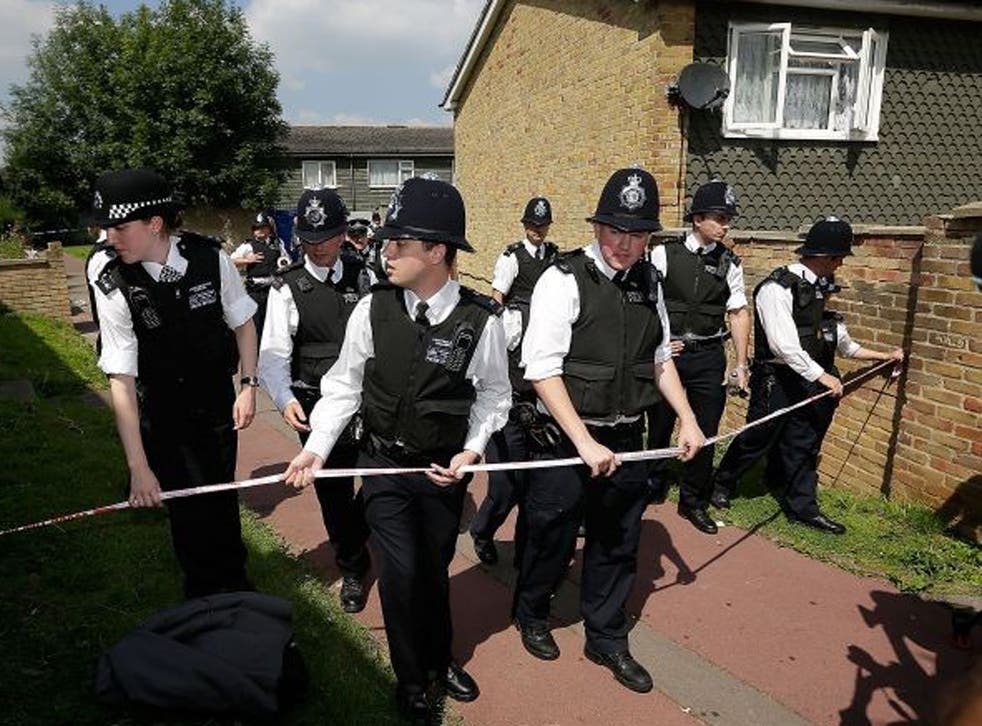 For seven days, police dog teams scoured woodland, searched dustbins and checked lock-ups on the down-at-heel estate where Tia Sharp went missing. Yesterday, as officers handed out leaflets and a senior officer prepared to address the cameras, the plan changed abruptly. Cordons went up and a search began of her grandmother's house.
After three previous searches of the house on The Lindens estate near Croydon, officers finally found a body. The force said it could not rule out the possibility that the body had been there all the time and was facing difficult questions about why the searches – involving both specialist officers and a dog team –failed to find anything.
Scotland Yard also faced potential embarrassment about how the prime murder suspect, Stuart Hazell, 37, eluded them for several hours until he was arrested in south London last night when he was spotted by a member of the public. He was being held at a police station on suspicion of murder.
As the force launched an apparent damage-limitation exercise, the Metropolitan Police Commander Neil Basu said the time that the body was there would be the subject of what has become a murder investigation. "It would be wrong to jump to any conclusions until all the facts have been established," he said.
Commander Basu said the pre-planned search had taken place with the family's full co-operation. But retired detectives last night questioned why a full examination of the house was not carried out sooner. Martyn Underhill, a former detective chief inspector, said yesterday: "The rule with a missing child is to clear the ground under your feet. You have to ask why it wasn't done earlier."
Following the girl's disappearance, the spotlight immediately fell on Mr Hazell, Tia's grandmother's partner, who had told police that she had left the house in New Addington at lunch-time on Friday to head to Croydon by bus and tram to buy a new pair of shoes. But a trawl of hundreds of hours of CCTV footage failed to show any trace of her.
As rumours mounted, Mr Hazell, who had kept a low profile, gave an interview to ITV News on Thursday denying that he had anything to do with her disappearance. Mark Williams-Thomas, who conducted the interview, claimed on Twitter he had not been allowed into Tia's room and remained downstairs during the interview.
Mr Hazell said that he gave her £10 for helping him with some chores and told her to be back by 6pm. In his television interview, Mr Hazell said that the whole family was pulling together to get her back. "I loved her to bits; she's like my own daughter," said Mr Hazell. "She's got a lovely home. I can't work out what's going on. She's a happy-go-lucky golden angel. She's perfect."
The family said that it had been difficult for Mr Hazell. "He knows the finger has been pointed at him. He knows this and it has been really hard for him," said Christine Sharp, his partner and the missing girl's grandmother.
The discovery of the body – which has yet to be identified – came yesterday after a flurry of activity when a police dog team and detectives went into the house. Ms Sharp was later escorted to a waiting police car by an officer. Earlier, she told reporters: "My only message to Tia is that I love her. I don't know how she's gone. She's not staying away by choice, I know this."
The cordon put up yesterday prevented anyone from going within 100 metres of the small terraced house and followed an increased police presence around the estate.
Eighty police officers, including specialist teams, were involved in the search and following up appeals which resulted in more than 300 calls and more than 60 claimed sightings. In his interview, Mr Hazell said: "I know deep down in my heart that Tia walked out of my house. She walked out of there. I know damn well she was seen walking down the pathway, she made her way down that track – what happened after that I don't know."
Suspect's interview: 'I'd loved her to bits'
Stuart Hazell in an interview with ITV News on Thursday night:
"They ask me stupid questions like did I do anything with Tia, and no I didn't, I'd never think of that. I'd loved her to bits like my own daughter, we had that kind of relationship. She's got a loving home, she's never gone without anything. I can't work out what the hell is going on."
"I know deep down in my heart that Tia walked out of my house, she walked out of there, I know damn well she was seen walking down the pathway, she made her way down that track, what happened after that I don't know."
"I do feel that people are pointing the finger at me 'cos 'til the other day it was known that I was the last person to see her but I wasn't. It's not about me, it's about Tia and we've got to get her home man."
Register for free to continue reading
Registration is a free and easy way to support our truly independent journalism
By registering, you will also enjoy limited access to Premium articles, exclusive newsletters, commenting, and virtual events with our leading journalists
Already have an account? sign in
Register for free to continue reading
Registration is a free and easy way to support our truly independent journalism
By registering, you will also enjoy limited access to Premium articles, exclusive newsletters, commenting, and virtual events with our leading journalists
Already have an account? sign in