Top judge Constance Briscoe 'lied to police in order to bring down Chris Huhne', court hears
Ms Briscoe is accused of misleading officers, tampering with an official statement and then submitting a fake document to try to get herself out of trouble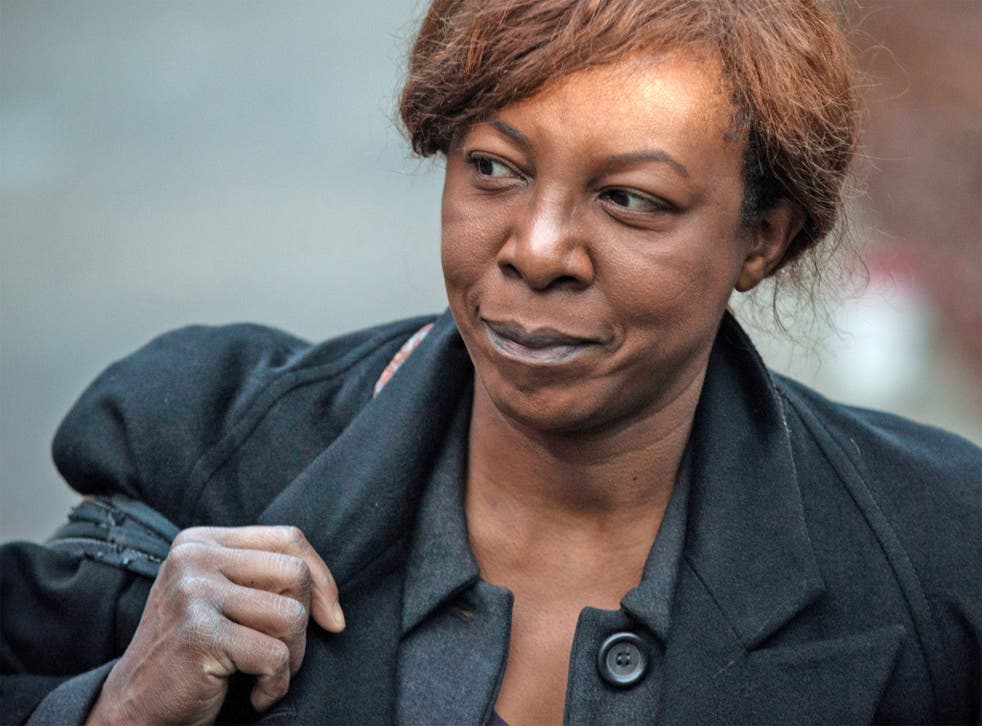 One of Britain's most prominent black women judges attempted to manipulate the criminal justice system after lying to police about a plot to bring down the former minister Chris Huhne over the speeding points scandal, a court has heard.
Constance Briscoe, 56, misled officers, tampered with an official statement and then submitted a fake document to try to get herself out of trouble, Southwark Crown Court was told.
Ms Briscoe had claimed in a police statement that she had been told in 2003 that the former minister persuaded his then-wife Vicky Pryce to take his speeding points to avoid a driving ban – eight years before the story became front page news.
She was set to be a vital witness in the trial of the high-profile couple in 2013 but was dropped when it emerged that she had been involved in passing the story to newspapers that triggered the police inquiry and could not be relied on to give "truthful and reliable" evidence, the court heard.
She went on trial yesterday for perverting the course of justice over "misleading" statements to police after claiming that she had not been in contact with journalists about the stories that led to Mr Huhne's eventual downfall, the court heard.
Ms Briscoe, a criminal barrister, part-time judge and best-selling author, had appeared to police to be an independent and truthful witness with no loyalties to either Mr Huhne or Ms Pryce, her neighbours in Clapham, south London, before the bitter break-up of their marriage in 2010, the court was told.
But for reasons of her own, she was intent on bringing down Mr Huhne and acted as a go-between for Ms Pryce and journalists trying to write her story, said Ms Bobbie Cheema QC, opening the prosecution case.
Ms Briscoe's denials of contacts with the media were exposed after prosecutors obtained e-mails and telephone logs from journalists that revealed that she had been in talks with reporters for months before the stories of the point-swapping saga first appeared in May 2011, said Ms Cheema.
One journalist wrote to a colleague that Ms Briscoe "is determined to go for the kill. Unlike VP [Vicky Pryce] she is nicely out of the spotlight and just wants Huhne to get his comeuppance ie to lose his position as Energy Secretary and be exposed as a liar."
She gave two "inaccurate and misleading" statements to police and tampered with one of them, said Ms Cheema. She then submitted a false version of one of her original statements which had been scrutinised by an expert witness in an attempt to back her own account of the story to the courts, said Ms Cheema.
She hid what she had done, misled police and then tried to manipulate the police and courts during an investigation into her actions, she said.
"It seems from the evidence you will be asked to consider that despite all her advantages, for reasons of her own, she was prepared to lie to the police, present an entirely false picture about herself, of her relationship with Miss Pryce and her relationship with journalists."
Even without her evidence, the pair were both jailed for six months last year after Ms Pryce took her husband's speeding points so he could avoid a driving ban.
Ms Briscoe denies three counts of perverting the course of justice.
The case continues.