Tottenham v Arsenal: Two men arrested as 'fans clash' ahead of North London derby
Mounted police separate fans throwing beer cans and smoke bombs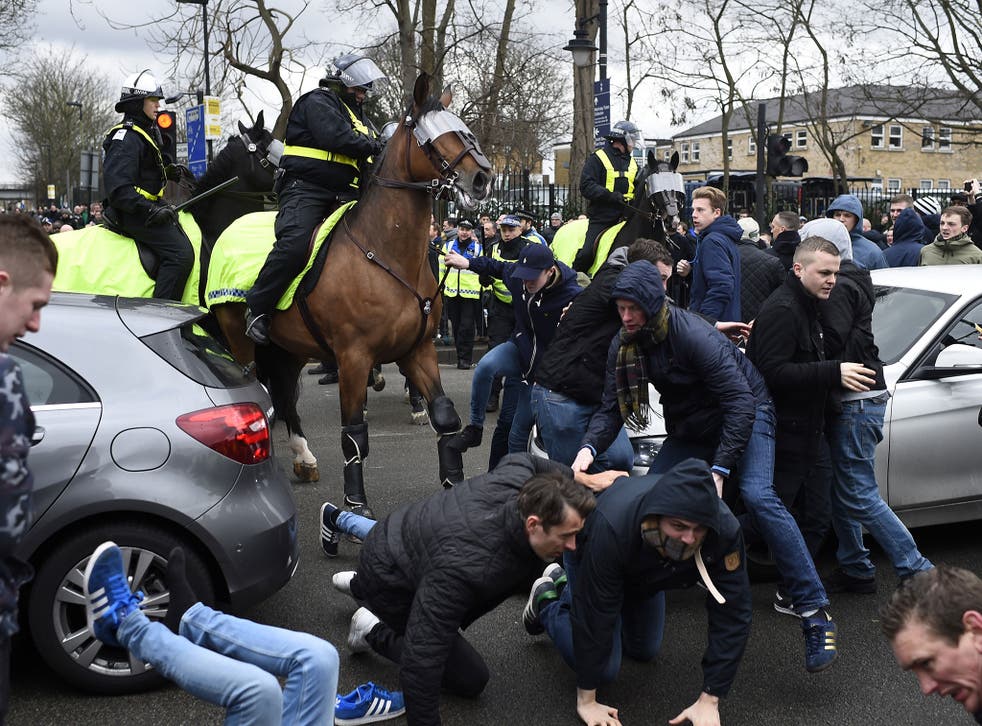 Two men have been arrested as Tottenham and Arsenal fans were seen fighting in the streets around White Hart Lane ahead of their derby match.
Before the game's 12.45pm kick-off, groups of rival supporters were involved in violent scuffles in the streets surrounding Tottenham's ground.
At least one man was left with blood pouring from his head, while other supporters were knocked to the ground.
Upon arrival, mounted police were greeted with volleys of beer-cans and smoke bombs. Using batons, they separated the rival groups of fans and dispersed the crowd. Two men were arrested in separate incidents.
The North London derby has been troubled by violence around recent fixtures. Ten Arsenal fans were arrested after smashing up seats and tearing out hoardings in White Hart Lane following a Capital One Cup match in September 2015, in which Arsenal came from a goal behind to win 2-1. During a Premier League fixture in November, Tottenham fans smashed up the toilets in Arsenal's Emirates stadium in an apparent revenge attack.
With the two sides separated by three points and both still in contention for the Premier League title then emotions were always likely to run high today.
Accordingly, the match was assigned an early kick-off time, partially intended to decrease the amount of time prior to the match in which fans could drink.
A Met Police spokesperson said: "Two men were arrested in connection with public order offences ahead of the Arsenal/Tottenham Hotspur football match taking place at White Hart Lane today, Saturday, 5 March."
"The two individuals were detained separately, in unconnected incidents, around 12:30hrs at the junction of High Road and Park Lane. They have been taken to north London police station where they currently remain. An appropriate policing plan is in place for the event."
Register for free to continue reading
Registration is a free and easy way to support our truly independent journalism
By registering, you will also enjoy limited access to Premium articles, exclusive newsletters, commenting, and virtual events with our leading journalists
Already have an account? sign in