Two UK students convicted of Isis-inspired plot to carry out drive-by shootings in London
One of the students, Tarik Hassane, pledged allegiance to the so-called Islamic State in 2014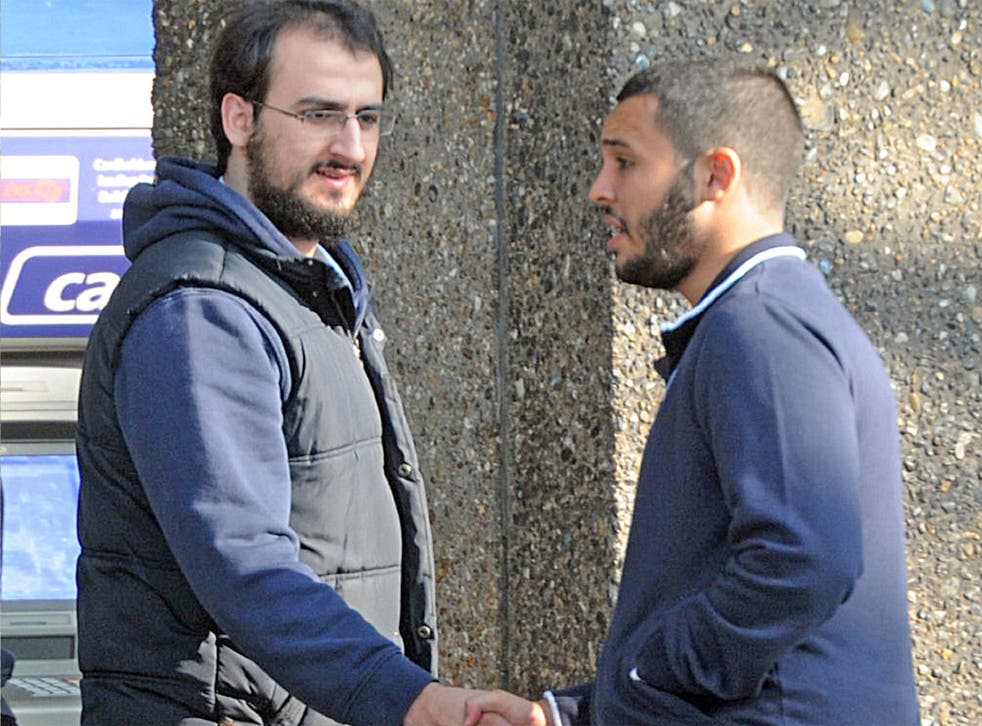 Two British university students have been convicted of a jihadist-inspired plot to carry out a series of drive-by shootings targeting police or soldiers on the streets of London.
Tarik Hassane, 22, who had been studying medicine in Sudan, used encrypted messages to his schoolfriend Suhaib Majeed, 21, over four months in 2014 to develop the conspiracy which involved the use of an untraceable moped to target victims.
Majeed, a physics undergraduate who was also chairman of the Islamic Society at King's College London, had acquired a handgun, ammunition and a silencer on the orders of Hassane before police swooped to arrest him in September 2014.
Despite the detention of his co-conspirator, Hassane rushed back to London to carry out what counter-terrorism officers believe would have been a "lone-wolf" attack before he too was arrested by police monitoring his movements.
Jurors at the Old Bailey were not told that Hassane, the ringleader of the plot who went by the nickname The Surgeon, had links to a west London mosque attended by Mohammed Emwazi, the Isis executioner known as Jihadi John who achieved notoriety with his videoed beheadings of hostages in Syria.
Majeed, who born in Iraq but became a British citizen in 2002, was also found to have a video of one of Emwazi's murders on his iPad and it was reported last night that Hassane may have spent time in Syria while based in Sudan and even taken the opportunity while there to visit the executioner.
Police and prosecutors said they believed one of the most significant terrorist plots for several years had been halted after it emerged that Hassane had used Google Street View to look at likely targets including a police station in Shepherds Bush, west London, and a nearby Territorial Army barracks used by the Parachute Regiment.
Sue Hemming, head of the counter-terrorism division of the Crown Prosecution Service, said: "These are dangerous men with strong beliefs. Had their plot not been exposed when it was, I am in little doubt that they would have gone on to murder.
"The pair planned to find a weapon, an untraceable moped and a garage to hide it in. This was the final part of their plan and possibly the only thing stopping them from carrying out an act of terrorism."
Hassane, who turned down a place at a British university to study in the Sudanese capital of Khartoum, pledged allegiance to Isis in July 2014 - a month after the terror group had declared a caliphate centred on the Syrian town of Raqqa.
When the jihadists issued a fatwa two months later urging their supporters to kill western disbelievers, Hassane and Majeed began their plot, dubbing themselves on one internet chat group as the Turn Up Terror Squad. They face substantial jail terms when they are sentenced at a later date.
Hassane, from north Kensington, and his school friend, whom he known since the age of 11, communicated using encrypted software created by Al Qaeda activists and their own code. In one message, the would-be doctor told Majeed "don't forget the p, z and creps" - "p" stood for money, "z" meant "zoom" or a moped and "creps" was their private slang for a gun.
Brussels attacks: tributes are paid to the victims

Show all 27
Hassane changed his plea midway through the trial, admitting to conspiracy to murder and preparation of terrorist acts. But his right-hand man, who went by the nickname of Scars, denied the charges and was convicted after five days of deliberations by the jury.
Two British Muslim converts - Nyall Hamlett, 25, and 26-year-old Nathan Cuffy - had pleaded guilty to supplying Majeed with the Baikal self-loading pistol, bullets and silencer but the pair were cleared of knowing about the terrorist plot.
When armed police raided Majeed's home in September 2014 he was spotted tossing the gun and ammunition out of his bedroom window.
Detectives said they believed the men intended potentially multiple attacks using the moped and may have eventually turned their attention to civilian targets.
Commander Dean Haydon, head of Scotland Yard's Counter Terrorism Command, said: "They were planning to target police or military personnel before escaping on a moped, but members of the public also could have been victims had their plans not been thwarted."
Register for free to continue reading
Registration is a free and easy way to support our truly independent journalism
By registering, you will also enjoy limited access to Premium articles, exclusive newsletters, commenting, and virtual events with our leading journalists
Already have an account? sign in
Register for free to continue reading
Registration is a free and easy way to support our truly independent journalism
By registering, you will also enjoy limited access to Premium articles, exclusive newsletters, commenting, and virtual events with our leading journalists
Already have an account? sign in