Long-term fall in crime is over as statistics show spike in robbery and murder
The figures come as the number of police officers in England and Wales plummets to a record low and the proportion of solved crimes also drops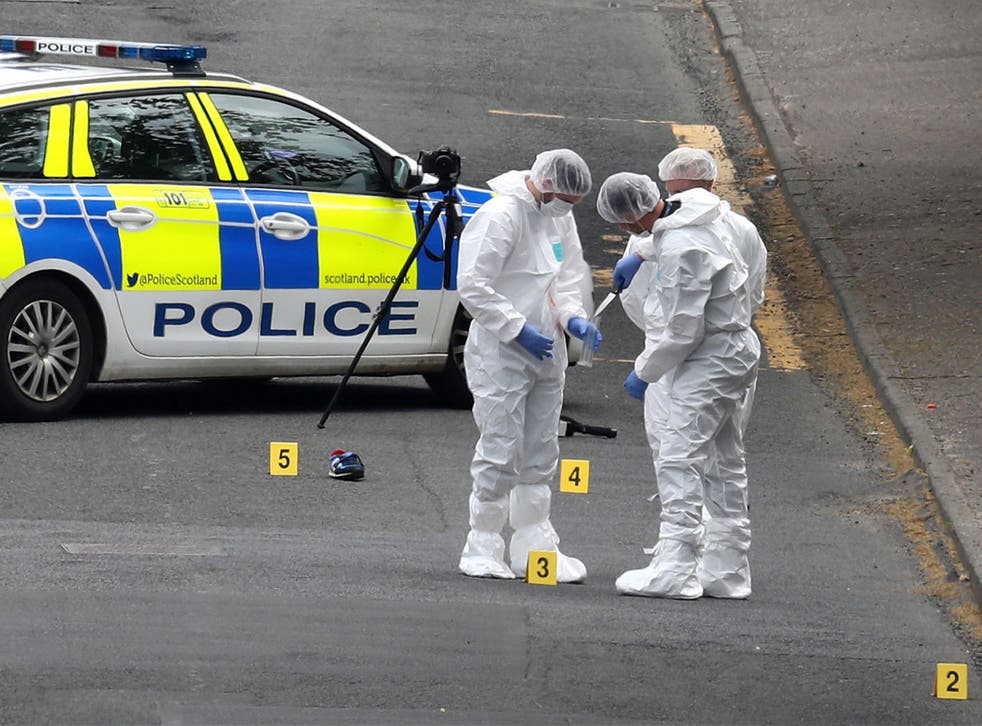 The government has been warned it is "sleepwalking into a nightmare" as new figures show murder, robbery and stabbings increasing sharply in England and Wales.
The number of police officers has hit a record low, amid claims funding cuts have driven up violent crime and "encouraged" offenders.
Almost half of all criminal investigations have been closed with no suspect identified, and the proportion ending with someone being charged or summonsed to court fell to just 9 per cent in the year to March.
Diane Abbott MP, the shadow home secretary, said: "With violent crime increasing and detection rates falling so fast, it's clear the police desperately need our support.
"But this Tory government has broken its promise to protect funding, with police funding cut in real terms and fewer police officers on our streets.
"While the government continues to deny any link between the rise in serious crime and the cuts to police officer numbers, today we see what an appalling and traumatic impact Theresa May's decisions have had on our society.
As home secretary, Ms May told police officers to stop "crying wolf" about the impact of budget cuts in 2015, but her successor Sajid Javid pledged that he would fight for more police funding in a government-wide spending review.
The Office for National Statistics (ONS) said that "after falling in recent decades, the overall level of crime is now stabilising".
In the year to March, the number of homicides recorded by police rose by 12 per cent, knife crime offences were up by 16 per cent and robbery rocketed by 30 per cent.
A total of more than 40,000 knife offences was the highest number since 2010-11.
The ONS said only a "small proportion" of incidents, which include threatening someone as well as stabbings, resulted in people being taken to hospital, with the NHS recording 4,656 admissions in England.
Police have warned that "feral" knife attacks are becoming more brutal, seeing victims stabbed and slashed multiple times.
A wave of killings has sparked a government crackdown on deadly weapons including "zombie" knives, which will become illegal to possess.
Louise Haigh, the shadow policing minister, told The Independent the rise in violence would come as "no surprise to communities who have had their safety disregarded by this government".
She added: "It is not a coincidence that crime is rising at a time when neighbourhood policing has been decimated. At the same time victims are being seriously let down as tens of thousands of crimes are not resulting in a charge."
Sarah Jones MP, chair of the All-Party Parliamentary Group on Knife Crime, said the situation had become a "public health emergency".
"We need concrete action," she added. "The roots of this problem spread far and wide. It's no coincidence that annual school exclusion figures released today also show a huge rise. Increasing numbers of children are being marginalised and unsupported, and we need drastic action to turn this around."
Figures show that murders have increased for the fourth consecutive year following a long-term decline, and are mainly concentrated in London and other cities.
Robberies rose by almost a third, and statisticians said that although improvements in police record-keeping contributed to the rise it "may reflect a real change".
Cyclist pulls out 'zombie knife' and attempts to smash a car window
The ONS said robberies were "disproportionately concentrated in London and other metropolitan areas", amid alarm over violent muggings by attackers on mopeds who frequently target phones.
Firearms offences increased by 2 per cent overall, and vehicle-related theft was up by 17 per cent according to the Crime Survey for England and Wales.
The survey, which records people's experiences rather than what is reported to police, found that 80 per cent of the people did not experience any crime in the past year.
Meghan Elkin, head of crime statistics at the ONS, said the only type of crime that significantly fell was computer misuse.
The 31 per cent drop has been put down to a fall in computer viruses causes by increased awareness among the general public, who are protecting their devices better.
"Most crime types are staying the same, but we've seen increases in some types of theft, like vehicles and burglary, and less common higher-harm offences including homicide, gun and knife crime," Ms Elkin told The Independent.
"Some of the increase in knife crime might be down to improvements in recording, but we do think there's a genuine increase there because we've seen a rise in admissions to NHS hospitals."
In the same time period, the number of police officers in England and Wales fell to 122,404 – the lowest number since comparable records began in 1996.
Home Office statistics showed there was an overall increase in the total police workforce, which was driven by staff rather than police officers.
There were decreases in the number of police officers, Police Community Support Officers and special constables compared with the previous year, as well as officers in "frontline roles".
The teenagers murdered in London in 2018

Show all 21
Around 2 per cent of police officers – around 2,300 – are on long-term sick leave, and the Police Federation has demanded better support and mental health services to help them cope with traumatic incidents and a spate of terror attacks.
"These new figures are proof, as if we even needed it, that policing in the UK is on the critical list," said the association's vice chair, Ché Donald.
"We have a government who recently launched their Serious Violence Strategy – yet failed to make one single mention of the falling numbers of officers, which they were rightly criticised for. You would think that every time we have the same conversations about rising crime, particularly violent crime, it would be a wake-up call for the government. But instead it just feels like we are sleepwalking into a nightmare."
Separate Home Office data showed that police forces closed 48 per cent of investigations without identifying a suspect in the year to March.
The figure rose to three-quarters for theft, compared with around 15 per cent for domestic abuse, 7 per cent for rape and 2 per cent for drugs offences.
The proportion of crimes that resulted in a charge or summons fell from 11 per cent to 9 per cent in the year, as part of a "downward trend" since the government introduced new counting rules in 2015.
Home Office analysis said the drop may be partly caused by a rising number of "complex" crimes like sexual abuse and the volume of digital evidence now seized on phones and other devices.
Alex Mayes, the policy and public affairs adviser at Victim Support, said: "A large part of the recovery process for victims is obtaining justice, and failure to do so can make it difficult for them to move on.
"Reporting rates are already quite low – especially for cases of domestic abuse and sexual offences – and for many this is because they believe that the police won't be able to do much about it.
"This news has the potential to reinforce these perceptions, undermine public confidence and further deter reporting. This is particularly concerning, as for some not reporting the crime can make it harder for them to seek the help they need and deserve."
The Association of Police and Crime Commissioners said leaders were working to tackle the underlying causes of crime and keep communities safe.
On the number of unsolved crimes, the association's performance lead Matthew Scott said: "It is important to acknowledge that police help victims in a number of ways, including through safeguarding, and much of the vital support given to victims is delivered through local charities."
Register for free to continue reading
Registration is a free and easy way to support our truly independent journalism
By registering, you will also enjoy limited access to Premium articles, exclusive newsletters, commenting, and virtual events with our leading journalists
Already have an account? sign in
Register for free to continue reading
Registration is a free and easy way to support our truly independent journalism
By registering, you will also enjoy limited access to Premium articles, exclusive newsletters, commenting, and virtual events with our leading journalists
Already have an account? sign in