Ulster rugby stars knew sexual activity with woman was not consensual, rape trial hears
'They carried on regardless for their own sexual gratification', prosecutor says. Both men deny the charge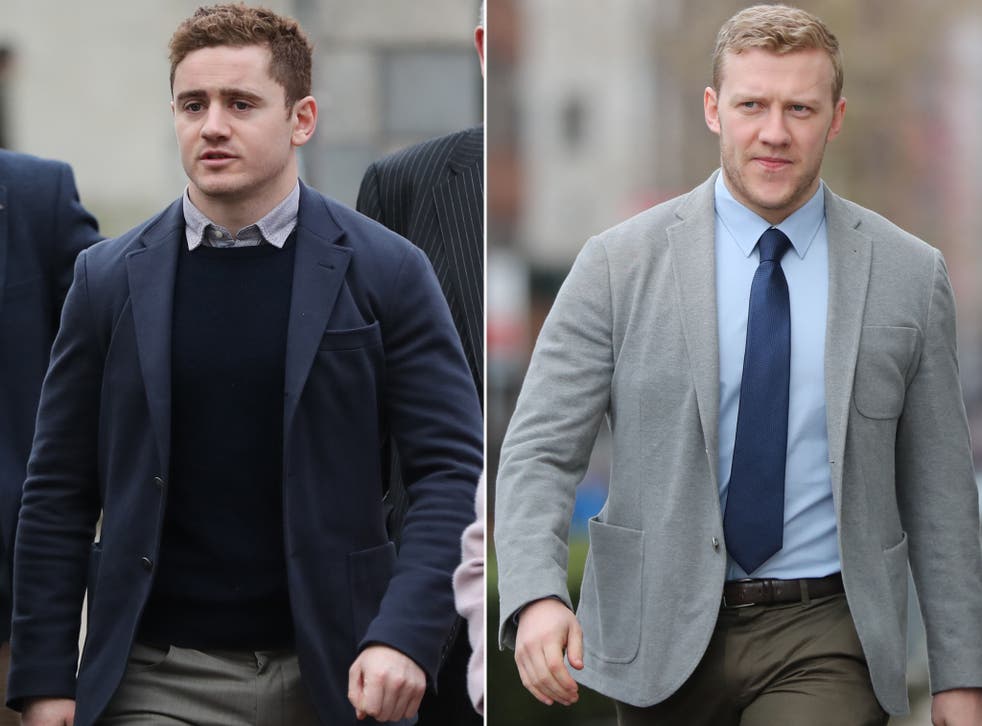 Ulster rugby stars Paddy Jackson and Stuart Olding knew that sexual activity with their alleged victim was not consensual, the jury in their rape trial was told.
But the two players "carried on regardless, for their own sexual gratification", prosecution barrister Toby Hedworth QC said.
The high-profile trial is in its seventh week. Mr Jackson and Mr Olding, both of Belfast, stand accused of raping a 19-year-old woman after a night out in the city in June 2016, which they deny.
Mr Jackson denies a further charge of sexual assault while two other Belfast men, Blane McIlroy and Rory Harrison, have pleaded not guilty to related charges.
On the night in question, Mr Hedworth said, the woman had been out celebrating the end of her exams with friends. She "consensually kissed a young man" at an after-party and "this was as far as she wanted it to go", he told jurors.
Summing up the prosecution case at Belfast Crown Court on Thursday, Mr Hedworth referred to each of the defendants individually.
UK news in pictures

Show all 50
Turning to Mr Jackson, he said that having already been told by the woman she was not interested in going further "he forced himself on her, raped her from behind before Mr Olding came in and raped her after Mr Olding came in".
The lawyer added that Mr Jackson then continued to perform a sex act on the woman.
Mr Hedworth told the jury that Mr Olding was "someone who, you will recall, [the woman] hadn't even spoken a word to. A person who [when] she said, 'No please, not him too', joined in sexually assaulting her".
He added: "They knew full well she did not [consent]. They carried on regardless for their own sexual gratification."
Turning to Mr McIlroy, 26, of Royal Lodge Road, who has denied exposure, Mr Hedworth said that having been knocked back by another woman at the party, he asked Jackson by text if there was a chance of a threesome.
"Mr Jackson was too busy with his own activity to reply", he said.
Mr Hedworth told the court Mr McIlroy went up to Jackson's bedroom and, as he went through the door, it was "the straw that broke the camel's back" for the alleged victim.
"Mr McIlroy never gets beyond exposing himself", said Mr Hedworth.
Referring to Rory Harrison, 25, from Manse Road, who shared a taxi home with the woman after the attack, Mr Hedworth said he was "the gallant hero of the hour but his apparent concerns for [the woman] were merely weasel words".
He said Mr Harrison was a "heartless young man who found the whole thing so amusing".
Mr Hedworth told the court Mr Harrison deliberately failed to tell police what had happened and deliberately misrepresented the woman's conduct at the party by claiming she was "fixated" on Jackson.
"He guesses what had happened was rape, yet still he said nothing," added the lawyer.
Defence lawyer Brendan Kelly QC, for Mr Jackson, said the alleged victim was "on a mission to party that night" and that her story had been inconsistent.
"A drunken consent is still consent. Regret has no bearing on consent."
He added: "[The woman] was consenting."
Mr Kelly said: "This is not a court of morals, nor will you try this case on any emotion or sympathy.
"You may all have daughters, you may all be fathers. That is not what this case is about."
He referred to evidence to the court that Mr Jackson asked another woman who walked in on the sexual activity if she wanted to join in.
"Join in on a rape? Is it really the Crown's case that half the bed would be consenting and half not?" Mr Kelly asked.
The prosecution case was "critically flawed", he said.
Additional reporting by PA
Register for free to continue reading
Registration is a free and easy way to support our truly independent journalism
By registering, you will also enjoy limited access to Premium articles, exclusive newsletters, commenting, and virtual events with our leading journalists
Already have an account? sign in
Register for free to continue reading
Registration is a free and easy way to support our truly independent journalism
By registering, you will also enjoy limited access to Premium articles, exclusive newsletters, commenting, and virtual events with our leading journalists
Already have an account? sign in