Witness in Dappy assault trial sent 'selling story' tweets and said she'd 'bull****' evidence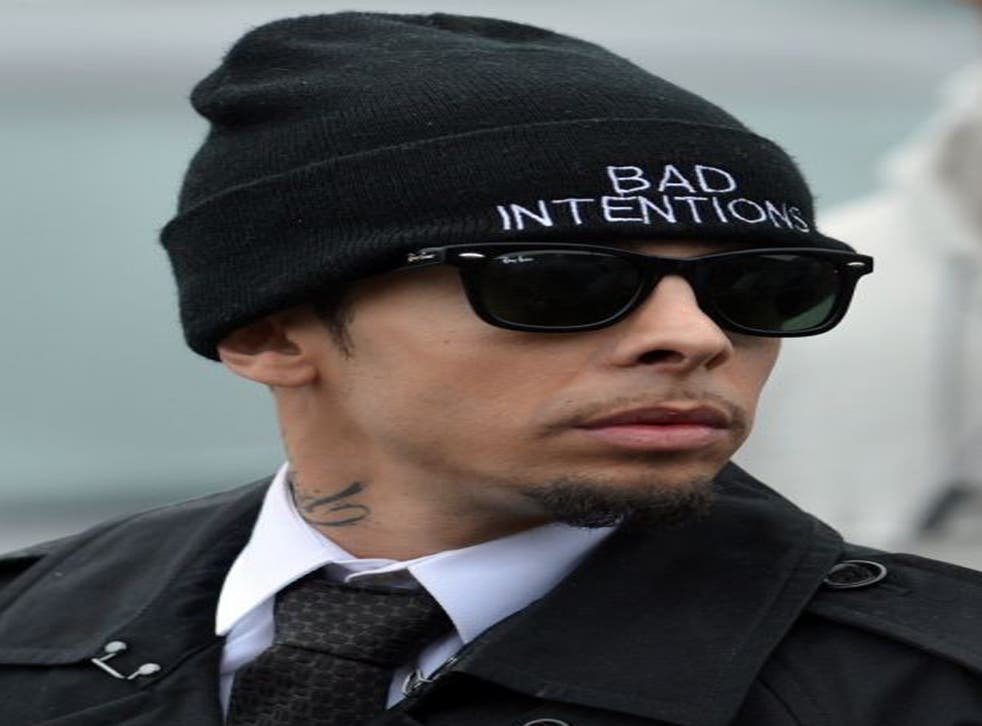 A teenage witness in the trial of N-Dubz rapper Dappy has admitted in court sending tweets about selling her story to the press and that she was "in the process of sending the singer down".
A trial at Guildford Crown Court has been told that Dappy sparked a "mob attack" when he spat at Grace Cochran and Serena Burton, both 19, as they sat at the Shell garage in Woodbridge Road, Guildford, Surrey, at about 3.30am on February 28 last year.
Paul Greaney, representing Dappy, confronted Miss Cochran about messages she had posted on Twitter and BBM (Blackberry messages) about the case.
He said that at 7.12pm on Monday she was sent a tweet saying "Send the c*** down" to which she replied "Ha ha ha in the process".
Mr Greaney also described a series of tweets and messages in which the two witnesses discussed their plans to sell their story to the media for £1,000.
In one BBM message, Miss Burton wrote: "Ha ha ha, oh my f***, my friend's dad works in the media and he told her that apparently we can get a grand for that type of story from The Sun or something."
Miss Cochran replied: "OMF"
Miss Burton added: "Let's ring them tomorrow when we leave court, TBF (to be fair)."
Also, after the pair were photographed outside court on Monday, Miss Burton tweeted: "Ha ha ha, love life, now we are famous."
Miss Cochran replied: "Buzzing to be papped."
And on Monday evening, Miss Burton sent a BBM message saying: "We need to sell our stories now, to be fair."
To which Miss Cochran replied: "Ha ha ha, yes to be fair, I hope there will be newspaper people there to take photos."
She also admitted discussing what clothes and make-up they would wear for their court appearance.
When asked by Mr Greaney if her intention by giving evidence was to gain attention and money, she replied: "We are both 19-year-old girls and the attention was good in our eyes.
"It wasn't our initial intention.
"I do not think that, standing here now, I want attention.
"I think if anyone knows Serena and I, our characters, it's a very typical thing to be said, we like to joke around about things like that."
She added that they had not even considered selling their stories before the start of the trial and the attention they had received in media reports.
Describing the incident, Miss Cochran said that Dappy and another man came to talk to them as they sat on the kerb outside the petrol station shop.
She said: "Their manner was chatting us up, they were saying 'All right girls, all right sexy girls', something like that.
"We didn't know who they were, we told them to leave us alone.
"They called us sluts.
"I said 'You are boring'.
"He spat at me, on the floor, it didn't land on me though.
"Serena said 'That's disgusting'.
"One of the boys we were talking to previously at the cashpoint came to stand in and stick up for us.
"I do not remember exactly what he said, he came to try to calm the situation and said 'Leave them' or something along those lines."
She described how this man, David Jenkins, and Dappy began to fight before a number of other men joined in.
She said: "They were head to head, they had their heads against each other.
"It started between them and a lot of people got involved and people got out of the cars on the forecourt."
She continued: "I remember looking at my right and seeing someone lying on the floor and they were being hit.
"Someone then came up to say 'Leave him' and the person left and they continued to kick him in the stomach."
She described how the three men who had stood up for them suffered injuries in the incident.
She said: "One had a lot of chipped teeth on the bottom jaw, one had a broken nose or a bleeding nose and one had a swollen eye."
She said she did not know at the time the man who allegedly spat at her but added: "I thought he looked slightly like a celebrity but I didn't think it was him, Dappy from N-Dubz."
Miss Burton admitted sending a BBM message saying that she was going to "bullshit" when she gave her evidence.
In the BBM conversation at 9.50am on Tuesday, the day she had originally been due to give evidence, Miss Burton received a message from someone called Jodie: "OMG definitely sell the story ha ha ha, that's so good.
"Just say what happened, you are good at talking so you will be fine, ha ha ha."
Miss Burton replied: "Ha ha ha, I do not even remember, to be fair, but I will bullshit."
In another BBM message to another friend, Miss Burton wrote: "Going to sell my story to all the magazines and get rich."
Mr Greaney said that the phones of the two witnesses had been examined by police after the conversations were referred to on Twitter.
He said that a total of 20,000 messages were found on Miss Burton's phone.
In another message, she wrote to Miss Cochran: "Didn't they say we can do what we can after the trial is over.
"So let's literally ring Heat and stuff and sell our story."
Mr Greaney asked Miss Burton: "Do you regard your appearance in this case as a means to gain attention for yourself or money for yourself?"
She replied: "No."
She also denied that she intended to sell her story after the case.
She added: "What I say to my friends and what I say to you are two different things, it's just conversation.
"We were just joking between each other, there's nothing in there to take seriously."
Brian Stork, prosecuting, asked her: "When you made that witness statement did you make anything up?"
To which she replied: "No."
He added: "Have you made anything up today?"
And she replied: "No."
The jury has heard that Dappy, 25, charged under his real name of Costadinos Contostavlos, pulled up in a car at the petrol station and he and a friend Kalonji Stewart got out of the vehicle along with a third man.
While Stewart went inside the shop, Dappy began talking to the young women, Miss Cochran and Miss Burton, who were in a group sitting on the kerb outside.
Mr Stork alleged that Dappy tried to persuade the two girls to come with them in their car and when they refused he called the girls sluts, said one was ugly and then spat at them, but missed.
Mr Stork said that after Mr Jenkins was spat at, Dappy swung a punch at him and the violence "kicked off".
The incident then turned into a "mob-handed, utterly unlawful and aggressive attack", according to Mr Stork.
Dappy was joined by two other men, Kieran Vassell and Alfred Miller who had arrived in a second Mercedes car with other unidentified men.
Mr Stork showed the jury CCTV footage, lasting just moments, from the garage.
It showed the men attacking Mr Jenkins and his two other friends, resulting in damaged teeth to Mr Jenkins and a fractured nose to another man. They then all got into cars and drove off.
Miller and Vassell are alleged to have used their feet and fists in the attack and Dappy is alleged to have got involved when he was released from the head lock.
Stewart also got involved but less so, the prosecution claims.
Dappy denies two counts of common assault on the two women, one of assault by beating, of Mr Jenkins, and one of affray.
He is charged alongside Vassell, 25, of Hammersmith, west London, and Stewart, 32, of Harborne, Birmingham, who are each charged with affray.
Miller, 28, of Brentford, west London, has pleaded guilty to affray and his case was adjourned for sentence at the end of the trial.
Mr Stork said Dappy told police when he was arrested that he was attacked, put in a head lock, his security came to help him and he then got straight into a car.
He denies spitting at anyone and said he cannot understand how his saliva came to be on Mr Jenkins's shirt.
The other men made prepared statements to officers and then gave "no comment" interviews.
The court heard that Dappy had previously pleaded guilty at Chelmsford Magistrates' Court to two offences of battery in an earlier and unconnected incident.
These charges related to an incident on November 18, 2008, where he spat at a woman and the spittle hit her in the face as well as another woman, the court heard.
Detective Constable Alex Boxall, of Surrey Police, said that when he arrested Dappy at his recording studio after the Guildford incident, the singer said to him: "I was the one who was assaulted."
When interviewed by police, Dappy denied spitting at anyone and said he had only spoken to the girls about his new single.
He said: "I walked over to the girls and said my new single Rockstar with Brian May is out on Monday, go and buy it."
He added: "They were just being rude to me, I just said hello, promoting my single, I said 'Hi, my single (with) Brian May is coming out.
"Two guys coming out, being put in a headlock, bam, that's all I remember."
He continued: "Someone put me on the ground, in a headlock straight away.
"One of my security tried to get him off me, we all fell on the ground and I get put in a car after that."
Speaking to Mr Boxall in the interview, Dappy denied starting the violence or hitting anyone and said: "Come on officer-man, who attacked who?"
Dappy said during the interview that he was drunk on that night having had six or seven shots of Jack Daniel's and sambuca in a local nightclub called Casino.
He said: "We just went there to celebrate because my second single had just been released."
Denying spitting at the two women and the man, he said: "No way would I spit, I don't spit. I have two kids, my mum didn't bring me up that way."
Taking the witness stand, Dappy denied spitting at the girls and said he felt he was the victim of the attack.
He said of his arrest: "I didn't even want a lawyer or solicitor because I knew it wasn't anything to do with me; in fact, I feel I was the victim."
He said he had been out that night to celebrate the release of his single and was in the "best mood ever".
He said he had been staying at Farm Studios in Godalming to record his debut solo album.
"(I was the) happiest man on Earth, my album was almost finished, it was a great feeling and my single, Rockstar, was coming out," he said.
"We had a big legend on the track, it was a great achievement and we were going out to have a great night."
He said he had not drunk a great deal that night because he was a "light-weight" and had only consumed three or four shots in a VIP area of the nightclub.
Dappy said he went over to the group at the petrol station to promote his new single.
He said: "My job is simply to do with word of mouth - if I see a bunch of people who will buy my record in the near future, I will do my best to get them to buy my record."
He said they did not believe him when he said that he had just recorded with Brian May and they started to ridicule him.
Dappy said his partner and mother of his two children, Kaye Vassell - who is the sister of the third defendant, Kieran Vassell - was also present at the petrol station, having been out that night with them.
When asked if he invited the girls to get into his car, he said: "I had the mother of my two kids there - she would hang me upside down if I even looked at anyone."
He added that there would be a "catfight" if he took girls back to the recording studio and said there was no room in the car for them anyway.
Dappy denied calling the girls sluts and spitting at them or David Jenkins.
He added that he said "Are you serious?" when they started giggling at him, at which point he said Mr Jenkins put him in a headlock.
He said: "They had it in for me, they really didn't want me to leave being happy with what I had been doing, which was promoting my product.
"All I did was be polite, I wanted to find out what the problem was, why they were acting this way towards me."
He added: "If he hadn't put me in that headlock, there would never have been a physical altercation.
"He brought me straight down to the floor, my whole body was flat on the floor, until my security came and got me out of the headlock."
He added: "Am I not allowed to defend myself if I am put in a rapid headlock?"
Referring to the incident in 2008, he said it happened in a period when he was acting "irrationally" following the sudden death of his father in 2007.
He said: "(He was my) best friend, he was everything to me and my manager for a long time.
"All of a sudden, out of the blue, just dropped dead. I even gave him mouth-to-mouth.
"It made me act very irrational. I couldn't grieve straight away, I was very hurt.
"That made me very, very upset and even now it deeply wounds me."
The court was told that the 2008 incident involved an argument with a woman whom he spat at after she threw some keys at him and slapped him.
He said he felt "very stupid" at his actions.
The court heard that Stewart denies being part of the affray and had only stepped in to protect Dappy.
Vassell also denies his part in the affray.
The trial was adjourned until tomorrow.
PA
Register for free to continue reading
Registration is a free and easy way to support our truly independent journalism
By registering, you will also enjoy limited access to Premium articles, exclusive newsletters, commenting, and virtual events with our leading journalists
Already have an account? sign in