Watch gifted by US president Woodrow Wilson stolen from London antiques dealer
Met Police urges thief to return £20,000 item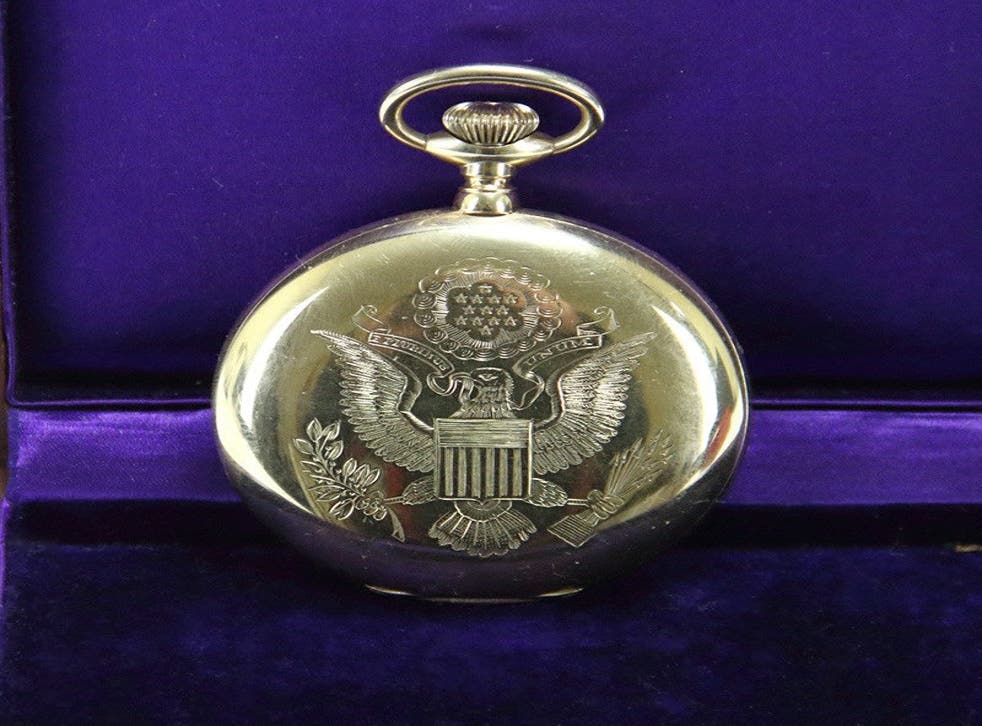 A thief has stolen a gold watch linked to the US president Woodrow Wilson from a London antiques dealer, the Met Police has said.
The 14-carat gold timepiece, which was given as a gift by the war-time president, has an engraving of the US national emblem on the back.
It was taken just after midday on Saturday from a shop in Islington, north London.
The man who stole the watch, valued at up to £20,000, had originally claimed he wanted to buy a vase, police said.
After his card was declined, he took the pocket watch from a case while the sales assistant was putting the vase back on display.
The Met Police has urged the thief to return it, adding that its owners are "very distressed".
Pc Joshua Brown, from Central North Basic Command Unit, said: "The item had been in their family for a long time and I would urge the person who stole it to return it as soon as possible."
Woodrow Wilson, the 28th US president, is commonly remembered for forming the League of Nations after World War One.
However, his legacy has come under increasing scrutiny this year following anti-racism protests around the globe.
The reappraisal of Wilson centres on his racist actions, including his move to keep black students out of Princeton University while he was its president.
As a result, Princeton decided earlier in 2020 to remove his name from a residential building and its public policy school.
In a statement explaining the decision, Christopher L.Eisgruber, the president of the university, said: "Wilson's racism was significant and consequential even by the standards of his own time."
Register for free to continue reading
Registration is a free and easy way to support our truly independent journalism
By registering, you will also enjoy limited access to Premium articles, exclusive newsletters, commenting, and virtual events with our leading journalists
Already have an account? sign in
Register for free to continue reading
Registration is a free and easy way to support our truly independent journalism
By registering, you will also enjoy limited access to Premium articles, exclusive newsletters, commenting, and virtual events with our leading journalists
Already have an account? sign in