200 languages: Manchester revealed as most linguistically diverse city in western Europe
Jonathan Brown dusts off his Lingala and Igbo and talks to those making the former industrial heartland the most multilingual city in the country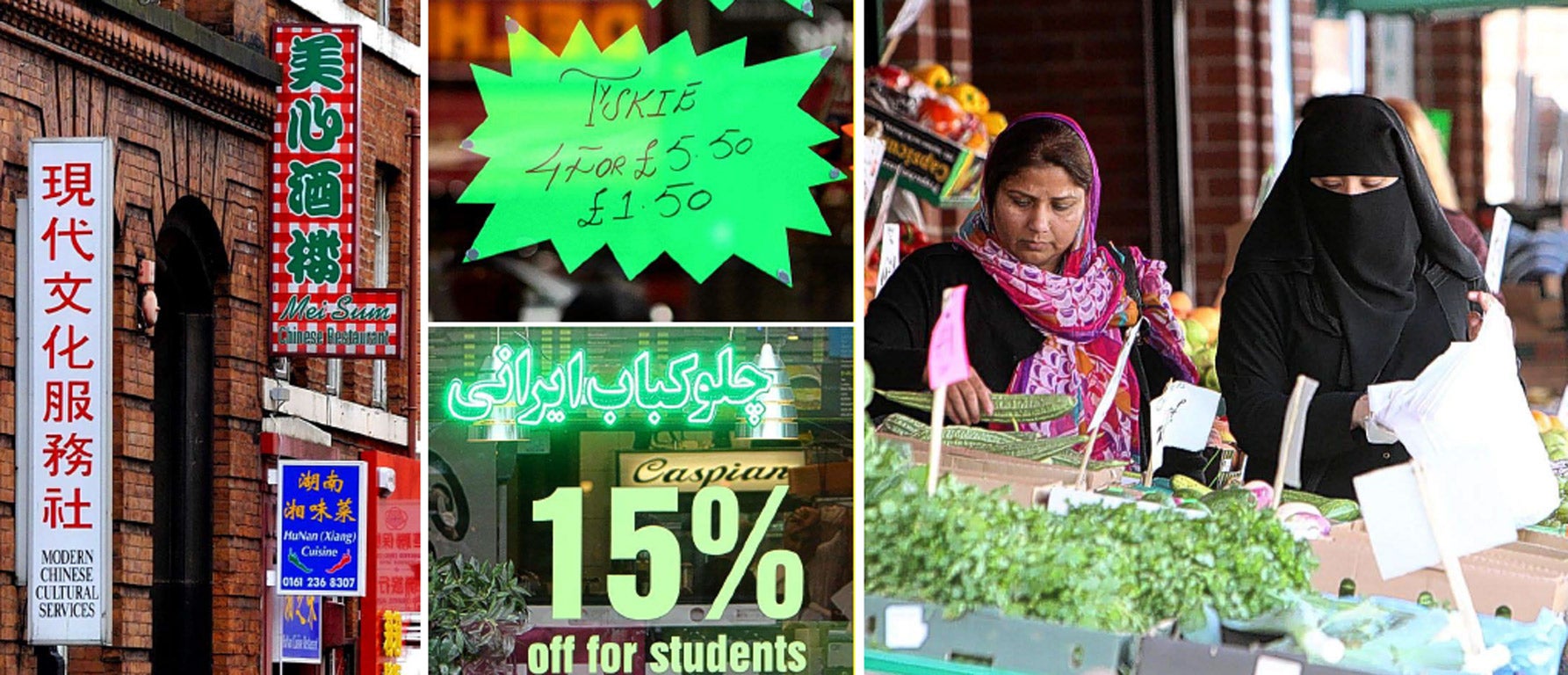 Manchester's Curry Mile has long enjoyed a reputation as a place to get a decent "Indian". It is not bad if you fancy a Lebanese, Palestinian, Turkish or Persian either. There is even a chip shop. Yet Rusholme's culinary diversity is just the mouth-watering outward manifestation of an even richer and largely unrecognised culture that can be heard by the tutored ear being spoken in the sweltering kitchens and behind the counters of this thriving multi-cultural thoroughfare on the city's southern fringe.
"At this given moment, with everybody that is on the street, there could be 60 or 70 different languages spoken here, explains, Professor Yaron Matras, who leads the Multilingual Manchester project, the largest of its kind in the world.
According to the study's findings – which will be unveiled this week –there are up to 200 languages spoken in the city at any one time which, given its population size of 480,000, makes it the most linguistically dense and diverse conurbation in Western Europe, if not the world.
It is now estimated that half of the city's adult population is multilingual, with four in 10 young people able to converse in more than one language. The figure of 200 languages is far higher than previous estimates and eclipses data from single sources such as the 2011 census or school reports which have seriously underestimated the city's wealth of tongues.
Rusholme is well placed to demonstrate this Babel effect which has been brought about by the past two decades of rapid globalisation, conflict and economic migration.
The area sits on a cross roads – not just between Manchester's inner city and the affluent suburbs and Cheshire commuter belt to the south – but between communities drawn from Africa, Asia and the Middle East.
Professor Matras, who speaks 10 languages fluently as well as seven others in which he can get by, believes the diversity provides a vast economic and educational opportunity.
"The Greater Manchester Business Survey showed there is a huge weakness as we don't have enough trade with China, South Asia or the Middle East. That means you need people who speak those languages and people to facilitate contact," he said.
"Companies like Google or Apple moving to Manchester Airport Business Park can find someone who can do programming for them but who can also speak Tamil or whatever. You can train someone to be a customer relations assistant in a few weeks but you can't train them to be fluent in Urdu in that time," he added.
Jobs asking for local candidates with knowledge of Arabic, Cantonese, French, German, Indonesian, Italian, Japanese, Mandarin, Polish, Portuguese, Panjabi have all been advertised on the internet recently with salaries up to £35,000, the research showed. And the good news for those that have kept faith with Britain's multi-cultural post-war experiment is that this vast linguistic resource is almost entirely self-supporting and self-funded, the researchers argue.
According to the study, some 8,000 pupils attend supplementary community-run schools in Manchester in languages ranging from Sanskrit to Bosnian. And the interaction between linguistic groups acts as an unofficial facilitator of social cohesion and inter-faith dialogue, it is claimed.
The research team claim that language maintenance relies on family and community initiatives whilst the public sector plays only a peripheral role in promoting diversity by offering qualifications in community languages or through a limited amount of broadcasting.
In 2012, 3000 pupils at Manchester state schools sat GCSE exams in foreign languages whilst the city's libraries offer 20,000 books and other media in languages other than English.
The public visibility of language meanwhile relies almost entirely on private initiative, led by shops, restaurants and religious or community centres.
Another cause of the phenomenal explosion in languages is that Manchester's population grew at 19 per cent between 2001 and 2011 – compared to an average national growth rate of seven per cent. The Pakistani community is the fastest growing in the city, followed by ethnic Africans.
Manchester's most widely spoken non-English language remains Urdu, a product of immigration from the Indian sub-continent dating back to the 1950s. But other languages are catching up. Arabic, Cantonese, Polish, Bengali and Somali are all widely spoken but there are dozens of others in everyday use.
There is Yoruba and Igbo in Harpurhey, Lingala in Ancoats and Pashto in Burnage. Yet just three per cent of Mancunians cannot speak English with eight out of 10 residents believing they could speak it well or very well. The majority who struggled were elderly.
And each year the diversity is continuing to grow as 1,500 children of school age arrive in the city.
Meanwhile, official figures downplay the variety of the linguistic groups. Researcher Deepthi Gopal said that for many the language they choose to ascribe to themselves can be down to prestige or other factors.
"In the UK, 86 per cent of people born in Nigeria say that English is their main language but logically a lot of them must speak languages other than English which are significant in their lives."
The last census had just 13 speakers of Caribbean Creole despite a large community numbering several thousand. Just 23 individuals described themselves as Romany even though 150 members of that community are known to the research team.
Manchester, along with Paris, London and New York, offers a vision of a globalised multilingual future. The lessons from the world's first industrial city, which has been welcoming immigrants since the 19th century, confounds those who assumed integration would see languages disappear in two generations and offers a wake-up call to policy makers.
The report's authors conclude: "The city tolerates and accepts the visibility of community languages in its public spaces, and communities and the private sector take initiative to support the vitality of community languages. All this suggests to us that Manchester's language diversity is here to stay."
Case study: I am proud of my language – but I prefer English
Daovoli Kiraruberwa sells SIM cards outside the Repair Centre on Wilmslow Road. The 25-year old has lived in the UK since fleeing the conflict in his native Congo.
Like many Tutsi Africans in Manchester he speaks four languages: excellent English as well as Swahili and French. His mother tongue is Kinyamulenge – a tribal language spoken in Congo's South Kivu province, Rwanda and Burundi. But the phone salesman prefers the language of his adopted home.
"I am proud of my language but there are many political problems in my country," he said. "I like speaking English. I text my friends in English and they text back in other languages – but I always reply in English. Most people around here speak Urdu because they are from Pakistan. But we all understand each other."
Tower of Babel: Language in numbers
7,000 The estimated number of languages spoken around the world
2,500 languages at risk of extinction, according to Unesco
200 artificial languages, such as Esperanto, created since the 17th century by scholars, tradesmen and people in commerce
2,200 languages spoken in Asia, compared to 260 found in Europe. Papua New Guinea is the country home to the most languages (832)
Join our commenting forum
Join thought-provoking conversations, follow other Independent readers and see their replies