21-year-old Nicole Sedgebeer raises £11,000 for homeless friend Mark after he looked out for her in Euston
Mark helped Ms Sedgebeer when she was stranded in London after a night out 
Loulla-Mae Eleftheriou-Smith
Tuesday 15 March 2016 12:35 Comments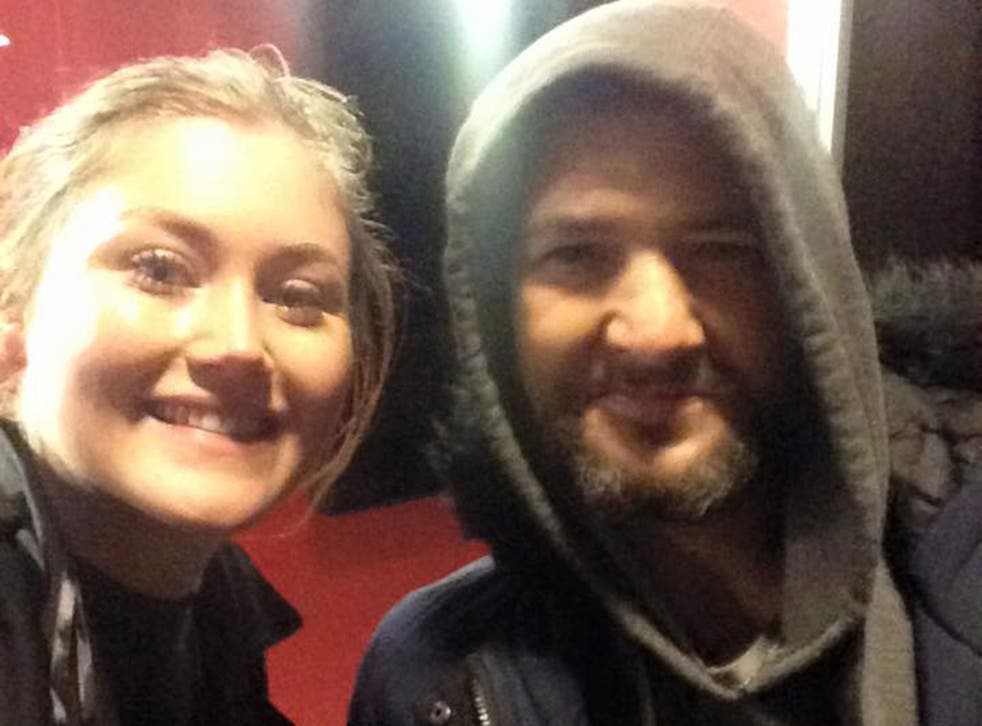 A young woman who was helped by a homeless man when she was left stranded in London in the middle of the night has raised more than £11,000 by way of saying thank you.
Nicole Sedgebeer, 21, missed her last train home to Milton Keynes and travelled to Euston to wait until morning, only to find the station locked. Just as she was "about to burst into drunken tears" a homeless man named Mark helped her to find a safe place to shelter.
"Not only did he direct me to an all-night café and get me settled with a cup of coffee, he even came back at 5am to walk me safely back to the train station," Ms Sedgebeer wrote on her Just Giving page.
Ms Sedgebeer originally shared her story on Facebook with a picture of herself and Mark – his first selfie – with the message, "I hope this story makes people look twice when they see a homeless person." Her post has since been shared more than 19,000 times.
Four days later Ms Sedgebeer set up a crowdfunding page to raise £8,000 for Mark and the other homeless people around Euston, but after just days she managed to smash her target and has raised more than £11,000.
"Mark embodies the best of humanity. He went out of his way to help me, a complete stranger, when the reality of his situation is that people walk past him every day without offering him help," she wrote on the Just Giving page.
"Mark you are one special man, I will never look down on a homeless person again and so want to do something to help Mark and all the other homeless people around Euston."
Register for free to continue reading
Registration is a free and easy way to support our truly independent journalism
By registering, you will also enjoy limited access to Premium articles, exclusive newsletters, commenting, and virtual events with our leading journalists
Already have an account? sign in
Join our new commenting forum
Join thought-provoking conversations, follow other Independent readers and see their replies