28 women to try to squeeze into a Mini on Guinness World Records day
Emily Dugan gets a taste of the record-breaking attempt
Emily Dugan
Sunday 11 November 2012 01:00 Comments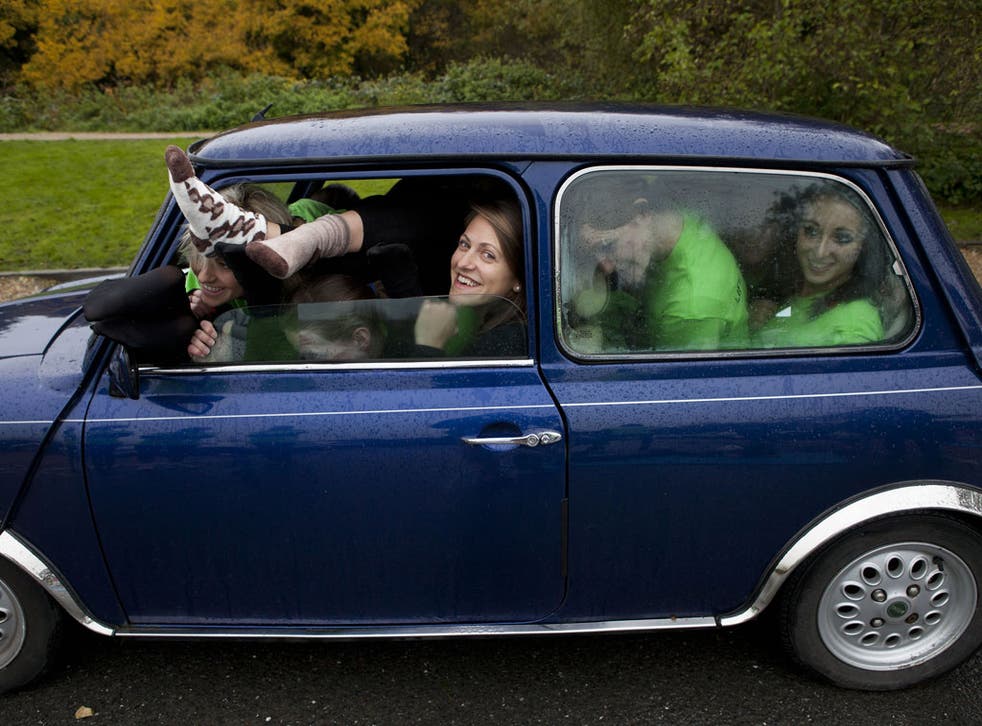 In a car park in Eastbourne, two people grab me by the arms, propel me backwards and wedge me into the boot of a Mini. Either side of me are two tiny women squealing in pain and in the seats behind, more than 20 others are gasping for air.
This is not an abduction, but a rehearsal for a world record attempt. On Thursday this group of women will aim to cram 28 people into a Mini, joining hundreds from around the world taking part in Guinness World Records day. Other attempts will include chefs in Italy trying to cook the biggest ever chocolate coin; an American aiming to complete more than five consecutive front flips on a pogo stick and a Briton lifting more than 25.5kg using only his eye sockets.
Last year, Eastbourne fitness instructor Dani Maynard, 39, and her friends took the world record away from a New York dance troupe, squeezing 27 women into the car for Children in Need. On Thursday they aim to go one higher.
"Nine of the original team have dropped out because the thought of putting themselves through it again is too much," Ms Maynard says. "Oxygen is limited. Once all the doors are shut and everyone is in, it's the equivalent of having an asthma attack."
That becomes apparent very quickly. I have been invited to join in the rehearsal, though it is clear I am more than a little on the large side for the task. "Hmm, I think you should go in the boot," Ms Maynard says, after realising that – unlike the others – I am not part-elf.
The boot is meant to be one of the nicer positions, though with my knees under my chin, an elbow in my face and my ankles at an alarming angle, I'm not so sure. There is one obvious advantage to the boot, though: being last in. Carly Cornford, 27, has the odious task of being first into the car – at least 13 minutes of waiting in the footwell for the others to get in. "You just have to zone out and find your own air hole," she says.
Ms Maynard does not go in the car herself, but has hunted down an army of the tiniest women and directs the operation from outside. "Our code word is Pudsey," she barks into the car, "which means 'I'm going to draw my last breath'." For the rehearsal we manage only 25.Ms Maynard doesn't want to push it without a paramedic present. Still, with 25 it already feels as if vital organs are compressing.
The group will attempt to smash a second record on Thursday – this time for fitting more than 21 people into the original Mini. For this, Ms Maynard lets me try the front seat. As body after body is piled around me, one girl begins to hyperventilate. "Everybody out," shouts Ms Maynard, and with a collective sigh of relief, the car empties.
Register for free to continue reading
Registration is a free and easy way to support our truly independent journalism
By registering, you will also enjoy limited access to Premium articles, exclusive newsletters, commenting, and virtual events with our leading journalists
Already have an account? sign in
Join our new commenting forum
Join thought-provoking conversations, follow other Independent readers and see their replies