49 minutes: The time each day the average family spends together
Chasing the clock and worrying about money put more and more pressure on home life, a survey reveals. But Jonathan Owen finds that modern British households come in many forms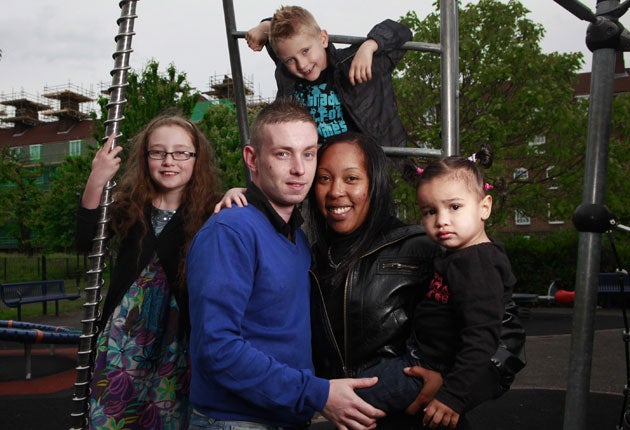 The fabric of British family life is being reduced to stress and "chaos" by time pressures and money worries, experts said in response to the findings of a major new survey.
With the average British family now spending only 49 minutes a day together, almost half of the parents questioned admit they do not spend enough "quality time" together as a family. More than one in five children complain they don't spend enough time with either of their parents, according to the poll commissioned for National Family Week, which begins tomorrow.
The study of 4,000 parents and children, to be published tomorrow, reveals that one in eight families admit to spending no more than two hours together each week. Three out of 10 parents and children say they spend between two and four hours together. Family meals, watching TV and going out together are the most common ways that they spend time together. Only one in 10 parents cited reading stories. More than two-thirds of parents blame money and a lack of time as the biggest barriers to spending more time with their family. One in five claim that family members don't want to spend time together.
The survey also highlights how traditional concepts of marriage and the nuclear family are increasingly irrelevant. Only 51 per cent of parents agree that to have the best opportunities in life, a child needs a mother and a father under the same roof. And only 52 per cent think that marriage is relevant in today's society. The view is echoed among children, with 55 per cent seeing marriage as important.
Within a generation the proportion of households with a mum, dad and two children has dropped from 52 per cent to 36 per cent, according to the latest report from the Office for National Statistics. More than one in five couples will be in a cohabiting relationship by 2021, while the percentage of children living in a couple relationship fell from 92 per cent in 1972 to 77 per cent in 2008, according to the latest Family Trends report by the Family and Parenting Institute.
Patrick McCreanor, 31, a commercial director for a media company, lives in Wanstead, east London, with his partner Suelin Chong, 26. They have a two-year-old daughter, Kira-Lei. His two elder children, nine-year-old Elizabeth and six-year-old PJ, are from a previous partner with whom he shares dual custody. They live with him three or four days a week.
"I don't know many nuclear families but I do know a lot of happy – what the old school would call 'dysfunctional' – families," he said. "The most important thing in any family is the children and as long as they're happy that's the only thing that really matters. I have nothing against marriage; it's just not something I feel is that important considering how many marriages last. I'm not saying I wouldn't get married, perhaps I will one day, but I don't think people need to get married just for the sake of it. Time pressure is the biggest factor against us all spending time together, but we make sure we have a good time together."
The fluid nature of relationships in British families today is far removed from the traditional structure of previous generations. Richard Comben, a 64-year-old retired fund manager, recalled how unmarried couples were frowned upon in the 1970s.
"Me and my wife bought a house a year in advance of getting married and decorated it, but we weren't allowed to live together until we were married," he said. "Not at all, because in those days it was totally frowned upon. No one said you couldn't live together, but it was just taken that you could not. We tell our kids this now and they think it's ridiculous.
"In the bank where I worked, 100 per cent of the girls left to have kids and didn't come back. It would have been frowned upon to leave a one- or two-year-old baby. It just didn't come into the equation. There would never have been any suggestion a job would be kept open for you."
Experts said yesterday that while diversity is a positive and healthy thing for society, there may be a price to play for such social flexibility. Fragmented families are often cited in the the debate over "broken Britain" as a factor in problems such as the rise in crime. The cost of family breakdown in Britain is estimated at £41.7bn a year, according to the Relationships Foundation think tank.
Campaigners say that not enough is being done to support the most valuable families. "Nuclear families are under pressure: debt, working time and care responsibilities can take their toll," said John Ashcroft, the research director of the foundation. "Given the mounting evidence on the importance of family relationships for well-being, health and a wide range of social outcomes we believe support for family should be strengthened."
The survey results reflect the "increasingly chaotic and changing lifestyles of families", said Anne Longfield, chief executive of the children's charity 4Children. "Parents are telling us that they would love to spend more time with the family but many are having to be increasingly resourceful in balancing work and family commitments to make ends meet."
The survey's findings reflect the "intense stress" parents feel over the time they spend with their children, said Sally Gimson of the Family and Parenting Institute. "The survey of British parents released by National Family Week reflects the intense stress that they feel over the amount of time spent with their children," she said.
Recent decades have seen a steady rise in the time parents spend caring for their children – from about 20 minutes per day in the 1960s to about 70 minutes in the 1990s. But it is unclear how much of this increase is "shift parenting", as opposed to quality time with the whole family. "The evidence shows that despite the pressures of modern life, parents are achieving the impossible and spending more time with their children than ever before," commented Ms Gimson. "It is wrong to assume that because mothers are now more likely to be in paid employment, they spend less time with their children. Fathers, too, are more involved in their children's lives than ever. What's needed now is more research on whether couples are spending this increased time with their children at the same time, or in two separate shifts."
In an effort to promote family life, irrespective of what actual form the family takes, National Family Week is organising events around the country, including sports days, picnics and story-reading sessions. Backed by more than 180 national bodies, ranging from the NSPCC to the Department for Children, Schools and Families and the Grandparents' Association, the events are part of an attempt to foster a family-friendly culture, encouraging families to spend more quality time together.
"Families remain the cornerstones of our communities and the bedrock of our lives. The modern family is a product of its relationships rather than labels, and families in the UK today come in all shapes and sizes," said Nick Henry, the co-founder of National Family Week. "As the pressures of modern life increase, our families are still the most important things to us. So even though the concept of the family appears to be fluid, it's unlikely the essential function of the family will change."
Additional reporting by Pavan Amara
Join our commenting forum
Join thought-provoking conversations, follow other Independent readers and see their replies