Biggest UK abortion provider to turn away Irish women
Marie Stopes says it has seen a surge in demand so must temporarily prioritise British NHS patients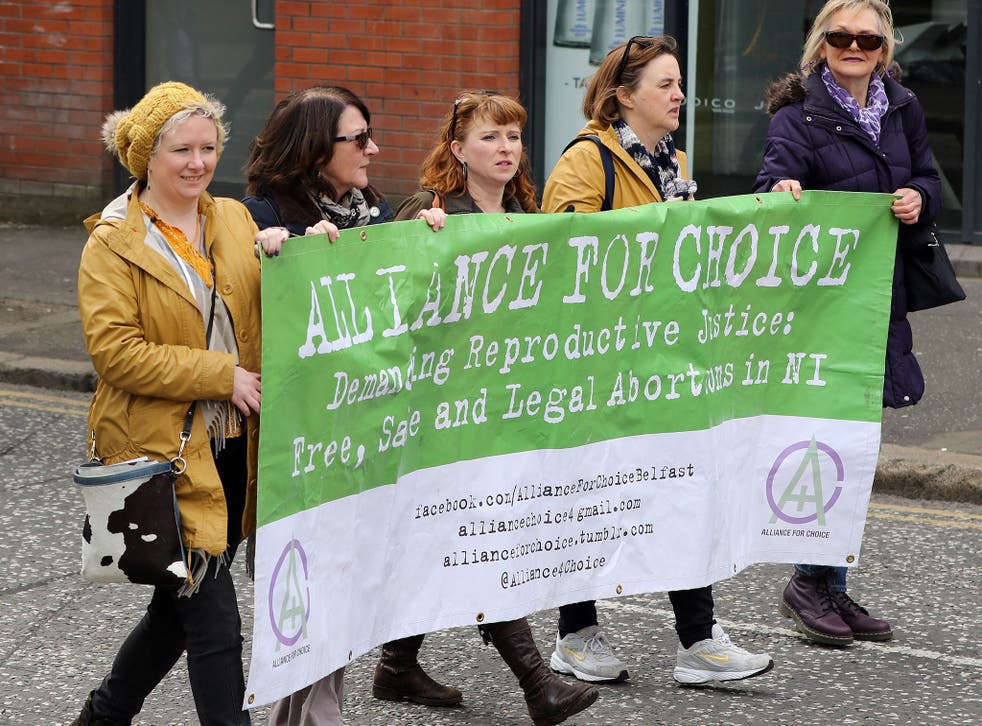 Britain's largest abortion provider has announced it will have to begin turning Irish women away from its clinics as it struggles to meet demand.
A spokeswoman for the family planning charity, Marie Stopes International, said it would now prioritise the needs of UK-based clients referred to it by the NHS – though Irish women who had already booked appointments would be treated.
She said: "We're looking at our capacity across the country. Irish women may have to go to slightly different locations to access our services."
Instead, the charity said it would refer Irish clients to another abortion provider, the British Pregnancy Advisory Service (BPAS) – but it warned it was also feeling the strain.
Abortion is illegal in almost all circumstances in Ireland and heavily restricted in Northern Ireland so women are forced to travel and pay privately for an abortion in Britain.
More than 3,400 Irish women travelled to Britain for an abortion in 2015 according to UK Government figures, accounting for the largest number of non-UK nationals having an abortion in the country.
The Marie Stopes spokeswoman insisted the restrictions were only temporary.
She told The Times: "January and February are always the busiest times of year and we are currently managing high demand by referring some women to other providers to ensure they can be seen as soon as possible.
UK news in pictures

Show all 50
"Our priority is ensuring women obtain the earliest possible appointment and we are working with organisations in Ireland to ensure provision is there for women who go via their networks.
"We are managing demand by focusing on NHS clients but our helpline is very clear to everyone that calls that if they have difficulty finding another provider they should call us back."
Under Irish law abortion is only legal when the mother's life is in danger.
Following controversy over the death of Savita Halappanavar – who died while 17 weeks pregnant at Galway hospital in 2013 after doctors refused to terminate her miscarrying pregnancy to save her life because they feared criminal penalties calls – plans were made for abortion laws to be loosened.
The eighth amendment to the Irish constitution, which was ratified in 1983, gives explicit recognition of "the right to life of the unborn" equal to that of its mother.
The "Repeal the 8th" campaign has called for the amendment to be scrapped to bring Ireland into line with its European neighbours.
In Northern Ireland, where the 1968 Abortion Act does not apply, medically induced abortions are legal but only up until nine weeks gestation – before many women know they are pregnant.
But Dr Rebecca Gomperts, the founder of Dutch organisation Women on Waves, which provides family planning services on a ship just outside the jurisdiction of countries with restrictive abortion laws, said the problem was that Britain's own abortion regulations were too restrictive.
She told The Independent: "The real problem here is that abortion access to Great Britain is way too regulated. Even for an abortion with pills, women have to go to a special clinic like Marie Stopes and BPAS .
"This is totally unnecessary as scientific research in the past 20 years has shown it is safe for women to have a medical abortion at home.
"So if the UK wants to solve this problem the only thing they have to do is make medical abortion available on prescription through family physicians in regular pharmacies.
"This would immediately take away the strain on the clinics and make the care of women who need an abortion in the UK and for women travelling there from Ireland much better."
Join our new commenting forum
Join thought-provoking conversations, follow other Independent readers and see their replies