Hundreds of Northern Irish women protest abortion ban after two women prosecuted over terminations
Earlier this week a woman was convicted of having an abortion and another woman is due to stand trial on 27 April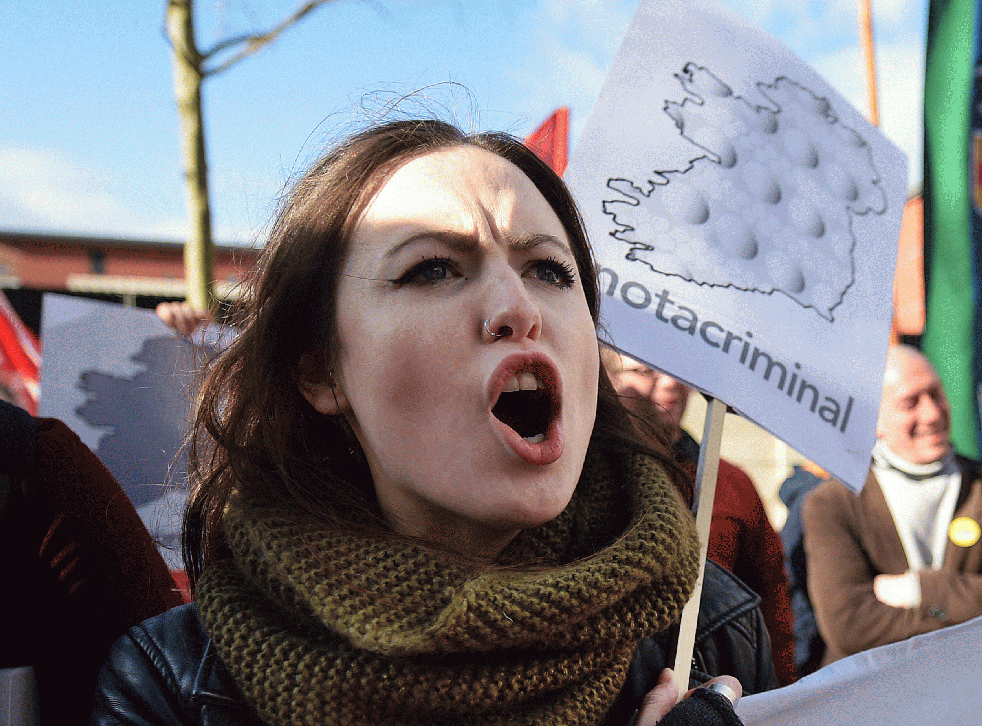 Hundreds of people gathered outside the Belfast Publlic Prosecution Service yesterday evening to protest a recent spate of trials against women for breaking the region's abortion ban.
The event was organised by local pro-choice group Alliance For Choice and the Belfast Feminist Network. Protesters carried banners and shouted slogans, arguing that the prosecutions are not in the public interest.
Unlike the rest of the UK, abortion is illegal in Northern Ireland and any one who accesses a termination faces up to life in prison. On Monday, a 21-year-old woman was convicted of having an abortion. The court heard that she had a crisis pregnancy when she was 19 and tried to raise enough money to travel to England in time for a legal termination, but was unable to. She subsequently ordered abortion pills online and took them at her Belfast home.
Her housemates found blood stained clothes in her room and foetal remains in a bin and reported her to the police who subsequently arrested her. She was given a three month sentence, suspended for two years.
In a second case, a woman appeared before a Belfast court on Tuesday charged with helping her daughter to have an abortion. The trial is due to start on 27 April.
The Irish News reports that prosecutors are considering two further files relating to abortion charges.
Human rights groups have criticised the trials and the UK government for allowing them to continue. Amnesty International called the prosecutions a "grotesque spectacle".
However local anti-abortion groups have said the convictions are "very lenient" and have written to the Public Prosecution Service asking for Monday's suspended sentence to be appealed to that it can be increased to up to life in prison.
It is believed that around a thousand Northern Irish women travel to England every year to access terminations. However, it is feared that a growing number may be buying pills illegally online to perform terminations on themselves at home in Northern Ireland.
A second protest will be taking place in Northern Ireland's second city Derry/ Londonderry later this week.
Register for free to continue reading
Registration is a free and easy way to support our truly independent journalism
By registering, you will also enjoy limited access to Premium articles, exclusive newsletters, commenting, and virtual events with our leading journalists
Already have an account? sign in
Register for free to continue reading
Registration is a free and easy way to support our truly independent journalism
By registering, you will also enjoy limited access to Premium articles, exclusive newsletters, commenting, and virtual events with our leading journalists
Already have an account? sign in
Join our new commenting forum
Join thought-provoking conversations, follow other Independent readers and see their replies