Delivery driver says he felt 'fire on my face' during terrifying acid attack
Victim ran through the street 'begging for water' after two attackers sprayed a corrosive substance into his face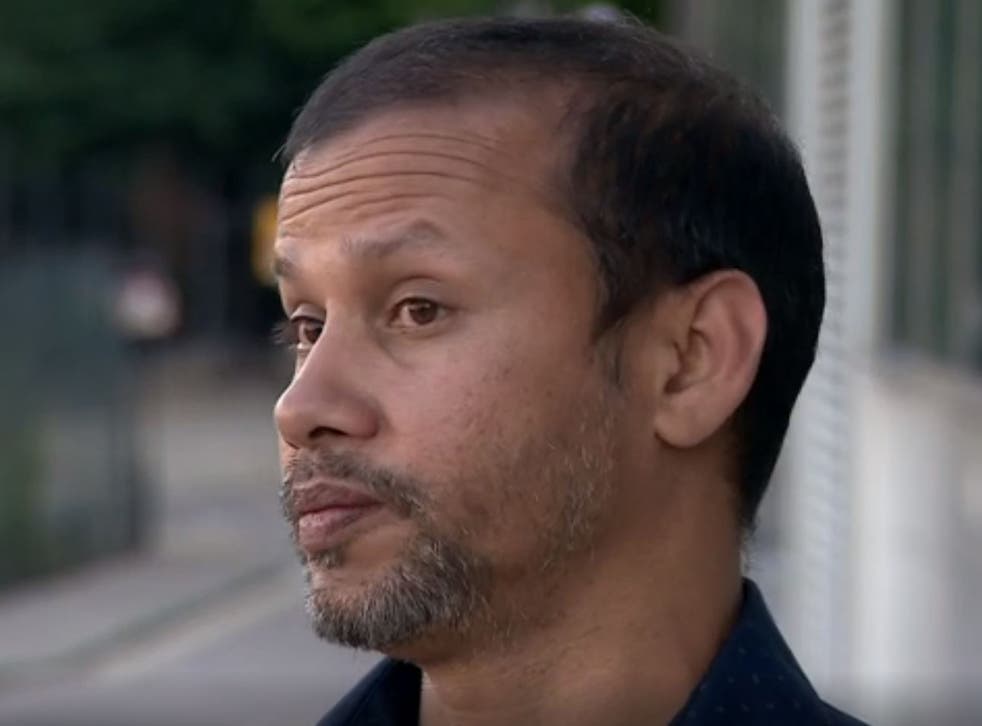 A delivery driver has spoken about the terrifying moment he felt "fire on my face" and realised he was the victim of an acid attack.
Jabed Hussain, 32, was the first of five moped riders burned by a corrosive substance during a spate of alleged robberies in north and east London on Thursday night.
Police suspect two teenagers, aged 15 and 16, sprayed acid into the victims' faces and then tried to make off with their bikes.
Police treat acid attack victim's facial injury in London
The pair were arrested on suspicion of grievous bodily harm and robbery after five men were taken to hospital following the incidents in Islington, Stoke Newington and Hackney.
They remain in custody.
Mr Hussain said he didn't realise his face had been sprayed with acid when he was attacked at the Hackney Road junction with Queensbridge Road in Haggerston, east London, just before 10.25pm.
But as the noxious substance began to burn he took his helmet off and screamed for help.
He told Sky News: "I heard the sound of water, this kind of glass of water came into my face. I didn't realise it was kind of acid or anything.
"I look back, I look left, and I saw two boys on the moped. They [had] masks on and helmets on.
"I saw they were trying to do a second attack and I left my bike, I ran."
Mr Hussain said he fled as the men stole his moped because he feared they would throw more acid into his face.
Local resident shocked at acid attacks in London
"I was just begging for water because by that time it was burning on my face," he said.
"Then I started screaming, I feel like dry and burning, I feel like somebody put fire on my face."
Video footage showed police officers pouring water onto Mr Hussain's face following the incident.
He was later discharged from hospital with minor injuries.
Deliveroo driver Jabed Duzzahuru is thought to have been permanently scarred after he was targeted on his way home from work later that night.
He was one of four more moped riders sprayed with acid during the 90 minutes after Mr Hussain was attacked.
Each of the incidents involved two men on a moped spraying a corrosive substance into the victims' faces, according to the Metropolitan Police.
The recent spike in acid attacks by criminal gangs and individuals with a grudge has prompted calls to change the law to restrict its sale.
Chief Inspector Ben Clark said: "These are hideous offences and must have been very frightening for all of the victims.
"All victims were riding mopeds at the time of the attacks, but were from a variety of backgrounds.
Model's struggle after rape and acid attack

Show all 4
"Of late we have seen more attacks using corrosive substances in London. I would urge businesses and parents to challenge those who they think may be trying to obtain or carry these substances as this could help prevent serious offences and life-changing injuries being caused."
There were more than 300 crimes using "corrosive substances" in London alone during the 2016/17 financial year, including 208 incidents of violence against the person – one that was fatal - and 118 robberies.
In April, clubbers in east London were caught up in a mass attack that injured 20 people, then last month cousins Resham Khan and Jameel Mukhtar were left with life-changing injuries after having liquid thrown on them through a car window.
Any witnesses, anyone with information or footage of the incidents is asked to contact police via 101, via Twitter @MetCC or anonymously by calling Crimestoppers on 0800 555 111.
Join our new commenting forum
Join thought-provoking conversations, follow other Independent readers and see their replies