Panic attacks and malnutrition: Afghan family on what life is like in UK
Exclusive: Two years on from the Taliban takeover, one of the first Afghan families to arrive in the UK by small boat remains in Home Office limbo, as Nicola Kelly reports
Tuesday 15 August 2023 09:51 BST
Comments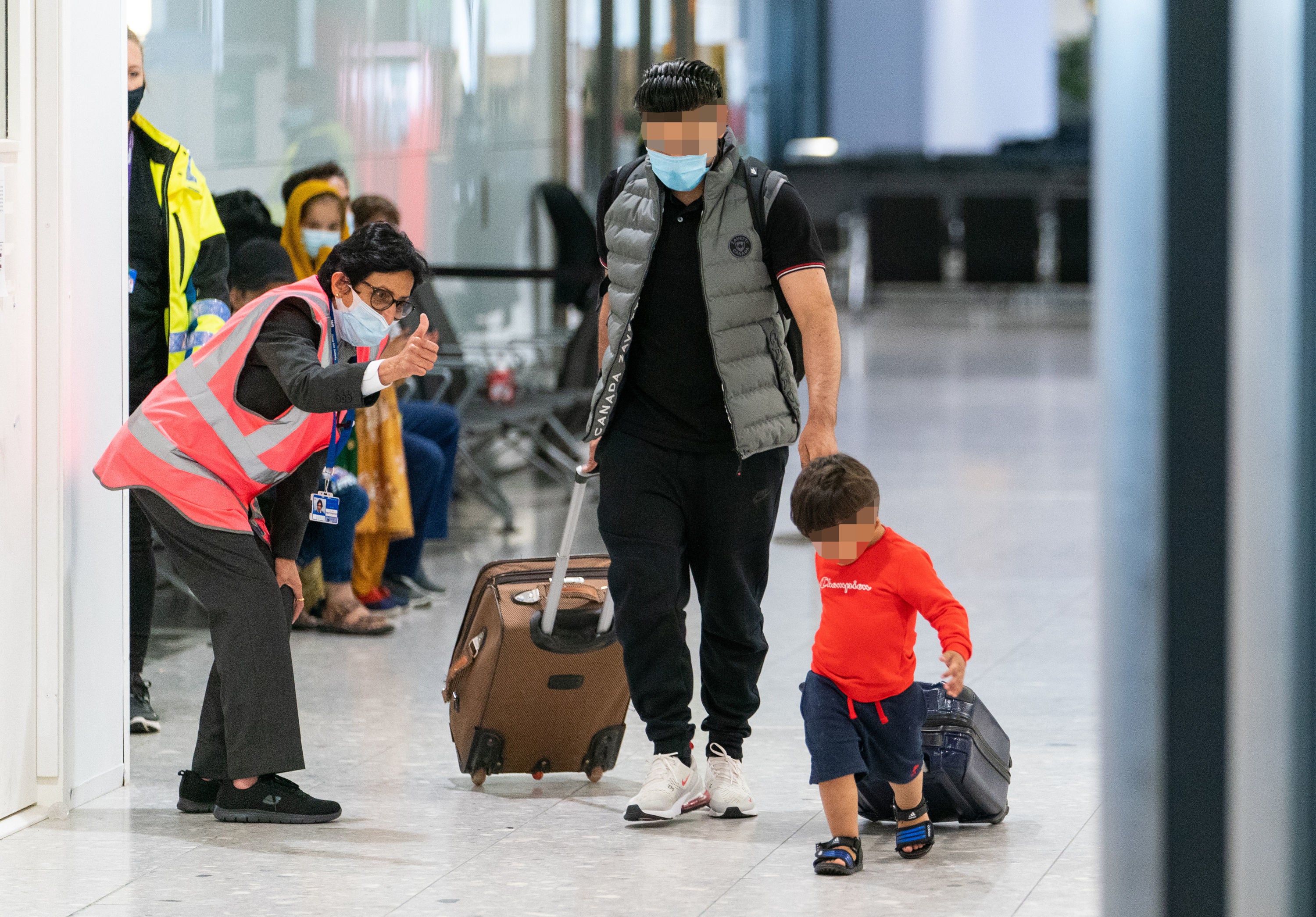 Days after the Taliban retook Kabul in August 2021, Abdullah, his heavily-pregnant wife, Zahra, and their two young children went into hiding, locking the door of their house and rationing out the supplies they had left inside.
The couple were well-known targets to the Taliban: they had both worked in prominent positions within the office of the now-former president Ashraf Ghani and had been involved in peace-building charity work. Though the UK government had launched Operation Pitting and the Afghan Relocations and Assistance Policy (Arap), the Ghulam family, who had not worked with or alongside the British government, were ineligible for evacuation through either scheme.
"We did not know what will happen to us. We were hoping peace would come to Afghanistan, but now I know this was a dream; it is not a reality any more," Abdullah tells The Independent.
When the Taliban began raiding homes nearby, looting, kidnapping and killing those they deemed infidels, the couple knew they could not wait for assistance: they needed to leave immediately. "They can kill, they can put us in a prison, they can harm us, they can do anything they like to us," Abdullah says.
Fleeing over the border to Iran, through Turkey and on to Greece before barrelling northwest, the family was among the first to arrive in northern France following the Taliban takeover. In December 2021, the Ghulam family – by then with two children aged under five, one with a rare form of multiple sclerosis, and a newborn baby – boarded a boat near Dunkirk bound for the UK.
"We did not know what will happen to us. We were hoping peace would come to Afghanistan, but now I know this was a dream; it is not a reality any more," Abdullah says.
At the time of their crossing, Afghans were among the top two nationalities, alongside Albanians, who crossed by small boat, with 1,437 Afghans arrivals in 2021, rising sharply to  8,633 arrivals in 2022.
By the end of last year, more than 9,000 Afghans were still languishing in hotels across the UK. Among them were the Ghulams, who remained in hotel accommodation in the northwest of England for over a year.
"We really suffered there," Zahra says. "My children stopped eating for three months and everybody lost weight. We asked the doctor but nobody help us." The food in the hotel lacked nutrition, Zahra says, – typically rice, pizza or pasta – resulting in Zahra's breastmilk drying up.
One day, Zahra asked the hotel manager for help arranging transport to the hospital for their child who has a disability requiring regular treatment. A staff member began shouting at her and told her to leave the hotel. When Abdullah heard, he was furious. "I was in shock. I asked for CCTV footage because I wanted evidence of the disrespectful behaviour," he says. "After this, my wife and children stay in the room for one month without wanting to leave. They did not feel safe any more."
The Afghan pilot hero fighting to stay in the UK
The incident at the hotel saw a deterioration in Abdullah's mental health, resulting in panic attacks, disorientation and insomnia, for which he is now receiving medication. "Just a few months before, I was managing hundreds of people and here I was, with the hotel manager behaving like this to my family and in front of other migrant people. It brought me great shame. We had a high standard of living in Afghanistan; now it is very low. This is not what we thought from life in the UK."
Despite claiming asylum over 18 months ago, Abdullah and Zahra, who is once again pregnant, are still waiting for an answer from the Home Office. "We provide the documents, everything, and the case is so straightforward but still they don't give us an answer," Zahra says. "This is having a negative impact on our unborn baby – at one time, her heart signals weren't picked up, we were so scared."
Earlier this year the Ghulam family was moved to dispersal accommodation in an ex-mining village, in the north of England, 50 minutes by bus to the nearest city centre. Finding halal meat has been difficult, and Zahra remains isolated in the house most of the day with her children while Abdullah, desperate to work, has struggled to secure a job.
"I cannot find work – this has a big impact on me. When I apply for work, they accept me, but then when they heard I am an asylum seeker, they step back. This makes it harder."
Last month, Cabinet Office minister Johnny Mercer confirmed that Afghans housed in hotels had been served eviction notices, telling parliament the government expects Afghan families to "help themselves" by finding their own accommodation. Campaigners and opposition frontbenchers warned that the mass evictions could result in hundreds of Afghans left without anywhere to go and destitute this summer, with a fifth of those who have already been turfed out already presenting as homeless to councils, according to the Local Government Association.
Shadow immigration minister Stephen Kinnock said: "Yet more poor planning from the Home Office has left Afghans on a cliff edge, causing enormous stress to vulnerable families while putting huge pressure on local authorities who are now having to scrabble around to find private accommodation at short notice. It's not good enough and this chaotic Conservative government should be ashamed."
Mr Kinnock described the government's record on resettlement as an "unforgivable failure". The latest Home Office figures show that, while 12,694 individuals have been granted leave to remain under Arap and a second Afghan scheme, the Afghan Citizens Resettlement Scheme, only 14 of these grants were for ACRS Pathway 3, which includes former Afghan interpreters and security guards.
A Home Office spokesperson said: "We remain committed to providing protection to vulnerable and at-risk people fleeing Afghanistan and so far we have brought around 24,500 people impacted by the situation back to the UK. More broadly, between 2015 and 2022, we have offered a place to almost half a million people seeking safety through our safe and legal humanitarian routes. Those in need of protection should claim asylum in the first safe country they reach, which is often close to the region or in a neighbouring country."
Abdullah and Zahra are now looking to the future, hopeful they can settle, and waiting desperately for news from the Home Office. "Living in uncertainty is very stressful, very painful," Abdullah says. "We want only to live here in peace, to have an answer for our future."
Join our commenting forum
Join thought-provoking conversations, follow other Independent readers and see their replies